H&M's Sizing Is Changing In A BIG Way — But It's A Good Thing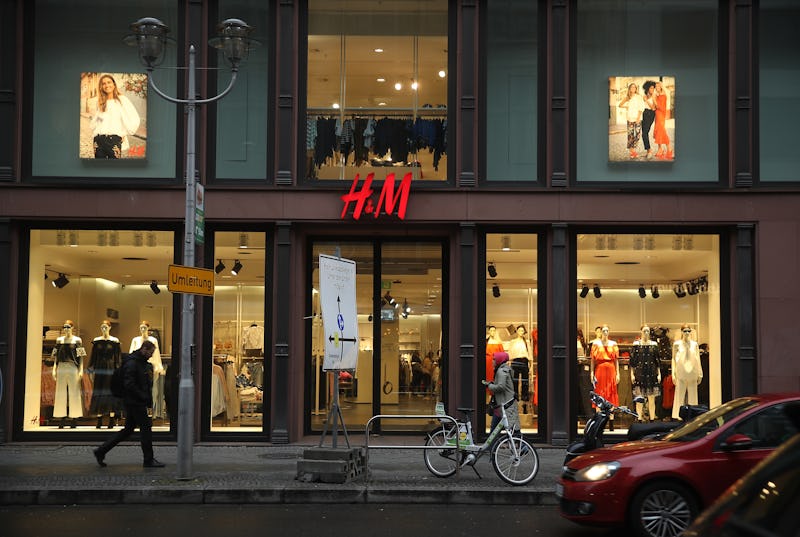 Sean Gallup/Getty Images News/Getty Images
Shopping at any mass clothing retailer can be a real pain in the derrière. Sifting through messy racks is enough to induce a migraine and the wonky sizing makes it damn near impossible to know your ideal fit. Now that H&M is changing its sizing to be more accurate, customers can at least have one less thing to worry about at the mall favorite.
Sometimes H&M gets fashion so right. The brand's hit collaborations with high-end designers like Balmain and Moschino are a testament to their flooding the market with trendy garments. But then the clothing empire gets things wrong with size options that just don't make sense. Making a valiant effort to right their wrongs, however, H&M's sizing is under construction, a move that will likely have its loyal customers jumping for joy.
If you've ever shopped H&M's inventory just to be confused by your usual size being far from the perfect fit, you're not crazy. The brand's former sizing labeled clothing such that smaller sizes had larger numbering, a recipe for disaster when attempting to try on the size you think you wear. The brand now has a new system already in place that's going to not only help with finding the proper-fitting garment, but also make their inventory more size-inclusive.
Customers have spoken and H&M is finally listening because the company's sizing scale is sliding to make its sizes bigger. The brand that has long since had consumers frustrated with its clothing running small is updating their tags to better fall in line with other more accurate retailers. As reported by Huffington Post UK, the change will have a former size 12 now be labeled as a size 10, and a previously labeled size 20 updated with a size 18 marking, for example.
H&M has already begun introducing their updated labels, but there's no official word on when the new system will be seen in full effect.
"This will be a gradual process and we cannot confirm when this will be 100% complete," an H&M spokesperson told the Huffington Post UK. "The new sizing is in effect already in our stores and shortly will be online, we aim to make this transition as smooth as possible for the customer and we urge customers to try on garments and check the measurements for guidance."
The changes come in light of a viral customer complaint in 2017 highlighting the issues with H&M's clothing. When UK native Lowri Bryne took to Facebook to share her experience with having to go up several dress sizes than her norm just to squeeze into an H&M garment she wanted to buy, it brought the retailer's need to "seriously sort out sizing" to the forefront. As others flocked to the post to share similar experiences with the brand's unreliable sizing, it was obvious H&M had a global issue on their hands.
The uproar looked to be just what the brand needed to make more size-inclusive clothing. In addition to garments being properly labeled, the retailer is also extending its offerings by the end of August.
"Size 12 (formerly size 14) will be offered for most of our collection in store and we will have most products bought up to a size 18 for online," a spokesperson told Racked. "HM+ will start at size 12 and go to size 26 for the fall."
H&M's size overhaul may cause former customers a bit of confusion, as garments will have the same measurements as before, but simply bear different labels. The same goes for online, as previous customers who have purchased from the brand for years won't be able to rely on their former H&M size. Luckily, former online shoppers with purchase histories saw the sizes of their previous purchases automatically updated, Racked reported.
All possible confusion aside, the updates are a huge step in the right direction for H&M, and just may reverse their bad reputation for ridiculous sizing.