This 'Handmaid's Tale' Actress Announced Her Baby's Birth With The Sweetest Message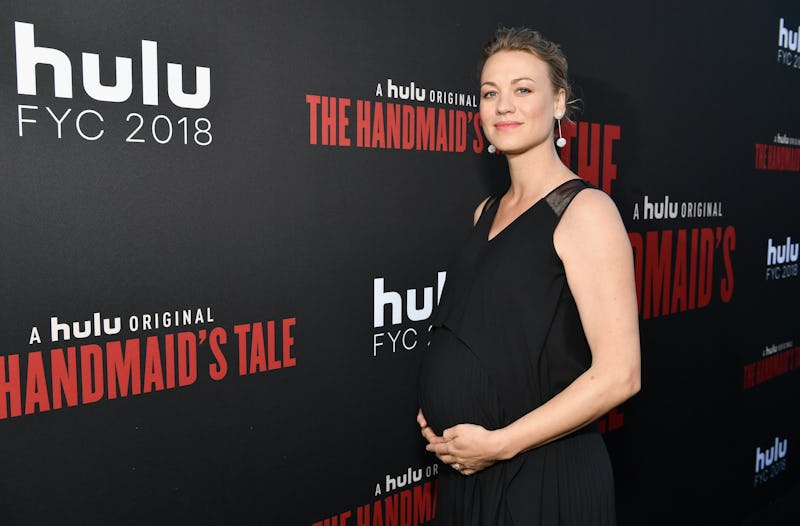 Emma McIntyre/Getty Images Entertainment/Getty Images
She may play a strict matriarch whose world revolves around her inability to bear children, but in real life, nothing could be further from the truth. The Handmaid's Tale's Yvonne Strahovski gave birth to a baby boy, E! News reported, and on Monday evening, Strahovski made the announcement on Instagram.
"My heart has melted into a billion pieces a thousand times already," Strahovski wrote. "We have been blessed with the greatest joy of our lives, our baby boy. Welcome to the world Peanut, your parents love you beyond measure and you are already my little dream boat. My heart has been stolen!"
The 36-year-old actress' photo was a black and white closeup of the new mom resting her small baby boy on her chest. Strahovski, who plays Serena Joy in The Handmaid's Tale on Hulu, is married to actor Tim Loden, and the baby is their first child. According to E! News, her rep has confirmed that both mommy and brand new baby are doing well.
As of Monday evening, Strahovski's post had nearly hit 95 thousand likes, with fans offering their congratulations, warm wishes, and even a few "Praise Be" references. Earlier in the year, the Australian native announced she was pregnant in May.
Strahovski surprised her fans with a picture of herself with hands clasped around her baby bump. "I am very excited to finally be able to share my special news—I'm going to be a Mama!" she had captioned the photo. "So very exciting to watch and feel this little peanut growing every day!"
Since that announcement, Strahovski hasn't shy about keeping fans updated on her maternal journey, posting pictures of her baby bump at red carpet events, television interviews, and at the beach during vacation. Her pregnancy body positivity posts were often captured with the hashtag #preggyandproud.
In a recent post from early September, Strahovski showed she could still hike with the best of them while nine months pregnant as she posed atop a trail on a mountain ridge. Then, a couple weeks later at the 2018 Emmys, Strahovski accidentally let a secret slip: as the actress was talking with E! News' Giuliana Rancic about how she could give birth at any moment, she inadvertently revealed the baby's sex, which had been unknown up until that point.
"I'm just gonna hold him in there, hope for the best," Strahovski said, before Rancic asked her about the pronoun. "I just let it slip earlier didn't I? Breaking news!"
"It's out!" Loden, standing next to Strahovski, joked. "If it changes, we'll let you know."
Strahovski was nominated in the Outstanding Supporting Actress In A Drama Series category for her work in The Handmaid's Tale this year, but Thandie Newton ended up with the award for her Westworld role. Television critics praised Strahovski's portrayal of Serena Joy, and maybe part of that is due to her dedication to her role. According to E! News, during an interview with the Australian talk show The Project, the actress said she tried to conceal her baby bump while filming the Hulu show.
"It was quite interesting hiding the pregnancy actually, as my first trimester was episode nine through to the end of The Handmaid's Tale," she said, according to E! News. "That's why it got tricky. In the end I was over hiding it, so I said, 'you know what, I'm pregnant.'"
At this point, the cat's out of the bag and out of sight — Strahovski is smitten with her baby boy, and with any luck, she'll keep the adorable mommy posts coming.