Bachelor Nation Is Slowly Turning On Hannah G. For Getting Herself Into A Love Triangle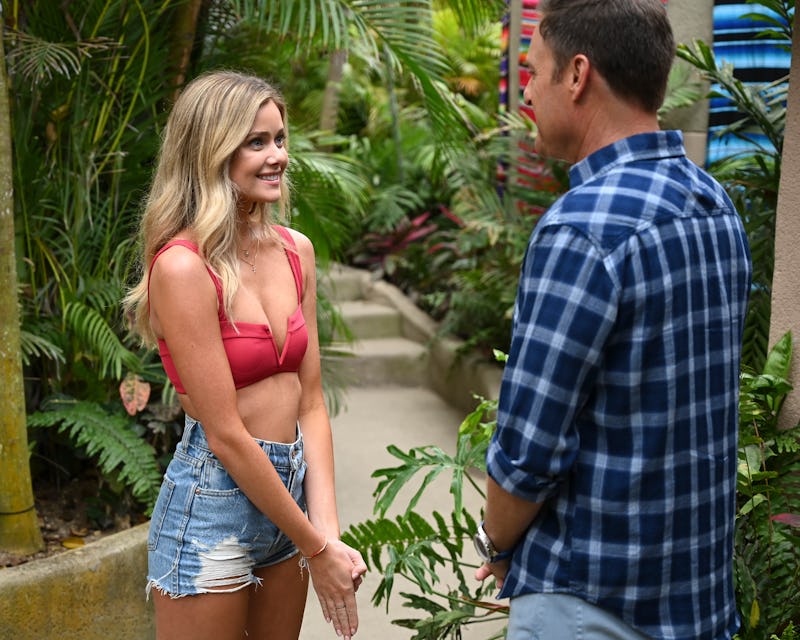 ABC/John Fleenor
The second rose ceremony was at the center of Monday night's episode of Bachelor in Paradise, as everyone waited on the edge of their seats to see who how one major love triangle shook out. While Hannah G. chose Dylan over Blake on Bachelor in Paradise, based on the reactions from fans on Twitter, it seems as if everyone is still wondering whether she's there for the right reasons.
Despite Dylan's best efforts to woo Hannah one more time before the rose ceremony, with a oceanside picnic complete with their favorite snack — gummy worms — the fan favorite broke down crying when she seemed to respond better to Blake's romantic gestures. Though she ultimately decided to offer her rose to Dylan, much to the relief of everyone in Bachelor Nation, fans still seem to be a bit hesitant to root for the couple in the wake of Hannah's romance with Blake.
After choosing Dylan, Hannah thanked him for being so "patient and understanding" with her as she explored things with Blake, noting that it ultimately made her realize that she wanted to give a relationship with him a try, adding, "You've been awesome this whole week." And while the couple are clearly smitten with one another, that explanation didn't seem to win over Twitter as easily as it did Dylan.
While it's hard not to root for Hannah to be with the guy who tells her that he will "never not choose you" and promises to keep the rose she gave him for "the rest of my life," it seems as if most of the other people in Paradise were more upset about the possibility of Blake staying in Mexico than anything else. She's not the only person in Paradise interested in exploring her options and pursuing multiple people, but with Dylan so clearly smitten with Hannah G., it's no wonder fans can't take seeing him cry when she's with Blake.
Regardless of Bachelor Nation's hesitation about Hannah's intentions, it seems as if Dylan is over the moon that she chose him over Blake. On their one-on-one date after the rose ceremony, he declared that he was already "starting to fall in love" with Hannah, making it seem like he is all in on this relationship — even if fans are still unconvinced that she's as smitten as he is.
Hannah's willingness to address her indecision about choosing between Blake and Dylan may help fans understand where she's coming from. "The last time I did this, I got my heart broken," she said, referring to competing for Colton Underwood's affections on The Bachelor. "Seeing that you really fought for me and didn't give up really showed me a lot about who you are," Hannah said. On their dinner date, she added that she was "all in" but still — people didn't seem too convinced.
Despite social media's worries that Dylan will end up sobbing on television once again, both he and Hannah declared that they were "all in" when it comes to their romance. As for whether their romance will continue after they leave Mexico, well, Bachelor Nation will just have to wait and see what the future brings.