This Beauty Brand Tried To Trademark #MeToo & People Aren't Happy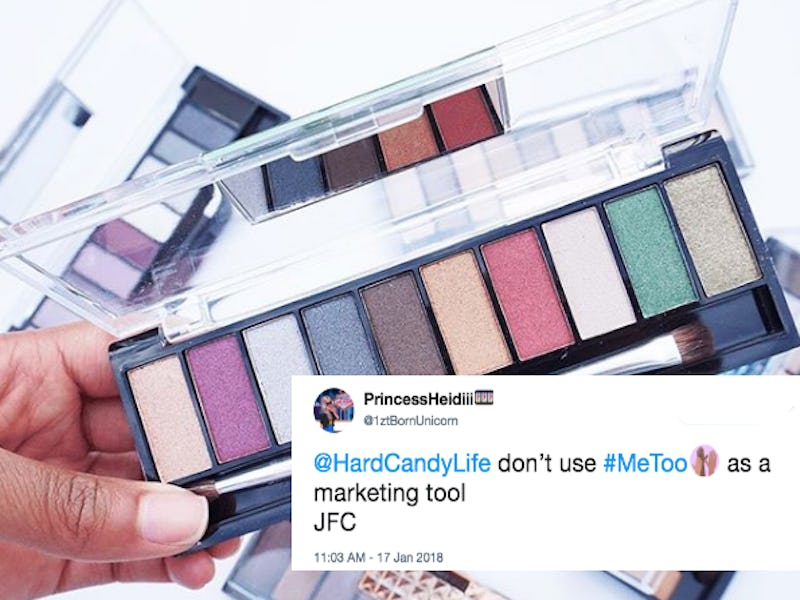 Hard Candy Instagram
The #MeToo social media movement has allowed women to share their stories their own way. There has been no trademark on the phrase, despite the countless people who have embraced the term — until now. According to TMZ, the beauty company known for their iconic '90s nail polishes, Hard Candy has applied to trademark #MeToo. Fans are not thrilled to hear that the brand wants to splatter the hashtag onto beauty products, but executives at Hard Candy claim that they have a good reason to trademark the phrase.
Update: Hard Candy has reached out to Bustle and provided the following quote, reflecting that the trademark will now be pulled.
"As a brand devoted to women since its inception, Hard Candy has and will continue to support women's rights. Hard Candy has always quietly and proudly supported a non-profit organization that directly contributes to many women's causes.When the trademark application for #metoo was filed, one of our objectives was to bring greater awareness to this important and long overdue movement," Falic tells Bustle.
"We planned to donate 100% of all profits arising from this trademark to #metoo. Based on several public responses, we have abandoned the application. We will continue to support the work of this watershed movement and other causes that respect the dignity of women and all people."
Earlier...
#MeToo is a social-media campaign against sexual assault and harassment. The movement was founded by Tarana Burke in 2006 and has since showed up on timelines and feeds all throughout the globe. Beauty brands standing behind major causes like #MeToo is not an uncommon thing. What is uncommon is a brand reportedly trademarking the phrase.
Hard Candy reportedly submitted a trademark application for #MeToo on October 20, according to the Trademark & Application database. According to TMZ, Jerome Falic, CEO of Falic Fashion Group which owns Hard Candy said in a statement that, "the company's intention is to give back to women worldwide" and tells Bustle that the company wanted to "bring greater awareness" to the movement.
It turns out that the #MeToo movement didn't need any attracting awareness, which might have been why they decided to ditch the trademark. That, or the backlash that came along with it.
Like I said before, there have been tons of charitable makeup products out there that offer a share of proceeds to organization. Brands like Tarte Cosmetics make it a point to do charitable work throughout the year and even gotten behind the campaign Kiss And Makeup to fight bullying. Others, like Lip Slut, created the lipstick called F*ck Trump right after the 2016 election and now has another called F*ck Hollywood.
Giving money back, as the brand reportedly intends to do, is not the problem. People have an issue with the brand claiming the hashtag — no matter what they intend to do with it. There's no doubt that it would change the strength of the movement. It might even discourage celebrities as well as survivors to get behind the cause. The idea of the movement is that survivors are the face of the cause. Associating a brand name with it could change that.
As of Jan. 18, Burke has not made a public statement on whether or not she is involved with the trademark situation, but Bustle has reached out for comment.
People are overwhelmingly discouraged to hear that Hard Candy would try to claim the hashtag. People on Twitter have shared their concern about the company's alleged trademark, while other have even said that they will be boycotting the company. Others are not surprised to see a brand take their seemingly good efforts a little too far.
There's a difference between being a friend to the movement and making money off of it. No matter where the money is said to be going, people are noting that the whole situation feelings a bit icky.
Backlash, indeed. Some see it as the brand hijacking the movement and trying to make it their own. The movement is powerful enough on its own and doesn't need brands backing it with products.
Burke hasn't made a statement on the alleged Hard Candy trademark, but people are interested to see how she feels about it.
I'm just going to set this open letter right here. It speaks for itself.
Makeup is often used as an escape for people. To brand it with #MeToo could be troubling to survivors.
Simple and sweet. Social media movements should not be used as a marketing tool.
This Twitter user says it best, "some things are not for exploiting."
This brand is going to need to think twice about going any further with its trademark.