Here's How Harry & Meghan's First Royal Tour Differed From Will & Kate's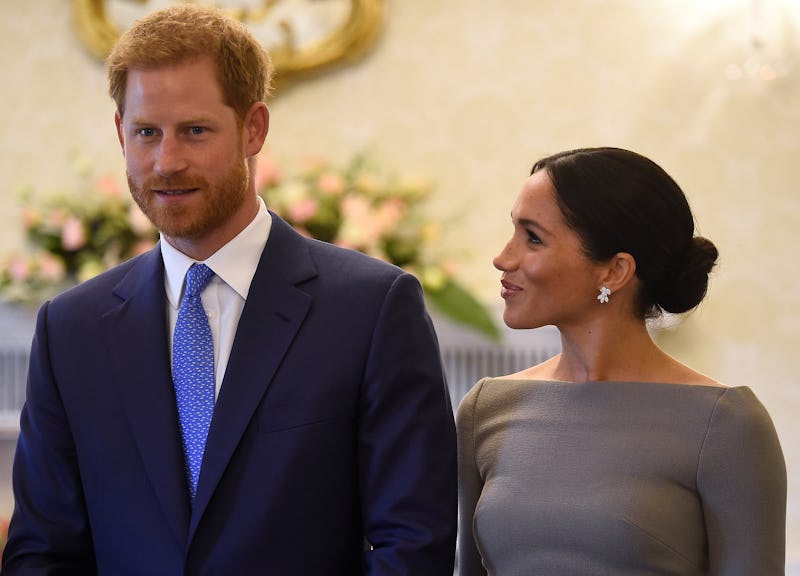 WPA Pool/Getty Images News/Getty Images
Meghan Markle has reached another royal milestone. On Tuesday, she and Prince Harry touched down in Dublin for their first official tour. And it sounds like the pair have barely had a second to rest on the two-day trip. While in Ireland, they met the President and the Taoiseach, visited Croke Park and Trinity College, paid their respects at the Famine Memorial, and met young coders at tech start-up Dogpatch Labs. But how does Meghan Markle and Prince Harry's first tour compare to Prince William and Kate Middleton, when they visited Canada, in 2011?
First, itineraries. To kick-start their visit, Harry and Markle met Taoiseach Leo Varadkar and were given a tour of Dublin, the BBC reports, before attending a garden party held by the British Ambassador at Glencairn. The next day, they met with President Michael Higgins, his wife Sabina, and their two giant dogs, Brod and Sioda, People reports. According to Kensington Palace, they also rang the Peace Bell — designed to mark the 10th anniversary of the Belfast Agreement. Then, at Trinity College, there was a treat for calligraphy expert Markle, the Guardian reports, viewing of 19th Century manuscript the Book of Kells, which she called "amazing, beautiful". The pair also visited the memorial to the Irish famine, which took place under British rule, before taking part in "a festival of traditional Irish sports" at Croke Park, and meeting young coders participating in the CoderDojo scheme at DogPatch Labs.
Middleton and William landed in Ontario on June 30, 2011, and departed from Alberta on July 8, the Government of Canada website states. While there, they laid a wreath at the National War Memorial, attended a ceremony welcoming new Canadian citizens on Canada Day, visited paediatric hospital Sainte-Justine University Hospital Centre, and watched traditional drumming, dancing, and singing performed by Indigenous Canadians in the Northwest Territories — amongst an awful lot more. A common link between this tour and Prince Harry and Markle's post-wedding overseas tour? There was absolutely no free time for a quick cup of tea and a digestive.
Next up — fashion. The Duchess of Cambridge disembarked the plane in a navy lace dress by Erdem, whose namesake designer, Erdem Moralıoğlu, grew up in both Montreal, Canada, and Birmingham, England. On Canada Day, Middleton took the theme and ran with it, wearing a red maple leaf fascinator and diamond maple leaf brooch. And she also made a subtler, more personal comment with her wardrobe on the day Princess Diana would have turned 50, the Guardian reports, as Middleton chose a grey dress by Catherine Walker, "a favoured designer, friend, and confidante of Diana."
The Duchess of Sussex, meanwhile, left the plane in Ireland in green (a forest green Givenchy jumper and matching pencil skirt, according to Elle). There might be a subtle comment, too, in the black, belted dress she wore to the British ambassador's garden party. It's bespoke Emilia Wickstead, Elle reports, and it could be Markle's way of indicating there's no hard feelings between the Duchess and the designer. Wickstead was reported by the Daily Mail to have criticised Markle's Givenchy wedding dress, claiming it was a copy of her own design; however, she subsequently refuted the claims, posting on Instagram:
"I am extremely saddened by commentary that has appeared in the press and online over the past few days. Her Royal Highness, the Duchess of Sussex, looked absolutely beautiful on her wedding day and I have the utmost admiration and respect for her. I do not think that her wedding dress was a copy of any of our designs. I have the greatest respect for Clare Waight Keller and the House of Givenchy — a huge source of inspiration to me."
Moving on, what can we glean from the body language displayed by Harry and Markle on their first official tour, and how does it compare to William and Middleton's? Relationship and body language expert Annabelle Knight found both parallels and slight differences between the couples on their first overseas trips.
She tells me: "William and Kate often mirror each other's body language, presenting themselves as an equal partnership to the world. Their wide, open smiles show genuine happiness as well as being reassuring to one another.
How does Harry and Meghan's body language compare? Knight tells me: "Like William and Kate, Harry and Meghan match and mirror one another's body language, which shows a genuine love and respect for one another. They also use prolonged eye contact to support one another and brief touches to non-verbally touch base, which is what couples do when they are in secure and communicative relationships."
Knight sees a slight difference between the two duchesses' body language. "Kate may be slightly more dominant than William; her body language is often leading. She may place her hand on top of his or shield him by walking, standing or leaning slightly in front of him," she explains.
Meghan and Harry are a little more in sync, taking turns to take the lead, experts say. Body language, sex, and relationships expert Tracey Cox says they're a couple perfectly in tune with each other, with neither attempting to dominate the other with their body language. "Instead of both competing for centre stage, they appear to take turns," she says. A perfectly matched couple, it sounds like!
Cox also detects a royal parallel in Markle's behaviour. "Meghan also does something Diana perfected: tipping her chin down and looking up with big wide eyes," she says. "She does it when looking at Harry: it's openly adoring and makes him feel ten feet tall." It's more than reciprocated by Harry, she assures me — the couple share "real smiles that ball the cheeks and reach the eyes", a reflection of "mutual adoration".
And what of their relationship with the public? Both Harry and Markle are "similarly warm and friendly and not scared to mix with the public," Cox said. Again, sounds like a perfect match.