These Photos of Meghan Markle & Prince Harry In Ireland Will Royally Melt Your Heart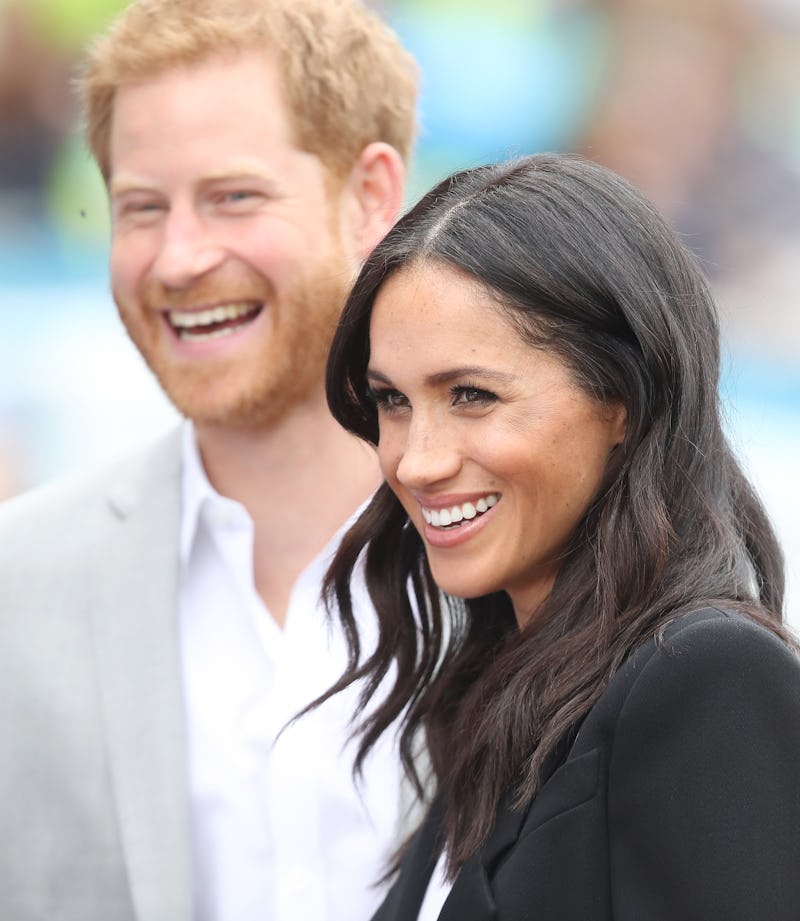 Chris Jackson/Getty Images Entertainment/Getty Images
Irish eyes were smiling when the Duke and Duchess of Sussex visited the Emerald Isle. As seen in photos of Meghan Markle and Prince Harry in Ireland, the royals' trip to Dublin's Croke Park on Wednesday, July 11, in particular, had the newlyweds grinning just as much as the locals. In one adorable moment, an awestruck toddler got some hands-on interaction with Markle, reaching out to stroke the new duchess's hair and touch her face.
Given that the young boy was just 3 years old, he likely got a pass on what was surely a breach of royal protocol — but not before getting a joking scolding from Prince Harry who playfully wagged his finger at the youngster.
Markle — who greeted athletes and watched traditional Gaelic sports, such as hurling, camogie and rounders with her new husband — also took the cute encounter in stride, making silly faces at the boy. But watch out, Harry: The toddler may have been making a play for the Duchess's heart when he adorably blew her a kiss.
The Duke also had a touching experience of his own during the visit to the home of the Gaelic Athletic Association. When a 4-year-old boy tugged at Harry's beard, he hilariously grimaced, while a Givenchy pantsuit-clad Markle seemingly stifled her laughter. According to People, Harry then told the tot, "You might have a beard soon — you never know!"
During the trip, another admirer asked Harry if "football was coming home" (i.e. if England will with the World Cup ), as reported by USA Today. With a laugh and a grin, the Duke gave his vote of confidence, responding, "Most definitely." (Later, England lost out on their chance to advance to the finals after being beat out by Croatia.)
After arriving in Ireland on the evening of Tuesday, July 10, the couple's itinerary also included greeting well-wishers at Trinity College's Parliament Square, seeing the Brian Boru Harp (aka the oldest in Ireland) and the historic Book of Keels, paying their respects at the memorial for the Irish Famine of the mid-19th century, and exploring the Irish Emigration Museum.
Given all the sweet interactions with kids during their two-day tour of the Irish capital — their first official trip as a married couple — royal-watchers naturally wondered if a baby may be in the cards for the pair. While the royal couple greeted fans, a woman named Elaine Adam-Stewart was so bold as to ask Harry directly, saying "My husband also has red hair and he gave me five children — when are you and Meghan going to get going?" As she told People, "He laughed and said 'five children? — too many.' "
OK, so maybe they won't be expanding their family that much, but both have previously expressed their interest in being parents. When asked about baby plans in a November BBC interview, Harry replied, "Of course ... You know, one step at a time. Hopefully we'll start a family in the near future."
For her part, Markle told Canada's Best Health magazine in 2016, "I can't wait to start a family, but in due time."
Of course, just two days before they visited Dublin's Croke Park, the aunt and uncle got to spend time with their three nieces and nephews at Prince Louis' christening in London. Showing his sweet paternal side, Harry gifted Prince Louis a first edition Winnie-the-Pooh book, one his mother, the late Princess Diana, used to read to him and his brother Prince William.
After seeing all the adorable photos from the Duke and Duchess's trip to Dublin, Ireland, it's safe to say that the couple will be naturals if and/or when they decide to start a family of their own.