Harry Potter Liquid Lipsticks Are Coming & They're Magical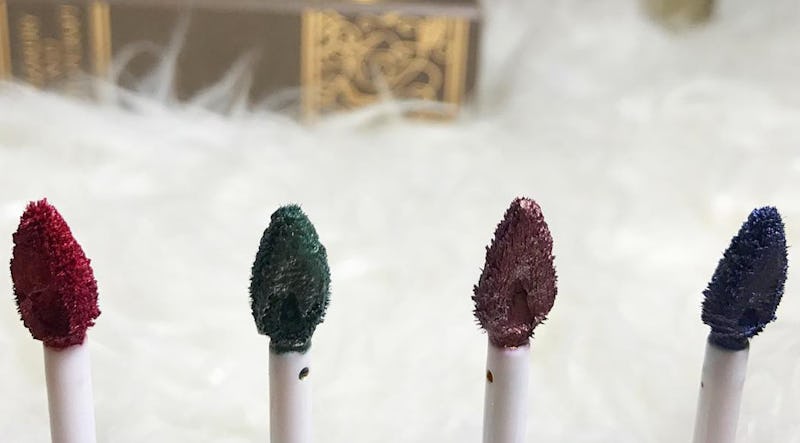 Storybook Cosmetics first treated Harry Potter fans to a set of wand-like makeup brushes, then topped it with a magical Wizardry and Witchcraft eye shadow palette. Now they're back at it with a set of four liquid lipsticks, and they've got Potterheads and makeup junkies alike hyped.
The liquid lipsticks were teased on Instagram, and they're due out in fall 2017, so from the sounds of it they'll be out faster than you can say "accio liquid lipsticks."
While they didn't reveal much in their original post, the Storybook Cosmetics team has been dropping more hints in the comments section. Apparently they'll be called Sorcerer, Potions, Salem, and Merlin, and they'll be exact matches for four of the shades in the Wizardry and Witchcraft palette.
As PopSugar points out, the colors are reminiscent of the four Hogwarts houses. Sorcerer is a bold maroon like Gryffindor, Potions is a Slytherin-like green, Merlin is a Ravenclaw-worthy blue, and Salem is a muted purple with a hint of metallic gold — not exactly Hufflepuff, but close.
As a bonus, Storybook Cosmetics fans have given the brand's other liquid lipsticks top marks, so these lippies are sure to deliver. Here's a first look at them.
And if you just can't wait for these Harry Potter-inspired liquid lipsticks to be out, the makeup brush set and eye shadow palette are calling your name.
1. Storybook Cosmetics Wizard Wands
Rose Gold Wizard Wands, $55, Storybook Cosmetics
Even Hermione didn't have a rose gold wand. They also come in gold and gunmetal shades.
2. Storybook Cosmetics Wizardry and Witchcraft Eye Shadow Palette
Wizardry and Witchcraft Eye Shadow Palette, $52, Storybook Cosmetics
This palette comes disguised as a classic book.