Harry Potter World's Holiday Celebrations Are Pretty Magical & You Can Get Tickets Now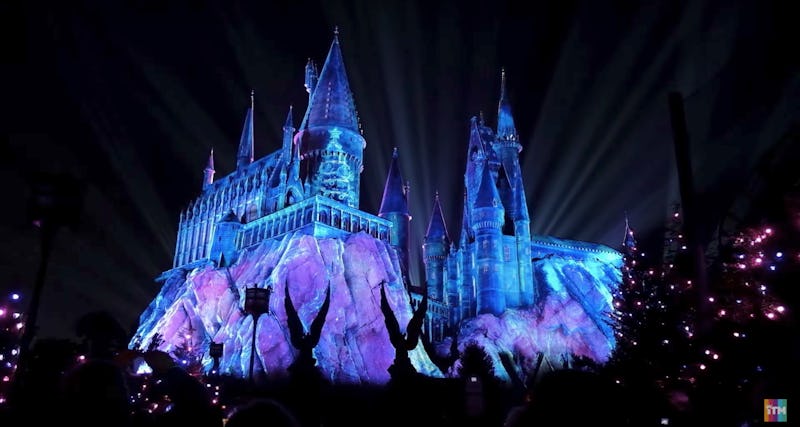 Inside The Magic/YouTube
Any Harry Potter fan worth her weight in Galleons has dreamed of spending the holidays at Hogwarts. I mean, just think about it: the snow-covered grounds all sparkling like a snow globe, the Great Hall's tables heavy with turkeys and stuffing and other delicious festive foods, the massive Christmas trees, a snow-ball fight before warming off by the Common Room fire. Sadly, for many of us this dream has long been just that; the closest many of us have gotten to a Hogwarts Christmas is between the pages of the series and its on-screen adaptations. But thanks to The Wizarding World of Harry Potter in Orlando, your holiday festivities are about to get a whole lot more magical. Bustle's got all the details on 2018's Harry Potter World holiday celebrations below!
According to the Harry Potter World website, fans will have a couple of ways to get into the holiday spirit with Harry this year. For witches and wizards in the U.S. The Wizarding World of Harry Potter, located in Orlando, Florida, will have its seasonal spirit on full display starting Nov. 17. Universal Studios Florida's versions of Diagon Alley and London will be transformed with festive décor and brilliant lighting, and King's Cross Station will feature buskers singing holiday favorites.
As for Hogsmeade in Universal's Island of Adventure, the snow-topped shops will be decked out with garlands and lights, and the castle at Hogwarts will be all decked out with evergreen trees and lights that will be sure to fill any visitor with yuletide joy. As if the atmosphere weren't enough, there will also be special holiday-themed treats available for purchase, along with the usual butterbeer, pumpkin juice and other delicious offerings.
If you're in the mood for some merry entertainment, you'll be able to catch special performances at both parks: the Hogwarts Frog Choir will be croaking out tunes in Hogsmeade while Mrs. Weasley's favorite songstress Celestina Warbeck and the Banshees are planning a show at King's Cross. And if you want to travel between the two, the Hogwarts Express makes trips throughout the day. Basically, all of your wildest Harry Potter holiday wishes are about to come true.
The Wizarding World in Orlando will debut it's seasonal look on Nov. 17 and keep the spirit going through Jan. 6, so you have a couple of months to get yourself out to the parks and into the magical holiday scene of your dreams. You can find out additional info about the holiday happenings at the Universal Orlando website, including the how to buy tickets to the parks.