15 Of The Most Magical Harry Potter Decorations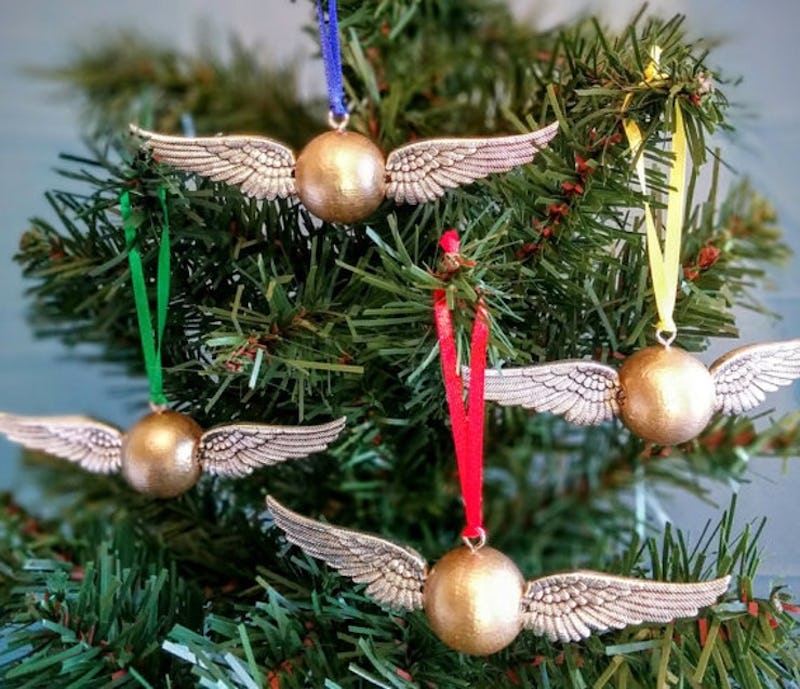 The holidays are in full swing, meaning it's the most wonderful — excuse me, magical — time of the year. It's time to string up the twinkling lights, trim the tree in silver and gold, and cover your home in the most magical Harry Potter Christmas decorations of all time. You may not ever have the chance to celebrate the holiday in the Great Hall, but that doesn't mean you can't bring a bit of Hogwarts home to you.
I think I've made myself pretty clear when it comes to my love for Harry Potter, especially around Christmastime. To me, Harry Potter is the perfect holiday experience, so full of wonder, joy, and, well, magic, it beats out any book or movie with a talking snowman, flying reindeer, and yes, even Santa Claus. Just once glimpse at Hogwarts in the snow, one passage about the holidays with the Weasleys, or a single shot of Harry opening gifts on his very first Christmas, and it's all it takes to get me (or any other Potterhead) in the holiday spirit. This year, it's time we spread that love and joy to everyone who comes into our home, with the help of a little Harry Potter magic.
Whether you're a crafty DIY-er or a stylish shopper, transform your living room into the cozy Gryffindor common room, your dining room into the dazzling Great Hall, and your entire home into a setting worthy of the Yule Ball with the help of 15 of the most magical Harry Potter decorations of all time.
1. Christmas Banner
Some people wish for peace on earth, others pray for an end to global poverty, but Harry Potter fans ask for the same thing every year: a Hogwarts letter. Instead of sending your secret wish to Santa, display it magically on your wall with this fun and festive holiday banner.
"All I Want for Christmas Is My Hogwarts Letter" Banner, $13+, Etsy
2. The Sweater That Lived Throw Blanket
It's not a Weasley ugly sweater, but this knit-inspired throw will make you feel as magical as if you spent Christmas in the Burrow with Harry and the whole gang.
The Sweater That Lived Throw Blanket, $41.65, Society6
Add a little fun and wonder to your tree with a set of golden snitch ornaments. Beautiful hanging from the branches or decorating your mantelpiece, they're a lovely wizarding touch.
Golden Snitch Ornaments, $15, Etsy
Beautiful in shades of blue, this unique rendering of Hogwarts gives you a fun place to wipe your feet off all winter long. Don't worry, the snow from your boots will blend right in.
Hogwarts Rug, $23.80, Society6
Sing a new Christmas carol this year, one with a magical twist, with the help of this festive holiday throw pillow. Your couch deserves a little Harry Potter cheer, and this is the thing to do it.
Harry Christmas Throw Pillow, $20, Etsy
Decorate your wall and keep track of the minutes until Christmas with your favorite Patronus, decked out in winter attire and as adorable as ever.
Stag Patronus Clock, $25.50, Society6
A fun Christmas decoration that doubles as an activity for the whole family, this Harry Potter puzzle pictures Hogwarts at its most festive. Enjoy quality time with loved ones putting it together, and then set it out for guests to admire.
Christmas at Hogwarts Puzzle, $17.95, Amazon.com
It's not really the holidays without a wreath, so make sure yours has a magical touch. Featuring light up snitches, a glittering stag, and a tiny version of the Sorting Hat, this breathtaking one will look stunning, inside or out.
Light Up Wreath, $45.09, Etsy
What is cooler than Santa Claus for the top of a Christmas tree? Your very own personal Hedwig.
Snowy Owl Tree Topper, $14.99, Sears
One of the best parts of the holiday is getting Christmas cards from friends and loved ones. Though you may never get one from the golden trio, you can feel like you did by hanging this bright and beautiful portrait of Harry, Ron, and Hemione laughing in the Great Hall.
Harry Potter Framed Print, $28.90, Society6
Who needs Christmas lights when you have a Hogwarts hologram to light up your living room? A bright and colorful twist on traditional decorations, this is something you'll want to keep up all year long.
Hogwarts Hologram Lamp, $59.44, Amazon.com
Deck the halls with... deathly hallows? This year, add a little Harry Potter spirit to the tree with this ornament set that's simple yet magical.
Deathly Hallows Ornaments, $12, Etsy
What better time of year to honor your favorite house's color than in December when green is all the rage? Add a little Hogwarts spirit to your tree, mantel, or walls with these simple yet festive Harry Potter decorations.
Slytherin Christmas Garland, $18+, Etsy
You may not be able to go to Hogwarts for Christmas, but you can bring Hogwarts to you with this bright and colorful art print perfect for displaying around the holidays.
Party at Hogwarts Print, $13.60, Society6
If you've always dreamed about dining in a magical hall where the food appears on it's own and the candles seriously set the mood, this DIY tutorial can help — well, at least with half of your wish. Learn how to transform your home into Hogwarts's famed hall by adding floating keys and candles overhead. I swear, it's easier than it looks.
Images: Warner Bros.