Harry Redknapp Won 'I'm A Celebrity' & The Reason Why Makes So Much Sense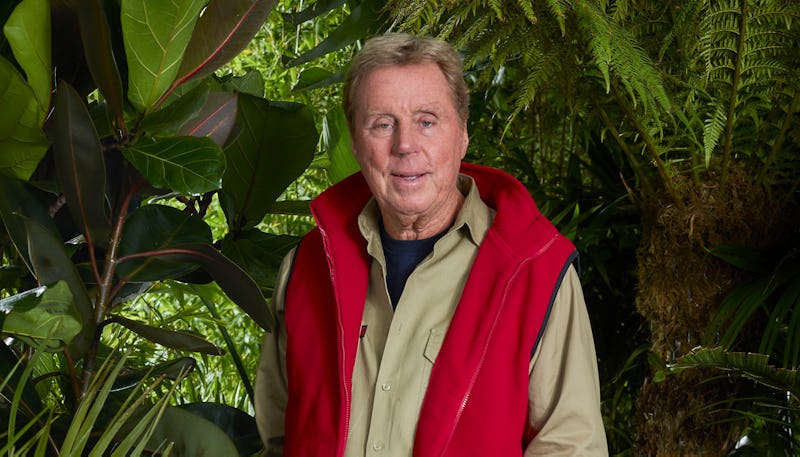 ITV/Shutterstock
Telly fans, your newest king has been crowned: Harry Redknapp won I'm a Celebrity 2018, and just like that, the camp now lies empty for another year. The football icon won over viewers with his perhaps inadvertently hilarious anecdotes, affable nature, and eternal love for his wife Sandra, beating John Barrowman and Emily Atack to leave the jungle as champion. And honestly? It wasn't a difficult outcome to predict. Here's why I'm a Celebrity...Get Me Out of Here! devotees called Redknapp's victory from pretty much the minute he pulled on those bright red socks.
Harry Redknapp was the bookies' favourite to win this year's I'm a Celeb in the run up to tonight's final, according to Oddschecker, followed by Barrowman then Atack. One of the highlights of Redknapp's stay in the jungle? His relationship with his wife, Sandra. As the Evening Standard reports, their reunion brought viewers to tears — and Harry shed a few, too. "I can't help this, it is not like me, I don't normally cry, I'm pretty old school," he said. "It's funny, 54 years and we just don't want to be apart, that's done me up today, I've missed her so much. I love you so much." Sandra seemed just as delighted to see her husband, saying, "I've really missed him, he's my life."
Before their brief reunion, Harry wasn't short of chitchat about Sandra — who, as you're probably aware by now, he accidentally ran over with his car in 2016. "I used to think I was a good driver but I had a nightmare and ran over my wife one day," he said, as the Radio Times reports. And Sandra, it turns out, has a less than flattering nickname for her husband, Harry revealed in the jungle. "When I'm at home, my wife calls me Mr Pastry," he said. "Mr Pastry was a bloke that whenever he had a job to do, he'd just mess everything up. And that is me."
The magazine's preserved more of his standout anecdotes from the series, including the baffling facts that he's never done a jigsaw puzzle and has never even heard of Toy Story. And his obliviousness, viewers discovered, extends to the Royal Family. According to Redknapp, he once sat in the waiting room of a physiotherapist opposite a vaguely familiar man. "I hear, 'Hi Harry!' I look up, say, 'Alright, mate,' and carry on reading the paper," he said. "I thought, I know him from somewhere — did he used to play for me? Who is he? I go up to the girl in reception and say, 'Is that who I think it is? 'She said, 'Yes, it's Prince Harry.'"
Redknapp formed close bonds with his fellow campmates, and didn't hesitate to share the love. "I thought it was going to be difficult, but I've felt so at home and loved every minute for being around you all," he said one night around the campfire. "I want you to thank you for making me feel welcome in your world of showbiz, even thought I don't know what you're going on about half the time. I love you all." Doesn't that bring a tiny tear to your eye?
So Redknapp's king, the series is over, and he's no doubt devouring a jam roly-poly with Sandra as we speak. Just one question remains, and it concerns his famous son: Harry, when are you going to set Emily Atack up with Jamie?