Harry Styles Opens Up About His Breakup With Taylor Swift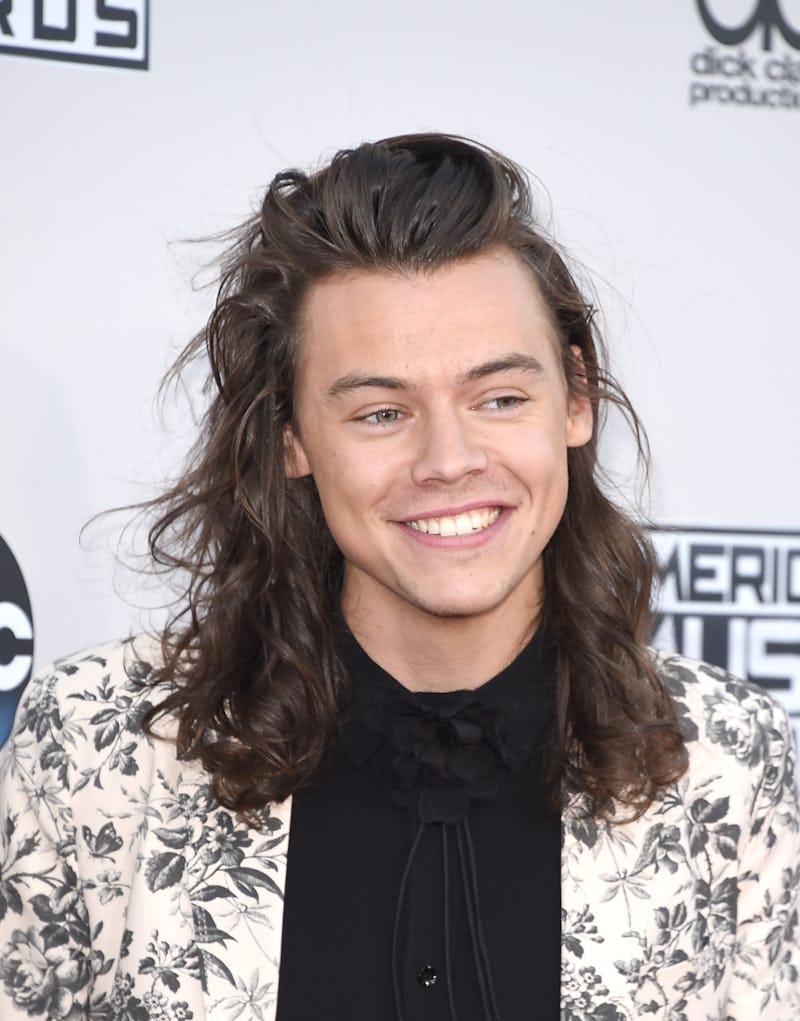 Jason Merritt/Getty Images Entertainment/Getty Images
It's been almost four years since Taylor Swift and Harry Styles called it quits, but fans still aren't over the legendary couple known as Haylor, myself included. And with Styles' first solo album less than a month away, I can't help wondering if a song about her will be included. Unfortunately, we still don't have an answer to that question, but we do have an update on his feelings about their split. In a new interview with Rolling Stone, Styles talked about his relationship with Swift, and the attitude he takes toward their breakup is actually really refreshing.
But first, let me take you back to December 2012. Swift had only recently released her Red album in October, and she was hot off of what seemed to be a really intense relationship with Jake Gyllenhaal, while Styles was wrapped up in the height of One Direction mania. One day, out of nowhere, these beautiful photos surfaced of the two of them together, enjoying Central Park Zoo, launching fandoms on both sides of the relationship into complete chaos. Immediately, I began envisioning babies with his curly dark hair and her blue eyes.
And now, more than four years later, Styles is talking about what it's like to look back on those photos now.
He told the magazine:
"When I see photos from that day, I think: Relationships are hard, at any age. And adding in that you don't really understand exactly how it works when you're 18, trying to navigate all that stuff didn't make it easier. I mean, you're a little bit awkward to begin with. You're on a date with someone you really like. It should be that simple, right? It was a learning experience for sure. But at the heart of it – I just wanted it to be a normal date."
The bad news: When you're Harry Styles and Taylor Swift, the whole "normal date" thing kind of goes out the window. And after their relationship ended and Swift released her most recent album, 1989, there was speculation that songs like "Style" and "Out of The Woods" were about the time they spent together. I'm firmly in the camp that both songs were totally Styles-specific, and even though he didn't directly confirm it to Rolling Stone, he did seem to say that it's OK with him if they are.
He added:
"I mean, I don't know if they're about me or not…but the issue is, she's so good, they're bloody everywhere…I write from my experiences; everyone does that. I'm lucky if everything [we went through] helped create those songs. That's what hits your heart. That's the stuff that's hardest to say, and it's the stuff I talk least about. That's the part that's about the two people. I'm never going to tell anybody everything."
Again, Styles' attitude toward details of their former relationship potentially going public via song is so positive that he considers himself lucky that their time together was important enough to fuel her music.
Of course, since he's a fellow musician, he's probably a little more understanding than other people would be. But then again, John Mayer is also a song writer, and he didn't take Swift's "Dear John" too well, which makes Styles' approach that much more refreshing.
And then, there's the way Styles shared his thoughts on Swift now, looking back at what they had, something else he casts in a really good light. Most people might hold grudges against an ex or think back bitterly on those memories — and it's only human to do so — but as far as Styles is concerned, it's actually something to celebrate.
He said:
"Certain things don't work out. There's a lot of things that can be right, and it's still wrong. In writing songs about stuff like that, I like tipping a hat to the time together. You're celebrating the fact it was powerful and made you feel something, rather than 'this didn't work out, and that's bad.' And if you run into that person, maybe it's awkward, maybe you have to get drunk … but you shared something. Meeting someone new, sharing those experiences, it's the best sh*t ever. So thank you."
Is Styles a 23-year-old former boyband member or a wise old Nicholas Sparks character? The second one might be more likely, especially since he noted in the interview that he's an expert on his movies and has even nicknamed him "Nicky Spee." Oh, Harry.
Either way, I love how he chooses to remember his ex, and I'm also hoping those memories spark some seriously awesome music on his new album. Only a few more weeks until we find out!