When Exactly Did Haylor Date Anyway?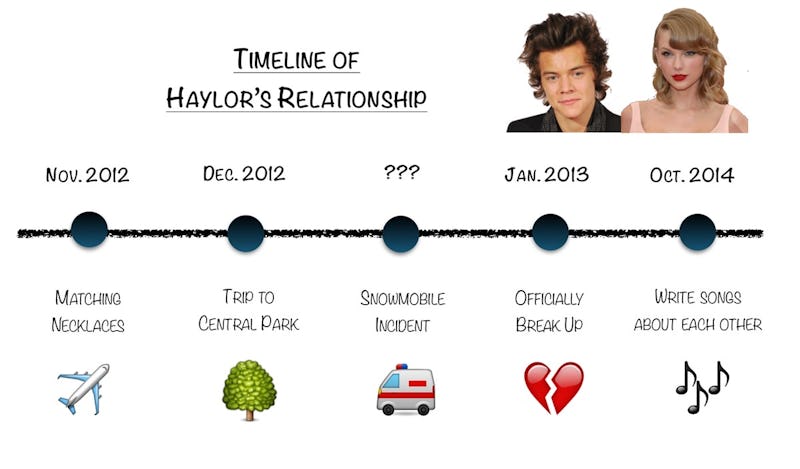 If you're a fan of Harry Styles or Taylor Swift (or both), then chances are you're very familiar with the saga of Haylor. Despite breaking up nearly two years ago, shippers of this relationship won't let it end. In fact, when Taylor Swift sang about Styles on 1989, it led to a whole new set of rumors that these two still loved each other. While that's not something anyone can conclusively comment on (besides the two themselves), we can take a look back at the relationship and see how it was good while it lasted. So how long did it last exactly? When did Taylor Swift and Harry Styles date?
Honestly, it really does feel like a distant memory, but here's your answer: Styles and Swift began dating in fall 2012, but they weren't officially photographed together until December. By January, they had called it quits. Even after it ended, there seemed to not be hard feelings (well, aside from a few digs Swift made). Styles even had positive things to say about Swift's songs about him on her 1989 album:
We write from personal experience, and I think everyone does, so it would be hypocritical of us to be like, "Oh you can't write about us." And she's really good, so they're good songs. I'm really lucky in that sense.
Glad he approves! While short-lived, it seemed special nevertheless. Here's a timeline of Haylor's romance:
November 2012
Rumors spread that the two were dating after Swift was spotted wearing a silver airplane necklace, which matched Styles'. If you're Swift-savvy, you may also remember the reference from "Out of the Woods," where she talks about being "two paper airplanes flying, flying, flying."
December 2012
The first time Harry Styles and Taylor Swift were photographed together was in the beginning of December. They adorably were seen walking through Central Park together and visiting the zoo. Of course she wore a fox sweater to celebrate the occasion. (So appropriate, yet so fashionable!)
There's also that alleged snowmobile accident, which she also references in "Out of the Woods" that resulted in 20 stitches and a trip to the hospital room. Since snowy activities happen in winter, I'm lumping that into the December timeframe, since they didn't date too long in January.
January 2013
The pair broke up in January. If we're being exact, it was on Jan. 7, 2013 that Perez Hilton first reported that they were dunzo. According to Perez, Swift and Styles vacationed in the British Virgin Islands together and split soon after that. Apparently this was the reason:
They are both really busy and never in one place for long. Harry's really upset about the split and is really sensitive about it. Loads of his friends told him to be careful and that it was never going to last, and he feels a little foolish now that it's fallen apart so quickly.
Of course, no one knows how legit that source was, but it definitely could make sense.
August 2013
Months later, Styles told Us Weekly, "It would be hypocritical for me to say she couldn't do it because everybody writes songs based on personal experience. I can't say I'd have dated someone less famous to avoid it." Basically, Styles predicted Swift would write a song about him and if so, there would be no hard feelings.
September 2014
In her interview with Rolling Stone, Swift admitted she hadn't dated anyone since Styles. "I feel like watching my dating life has become a bit of national pastime. And I'm just not comfortable providing that kind of entertainment anymore." She told the magazine that she hasn't sworn off love forever, but she just doesn't have the energy right now. Plus, she's perfectly happy living the single life:
I have friends around me all the time. I've started painting more. I've been working out a lot. I've started to really take pride in being strong. I love the album I made. I love that I moved to New York. So in terms of being happy, I've never been closer to that.
Atta girl, Taylor!
October 2014
Styles' prediction came true. There are not one, but supposedly three songs about Styles on Swift's 1989. From "Style" to "Out of the Woods" to "Wonderland," there seem to be plenty of clues in her lyrics that these tracks are about him. While the relationship may have not worked out, it provided plenty of inspiration for songs. At least that's an upside!
Phew, that was a lot to follow! In case you need a refresher, here's a handy recap using emojis:
Images: Giphy (3), Getty Images