Just When You Thought You Couldn't Love Harry Styles Any More, He Went & Did THIS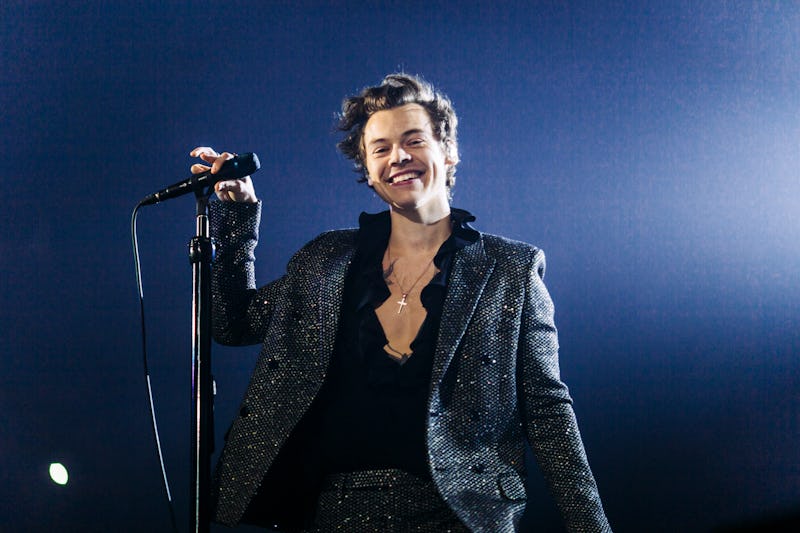 Handout/Getty Images Entertainment/Getty Images
Sweet prince Harry Styles is here to make the world a better place. The former One Directioner and current dreamboat went from Worcester to the world, and now he's one of pop's greatest role models. When he's not making music and starring in music videos alongside puppies, he's working on his activism and philanthropy — having donated millions to charities and causes throughout his career. And now he's outdone himself again. In one of the charity's biggest donations in months, Harry Styles donated $42k to Time's Up.
The $42k was picked up by the Daily Mail, who oversaw records of the donation. I've reached out to Harry's representative for comment, but am yet to receive a response. As the Mail reported, he's one of nine men to have contributed more than $40k to the Time's Up legal fund, and he's in good company alongside Steven Spielberg and Seth Meyers. He reportedly offloaded the sum on the back of his Los Angeles tour at the end of August, with much of the donation taken from his ticket and merchandise sales. "All of Harry's profits from these purchases, as well as a portion of ticket sales, will be donated to various local charities from his tour stops around the world," a spokesperson wrote on his personal website earlier this year.
The Time's Up fund was launched back in January by a powerful roster of Hollywood women, with backers and insiders including Reese Witherspoon and Shonda Rhimes. The initiative aims to protect women who are suffering from sexual harassment in the workplace by giving them access to lawyers and subsidising legal fees. It all came together in the wake of the #MeToo movement, which was propelled in October 2017 by the flurry of allegations fired against Harvey Weinstein for sexual misconduct. "No more silence. No more tolerance for discrimination, harassment or abuse. Time's Up," the organisation's website states.
It's just one of the many — 60, according to the Daily Mail — charities that Styles has donated to. It's all part of his "Treat People With Kindness" campaign, which coincided with his first ever solo tour. He's raised $1.2 million in total from merchandise and ticket sales, which have been distributed among 60 charities, including Time's Up. In addition to coughing up the cash, Styles' tour encouraged hundreds of people to vote, as well as recycling more than 6,500 gallons of water and saving 13,200 single-use water bottles, Teen Vogue reported.
This isn't Styles' first foray into philanthropy. In 2016, the singer cut his then rather long hair and donated it to the Little Princess Trust, as OK! magazine reports. Back in 2013, as a trip with his One Direction band mates, the Daily Mail reports Styles was reduced to tears after on a trip to Ghana with Comic Relief, when confronted with the malaria crisis. The visit formed part of the band's collaboration with the charity, as they also released that year's single with "One Way Or Another." The band returned in 2015 for a spoof video, the Independent reports, where five comedians stepped into their shoes to perform as No Direction. Vic Reeves played Harry Styles. Yes, really. Either way, keep the good work up, Styles.