This Video Of Harry Styles Helping A Fan Come Out To Her Mom At His Concert Is SO Sweet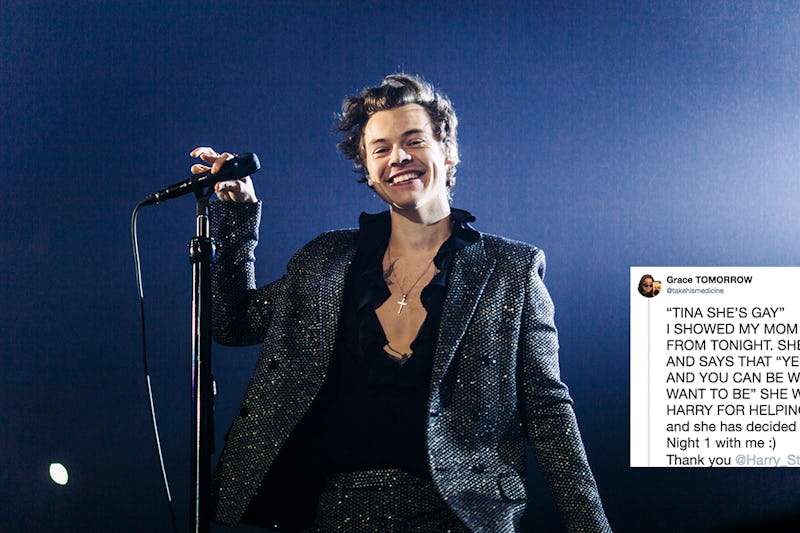 Handout/Getty Images Entertainment/Getty Images; takehismedicine/Twitter; Bustle/Screenshot
With just three words — "Tina, she's gay" — Harry Styles helped a fan come out to her mom in a video that has since gone viral. During his concert at San Jose's SAP Center on Wednesday, July 11, concertgoer Grace Hall-Ramsey posted on social media that she held up a sign that read, "I'm gonna come out to my parents because of you!!!" And the singer took the reins from there.
Grace, who identifies as bisexual, had traveled to California from Baltimore, Maryland (an exact 2,846 miles, per her double-sided poster) "not expecting anything," but hoping to catch the former One Direction band member's attention, according to her social media accounts.
And catch his attention, she did. In her videos from the concert, which Grace gave Bustle permission to include, the "Sign of the Times" singer could be seen reading the girl's message aloud to the audience, before asking her mom's name and where she was. Grace shouted that her mom, Tina, was in her hotel room about four miles away, and Styles asked the crowd to get "as quiet as possible" before yelling into his mic, "Tina, she's gay!"
In Grace's video, Styles listened for a response before telling Grace: "Tina said she loves ya. Congratulations." Then, Styles proceeded to lead the crowd in a "Tina, she's gay" chant, as the emotional fan seemed to be losing her mind.
Of course, Tina wasn't actually in attendance, so the girl played the video for her mom in her hotel room after the show. Her mom's sweetly supportive response wasn't too far off from what Styles predicted. Attaching a photo of her mom holding up the video playing on a phone, Grace tweeted:
"'TINA SHE'S GAY' I SHOWED MY MOM THE VIDEOS FROM TONIGHT. SHE IS OVERJOYED AND SAYS THAT 'YES I DO LOVE YOU AND YOU CAN BE WHOEVER YOU WANT TO BE' SHE WANTS TO THANK HARRY FOR HELPING ME COME OUT"
Following the concert, Grace reflected on the experience, posting on Instagram: "Harry's shows are an amazing environment where I have felt safe and accepted and last night Harry Styles himself helped me come out to my parents and it is something I will never ever forget."
In another sweet moment at the same show, Styles also predicted the gender of a pregnant fan's baby, according to Billboard. "Congratulations to Rachel and your son," he told the woman, before leading the audience in singing "Happy Birthday," the website reported.
While Styles' international tour has included everything from the singer making a powerful statement on gun control to him spontaneously catching an audience member's gummy bear in his mouth, one of the most consistent components of his concerts has been his shows of support for the LGBTQ+ community. The longtime ally has frequently included a rainbow pride flag onstage, worn AIDS awareness pins, and also waved a fan's "Make America Gay Again" banner during Pride month.
In the past, some have speculated about the sexuality of the former boy bander, who famously dated Taylor Swift in late 2012. When he released a song "Medicine" earlier this year, many called it a "bisexual anthem." "The boys and the girls are here / I mess around with him / And I'm OK with it," he sings on the track. But still, speaking to The Sun earlier this year, Styles said he "never really felt the need" to label his sexuality, adding, "I don't feel like it's something I've ever felt like I have to explain about myself." And he shouldn't have to explain himself; it's his personal business.
Echoing that same idea during the same interview, he also told the U.K. newspaper: "It's weird for me — everyone should just be who they want to be. It's tough to justify somebody having to answer to someone else about stuff like that."
Styles clearly exhibited that philosophy of encouraging everyone to feel comfortable to be who they are, during his San Jose tour stop — and in doing so, he certainly made a lasting impact on one lucky fan's life.
Photo and video courtesy Grace Hall-Ramsey.