Harry Styles Has A Strong Reaction To Kendall Jenner's Name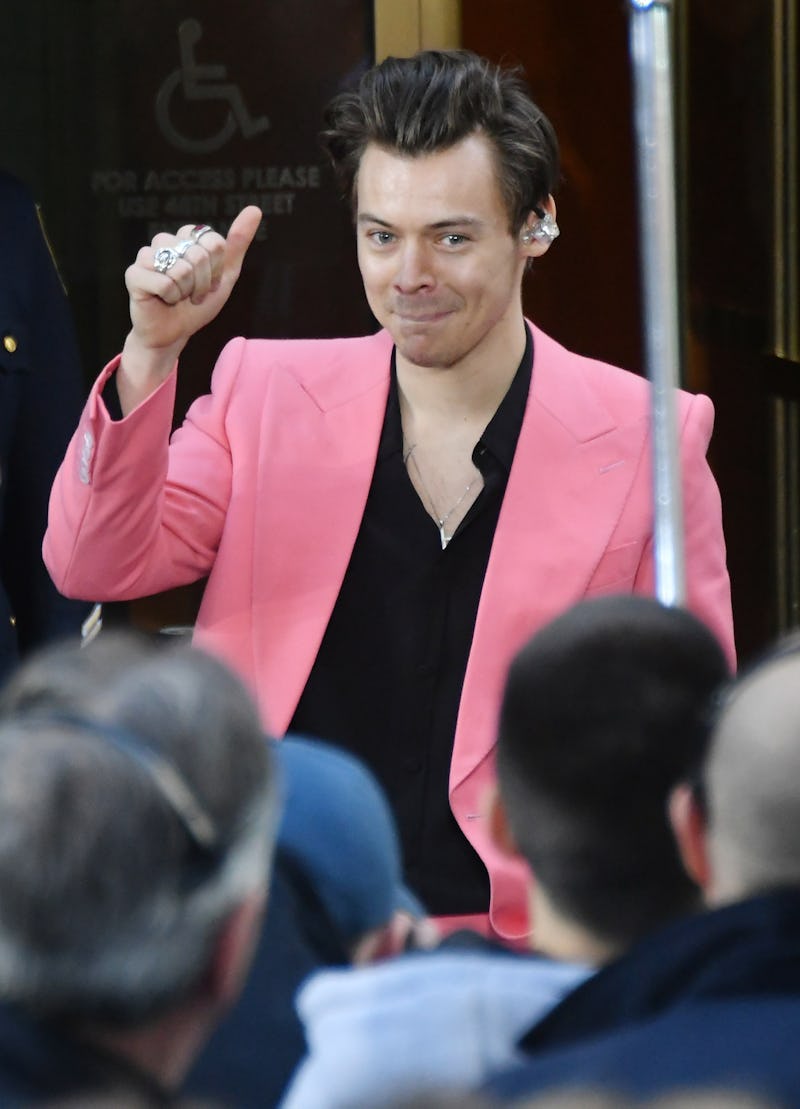 Mike Coppola/Getty Images Entertainment/Getty Images
It's a good time to be a Harry Styles fan. Not only did he just release his first album, but he's also about to kick off his tour. Before that happens, though, he's going to be all over TV screens everywhere. This week, Styles is hanging out on The Late Late Show with James Corden, and the first night of his residency already brought up a weird moment or two. During the show, Styles avoided talking about Kendall Jenner the best way he could, but despite how awkward he was, he still handled the situation pretty well.
It all started when Aaron Taylor Johnson started talking about his chickens, who are all named after members of the Kardashian-Jenner family, as you do when you have a large quantity of animals. That in itself is not that awkward, even though Styles reportedly dated Jenner, but it did get weirder for him when Johnson listed off Jenner's name as one of his chickens.
Leave it to Styles to take that opportunity to sip his water as he looked supremely uncomfortable in his chair. It's hard to say whether he was actively trying to make a joke out of the situation (it seemed like he was) or if he really was feeling that weird about it, but either way, it's hard not to feel bad for him.
And then, it got worse. Johnson mentioned that his chickens lay eggs on a daily basis, which prompted Corden to ask, "Do they lay every day, Harry?" Cue Styles drinking more water.
Since Styles is such a private person, it's no surprise that he didn't feel like talking about a potential ex. I mean, he doesn't seem to enjoy doing that in general, and I can't imagine it makes it any less strange when one of them comes up in a conversation about chickens on a late-night show. But even though Styles was being really weird about it, he handled the whole thing pretty well and his reaction actually was pretty funny.
For his sake, I hope Styles manages to avoid this topic for the rest of his week on The Late Late Show, but for mine, I hope he doesn't. Maybe after enough awkward chatter, he'll finally give us a tiny sliver of information about their relationship? It's impossible not to be curious, especially after all of the rumors that circulated last year.
Besides, maybe if he just answers all these questions surrounding their relationship, people will stop asking them? Of course, that probably won't happen, but it's worth a shot.