Harry Styles Surprises Fans At 'SNL' With A Meaningful Treat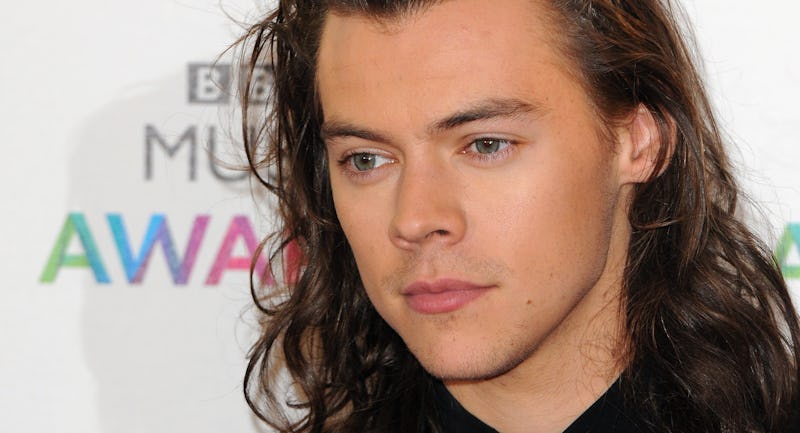 Eamonn M. McCormack/Getty Images Entertainment/Getty Images
Harry Styles stepped back from his music career following One Direction's hiatus, but after returning to the spotlight last month with a mysterious April 7 announcement, he's been charging full steam ahead. He unveiled his debut solo single, "Sign of the Times," on the previously teased date, and then revealed on Thursday that his new self-titled album will be out May 12. Now, ahead of his Saturday Night Live performance on April 15, Styles surprised fans waiting at SNL with kiwi, and it's a pretty major clue that he'll be performing, well, "Kiwi."
Of course, nothing has been confirmed, but serving the same fruit featured in one of the song titles from Styles' album tracklist seems more than coincidental. If true, it will mark the second song to come from his upcoming record.
Billboard reported that Styles' SNL set will include renditions of "Sign of the Times" and another undisclosed tune, so maybe this is the singer's way of filling in the blanks. I mean, why else would you bring kiwi to SNL? It's a fine enough food, but it's not really a common snack. Besides, while fans would probably be happy for any new music, they already seem pretty amped for "Kiwi."
This Fan May Be Onto Something
Not only that, but the fan (understandably) has no chill. All caps means, "I will not calm down for anyone."
While Another Was Skeptical
Harry is a noted prankster.
Some People Are Already Prepared
I think that's as close as you can get to the live experience without actually, ya know, being there.
And Others Are Revamping Their Wardrobes
That's true fandom.
Whatever song it is, listeners won't have to wait long to hear Styles' album in full. Keep crossing the days off your calendars, folks. May 12 will be here sooner than you think.