Harvard's Incoming Freshmen Will Be A Majority Nonwhite Class For The First Time Ever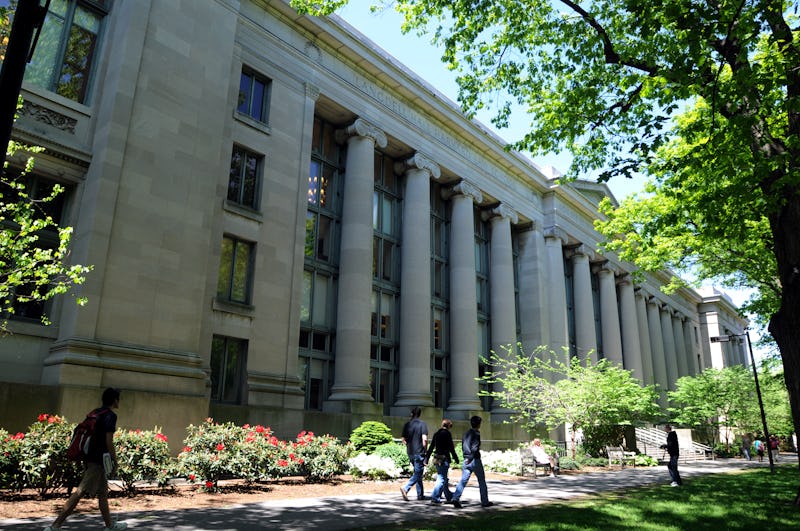 Darren McCollester/Getty Images News/Getty Images
For the first time in history, the majority of students admitted to Harvard were nonwhite this year, the Boston Globe reported Thursday. According to the school's admission data, 50.9 percent of applicants who were offered freshman admission to the Ivy League university are nonwhite; that's more than a 3 percent jump from 2016, the BBC reported, when 47.3 percent of freshman admits to Harvard weren't white.
"To become leaders in our diverse society, students must have the ability to work with people from different backgrounds, life experiences, and perspectives," Harvard spokeswoman Rachael Dane told the BBC. "Harvard's admissions process considers each applicant as a whole person, and we review many factors, consistent with the legal standards established by the US Supreme Court."
Harvard's admissions policy allows the school to take race and ethnicity into consideration in situations where two applicants are otherwise equally qualified. It implemented this policy in the 1970s, under the leadership of university president Derek Bok and his assistant Walter Leonard, and many other universities soon followed suit.
The Supreme Court has weighed in on affirmative action policies such as Harvard's at many points over the decades, and its rulings have been somewhat mixed. In 1978, the court court ruled that, while colleges may not impose literal racial quotas while deciding who to admit, it is constitutional for a university to consider an applicants' race in other ways during the admissions' process. It has upheld these decisions in subsequent rulings.
The New York Times reported on Tuesday that the Trump administration is planning to investigate and sue universities that it believes are unfairly discriminating against white students via affirmative action policies. The Times cited an internal Justice Department memo in its report, and said that the department might divert resources from its civil rights division for this purpose.
However, the administration strongly denied the Times' characterization, with a Justice Department spokeswoman for the agency telling CNN that in fact, the memo in question relates to an outstanding administrative complaint, filed in 2015, in which a university was accused of discriminating against Asian-American applicants.
According to Harvard admission data, 14.6 percent of freshman admits in 2017 identify as African-American. Another 22.2 percent identify as Asian-American, while 11.6 percent identify as Hispanic or Latino and 2.5 percent identify as Native American or Pacific Islander. Those numbers don't necessarily mean that Harvard's 2017 freshman class will be majority nonwhite, however, as this will depend on how many admits actually end up enrolling in the university for the fall semester.