Harvey Weinstein Has Been Sentenced To 23 Years In Prison For Rape & Sexual Assault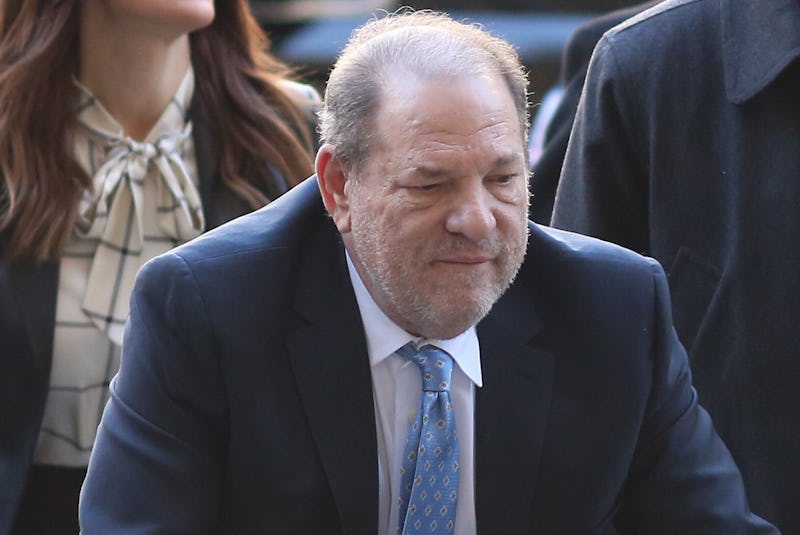 New York Daily News/Tribune News Service/Getty Images
Justice has truly been served. Harvey Weinstein was sentenced to 23 years in prison on Wednesday, March 11, in a New York City courtroom. The disgraced movie producer mogul was convicted on Feb. 24 of two charges: committing a Criminal Sexual Act in the first degree and third degree rape.
New York Supreme Court justice James Burke's sentence is much longer than the five years requested by Weinstein's defense lawyer, who called anything longer a "de-facto life sentence" for the 67-year-old, according to TIME. In fact, after the sentencing, his attorney Donna Rotunno said that Burke had "caved" to public pressure from the #MeToo movement in delivering the longer sentence.
"That sentence that was just handed down by this court was obscene," she said outside court, as per Variety. "I am overcome with anger at that number. I think that number is a cowardly number to give. There are murderers who will get out of court faster than Harvey Weinstein will." The producer actually avoided a proper life sentence when he was acquitted of two charges of predatory sexual assault, with the maximum amount of prison time allowed for his charges being 29 years.
Nonetheless, Rotunno confirmed that Weinstein will appeal the verdict in the hopes that his sentence proves that the trail was biased against him. "We hope this sentence will speak to the appellate court in a way that will show this has been unfair from the beginning," she said.
The Time's Up movement released a statement on Twitter from 24 Silence Breakers, a group of Weinstein's notable accusers including actors Rose McGowan and Ashley Judd, responding to the sentencing. "Harvey Weinstein's legacy will always be that he's a convicted rapist," they wrote. "He's going to jail — but no amount of jail time will repair the lives he ruined, the careers he destroyed, or the damage he has caused. The New York trial has ended, but the Silence Breakers will persist in our crusade for cultural change, justice, and to have our voices heard."
In their own statement, the Time's Up Foundation thanked the six women who bravely testified during the trial. "The trauma of sexual assault and harassment is lifelong — we can only hope that today's sentence brings all of the survivors of Harvey Weinstein some measure of peace," they wrote. The jury found Weinstein guilty of the charges based on the testimonies of aspiring actor Jessica Mann and former Project Runway production assistant Mimi Haleyi.
Before his sentencing, Weinstein made a brief statement saying that he felt remorse for the situation. "I feel it deeply in my heart," he said. "I'm really trying to be a better person." However, as reported by TIME, he also attempted to defend his actions during the trial, saying that he believed he had a friendship with Haleyi and Mann. Thankfully, their bravery has led to some overdue justice for Weinstein.
If you or someone you know has been sexually assaulted, you can call the National Sexual Assault Telephone Hotline at 800-656-HOPE (4673) or visit online.rainn.org.