Will Trump Speak On Kuchibhotla's Death? Unlikely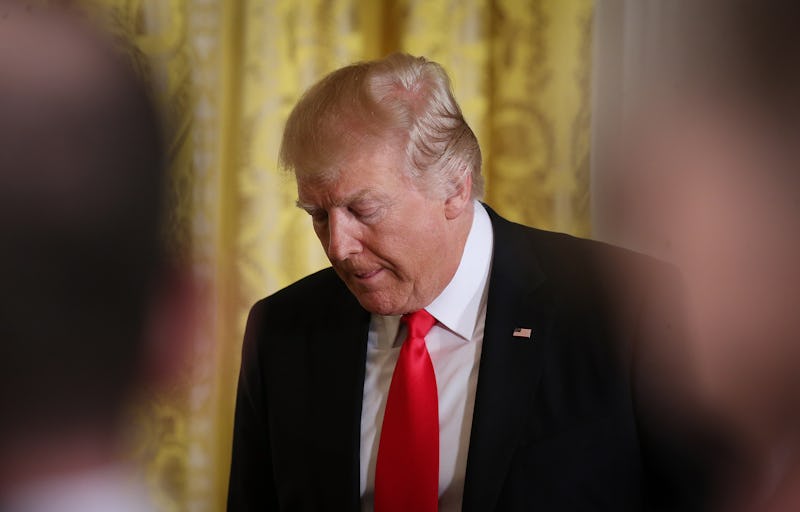 Mario Tama/Getty Images News/Getty Images
Given how fast he is at responding to incidents in which celebrities speak negatively about him or to reports of subpar ratings for The Apprentice, one would assume that President Trump has sufficient time to respond to the killing of Srinivas Kuchibhotla. Yet by Saturday, Trump had not even acknowledged Kuchibhotla's death, which took place on Wednesday evening. Given his past record, it would be far from surprising if the president failed to ever comment on the situation.
Kuchibhotla was a 32-year-old engineer of Indian background who, along with his coworker Alok Madasani, was shot by a man named Adam Purinton who'd reportedly harassed the two with racial slurs prior to, and during, the shooting. The tragedy took place at a bar in Olathe, Kansas, which Kuchibhotla and Madasani frequented after leaving work several times every week.
Witnesses mentioned hearing Purinton shout "Get out of my country!" before opening fire.
While little is known about Purinton's political background and whether or not he is a supporter of President Trump, his possession of a gun and his apparent hostility towards immigrants — a sentiment which Trump has long been perceived as fueling — has prompted many to question whether the president's rhetoric about immigrants and racial minorities could have played a role in Purinton's actions.
White House Press Secretary Sean Spicer dismissed the idea during a press conference. "Obviously, any loss of life is tragic," he said, "but I'm not going to get into, like, to suggest that there's any correlation I think is a bit absurd. So I'm not going to go any further than that."
Kuchibhotla's widow, Sunayana Dumala, spoke to the press on Friday. While she did not mention the president or the current administration, she did touch on the subject of feeling unsafe in the U.S. "We always wondered," she said, "how safe, or I especially, I was always concerned: Are we doing the right thing of staying in the United States of America?"
In early February, Trump remained notably silent after six worshippers were fatally shot in a Canadian mosque, while simultaneously tweeting about the "radical Islamic terrorist" responsible for a knife attack in Paris at the Louvre Museum. Unlike the mosque attack, there were no fatalities in the Louvre incident. At the time, the president was facing fierce criticism for his travel ban on seven Muslim-majority countries.
When confronted with the possibility that his words might be inciting violence, Trump has typically relied on the same defense since before he even won the election, which is claiming that the people carrying out attacks and making threats are "the other side" attempting to make him look bad.
During his recent 77-minute press conference, the president responded to a question regarding the rise of anti-Semitism by saying:
"Some of it is written by our opponents. You do know that? Do you understand that? You don't think anybody would do a thing like that? Some of the signs you'll see are not put up by the people that love or live Donald Trump. They're put up by the other side, and you think it's like playing it straight? No. But you have some of those signs, and some of that anger is caused by the other side. They'll do signs and they'll do drawings that are inappropriate. It won't be my people. It will be the people on the other side to anger people like you."
Last October, Trump claimed that Barack Obama and Hillary Clinton had paid professionals to incite violence at his rallies, a charge he made numerous times throughout his campaign. He has made similar claims to discredit the large protests taking place around the country following his victory.
Given his pattern of either pretending all violence seemingly inspired by his words is a charade orchestrated by his opponents or ignoring the most severe situations completely, the real shocker would be if Trump actually responded to Kuchibhotla's death.