Katy Perry Had A Long History With The VMAs Before Hosting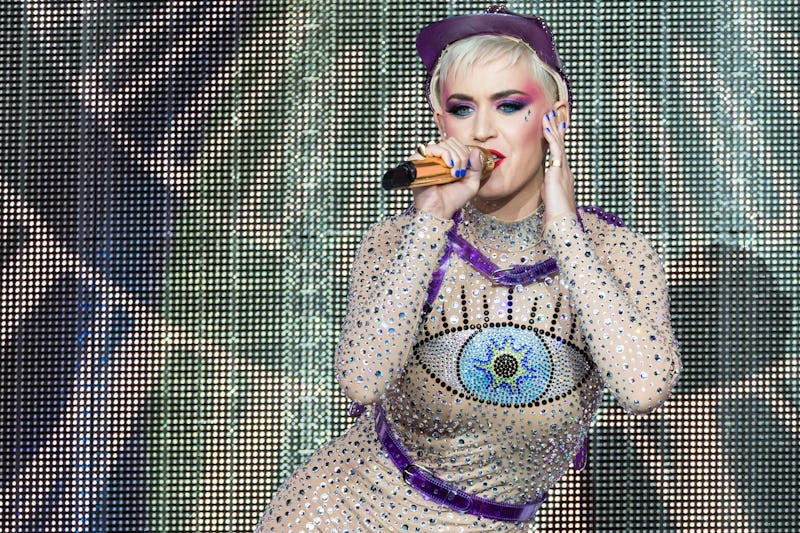 Ian Gavan/Getty Images Entertainment/Getty Images
The 2017 MTV Video Music Awards air Sunday at 8 p.m., and the buzz leading up to this year's event reached new heights. The award show has undergone some major changes, including progressive new award categories, and will feature pop music mega-star Katy Perry as the host. Perry has a long standing relationship with the VMAs dating back to her very first nomination back in 2008 for Best New Artist. She's been a staple performer at the event ever since, but has Katy Perry hosted the VMAs before?
Sunday's ceremony will in fact be Perry's first time hosting one of music's biggest nights. In addition to her first-time hosting duties, Perry is also scheduled to perform during the ceremony. On top of that, her songs are nominated for five VMAs: Best Pop, Best Direction, and Best Visual Effect for "Chained to the Rhythm," one for Best Collaboration for her work on Calvin Harris' "Feels," and Best Art Direction for her hit "Bon Appétit".
Perry was announced as the host for the event back in July and released this statement detailing her excitement for her new role:
I've been training with MTV in zero gravity, eating astronaut ice cream, and I'm on a group text with Buzz Aldrin and Neil deGrasse Tyson. Come August 27th, I'll be ready to be your MOONWOMAN! Brace for impact, kids.
Perry being tapped for the hosting gig breaks from last year's mold; the 2016 ceremony went host-less and instead featured Keegan-Michael Key and Jordan Peele pitching in as commentators throughout the night. Back in 2015, Miley Cyrus hosted the show.
The five-time VMA winner is known for her show-stopping performances and her appearance on stage at this year's VMAs is sure to follow suit. It hasn't been announced which song (or songs) she is going to perform on Sunday night, but she has already made tons of waves this year with her performances from songs off her newest album, Witness, one of the most memorable coming at the 2017 Grammys when she delivered a moving and politically charged performance of her song "Chained to the Rhythm" in front of a projection of the U.S. Constitution. Perry has been very outspoken about her political beliefs in the past, and it wouldn't be a surprise if her performance on Sunday night delivers another clear message.
Known for her theatrical performances, one of Perry's most iconic VMA moments came in 2013 when she performed her new single "Roar" in a mock boxing ring, complete with matching boxing costumes for her entire dance team, and an impressive display of her cardio endurance in a jump rope session in the middle of the song.
With her hosting and performing duties, Perry is sure to have her hands full during the ceremony. And if things go her way on Sunday night, she might also leave the show with her hands full of Moon Person statues.