Katy Perry Is Hosting The VMAs, So Get Ready To Be Entertained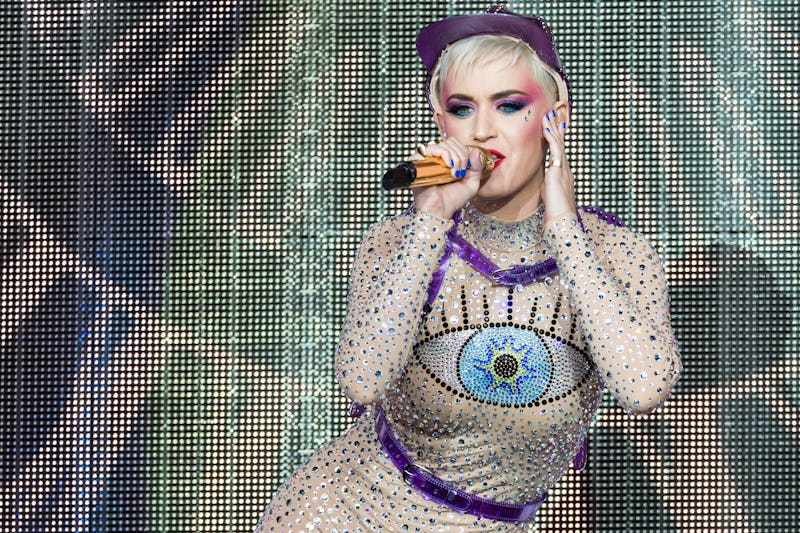 Ian Gavan/Getty Images Entertainment/Getty Images
Not only is she nominated for five awards, but Katy Perry is hosting the 2017 MTV Video Music Awards on Sunday, Aug. 27. The news was announced on Thursday with a promotional video on the "Chained To The Rhythm" singer's Twitter page. Considering her tendency to push the envelope and go that extra mile, it's bound to be quite a show.
In a statement, Perry said,
"I've been training with MTV in zero gravity, eating astronaut ice cream, and I'm on a group text with Buzz Aldrin and Neil deGrasse Tyson. Come August 27th, I'll be ready to be your MOONWOMAN! Brace for impact, kids."
Whether in her music videos or concerts, Perry is known for entertaining a crowd, even if that means going against the grain. Just look at her "Bon Appetit" video, if you need a concrete example. (That very video is nominated for "Best Art Direction," BTW.) She's also striving to make 2017 the year where she channels her sound into Purposeful Pop, as she calls it.
Considering she's never been one to back down from her beliefs, it's easy to imagine she'll bring her political opinions to the VMAs stage as well, using the platform to speak out about the causes she cares most about. While you could argue music and politics are two separate ballgames, in today's society, the two undeniably overlap. For instance, at the Grammys, Perry performed wearing a Planned Parenthood pin and a "persist" arm band.
Regardless of what happens, Perry is guaranteed to get people talking in some capacity. So you'll just have to tune in and see for yourself.