What You Need To Know About The House Races That Still Haven't Been Called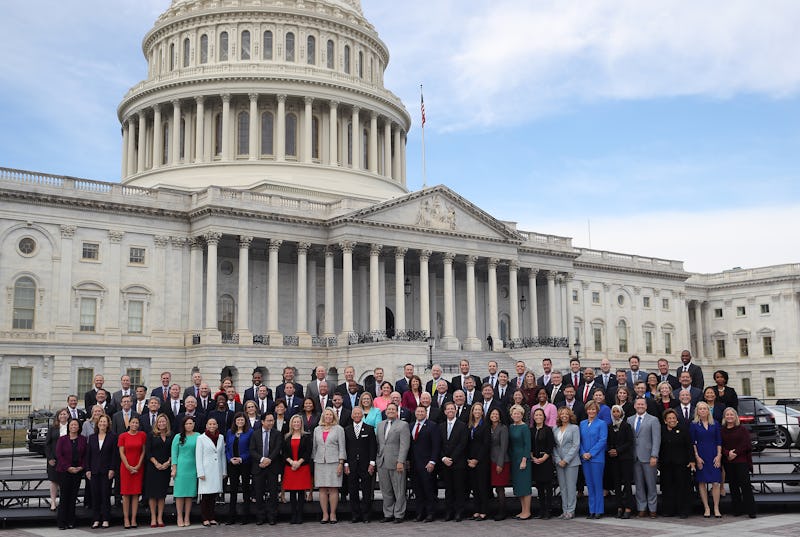 Win McNamee/Getty Images News/Getty Images
Thursday marks exactly one month since the 2018 midterm elections. The votes have been in for awhile now, but if you're wondering whether all the House races have been called, the answer is no. At least a couple nail-bitingly close races will remain open until they are officially certified, or in the case of one North Carolina race, potentially repeated from the beginning.
In California's central valley, the race between Democrat T.J. Cox and incumbent Republican David Valadao for District 21 won't be officially certified until Dec. 14, according to The New York Times. Valadao appeared ahead in the race before the election, and the Associated Press actually called the race in his favor on election night. However, by the time all the provisional and absentee ballots were counted, Cox was slightly ahead and now currently leads by 0.8 percent in a district with 113,616 votes.
Valadao did apparently concede to Cox on Thursday, but District 21 will have to wait until next week to officially recognize Cox as their new representative. "I'm thankful for his six years of service," Cox tweeted on Thursday. "As the congressman knows well, it is a great honor to represent #CA21. We will work together to ensure a smooth transition for our constituents."
A similar situation is playing out in New York's 27th, a traditionally red district wedged between Buffalo and Rochester. Republican incumbent Chris Collins' race was temporarily derailed in August after he was charged with insider trading.
Collins has pleaded not guilty, and his trial date is set for early 2020. He actually suspended his campaign for a few weeks following the indictment, but resumed in September only to win against Democrat Nate McMurray by a slim margin of around 2,500 votes. Initially, the vote count was so close that McMurray pushed for a recount, according to The Times, but an election official later said it would be mathematically impossible for McMurray to come out on top.
He conceded in late November, but on Nov. 30, The New York Times reported that the Associated Press hadn't yet certified the election results. Concessions don't technically mean the race has been called yet, and the deadline for the state to certify results isn't until Dec. 15.
The least certain of all the outstanding races is in North Carolina's District 9. Republican Pastor Mark Harris leads against Democratic businessman and veteran Dan McCready by just 905 votes. McCready initially conceded to Harris, but on Thursday retracted his concession amid multiple allegations of voter fraud — specifically, ballot harvesting— in the 9th District's Bladen County.
"I didn't serve overseas in the Marine Corps just to come back home and watch politicians and career criminals attack our democracy," McCready said in a video posted to Twitter, specifically calling on Harris to "tell us exactly what he knew and when he knew it."
The North Carolina State Board of Elections and Ethics voted against certifying the race last week and will hold a hearing on the allegations on Dec. 21. It's possible that the election will have to be repeated, if the board finds the allegations credible. Though Harris has denied any involvement in, or the existence of, voter fraud, the North Carolina Republican Party said on Thursday that they would be willing to redo the election if necessary. In any case, the 9th District won't have an official winner for at least a few more weeks.