Sorry Coldplay Fans, Chris Martin Has Some Bad News About The Band's Future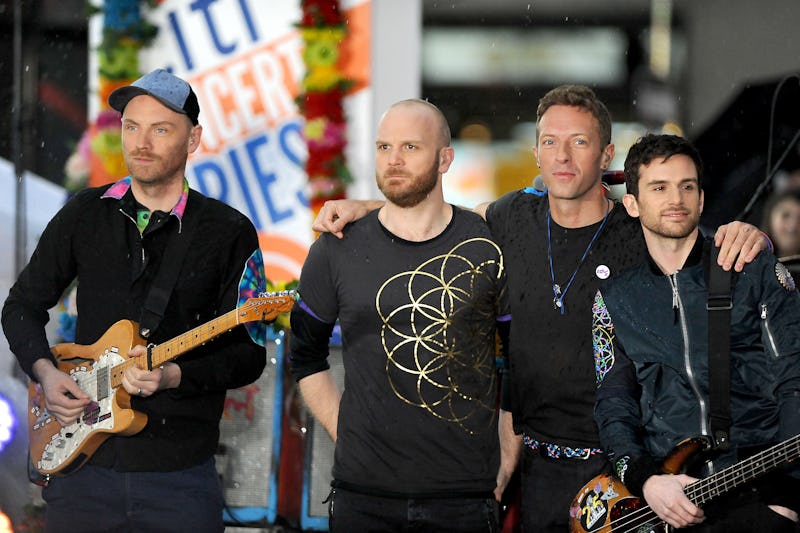 Rumours of Coldplay disbanding — and there have been plenty throughout the years — are always met with strong reactions on either side. Some people are put through unnecessary heartbreak, while for others, it's a cause for celebration. It seems like once every couple of years the rumours are renewed, and they're beginning to circle back again now. But what if this time it's true? The lads have been together for over two decades, which is twice the length of ABBA's career, and they've already hit the highest heights ten times over. So, have Coldplay split up?
Back in 2014, right after Coldplay had released their sixth studio album Ghost Stories, frontman Chris Martin told Zane Lowe on his Beats One show that their next album would be their last. "We're right in the middle of [recording] … It's our seventh thing and the way we look at it, it's like the last Harry Potter book," the 'Yellow' singer told Lowe. And while there's yet to be a follow-up to the band's seventh album A Head Full Of Dreams, speculation of an eighth album, potentially due out next year, has become rife, as Bustle previously reported.
So, 'Don't Panic'! It's also looking pretty likely that they won't be saying goodbye so soon. In fact, Coldplay have been tipped to play the legendary Slane Castle next year, as The Irish Mirror reported back in May.
But, that does contradict a statement the band's manager Dave Holmes gave Music Business Worldwide back in February. "We won't be touring again until 2021 at the earliest," he said "We need to take a break and come back with something really special". Although that sounds like a long wait, it looks as though fans can feel pretty confident that there's more to come from this band.
As statistics go, Coldplay are one of the biggest bands of all time. They've won nine Brit awards, seven Grammys out of 29 nominations, and all while selling over 100 million records worldwide. While their take on melancholy rock drew in fans immediately, with their 2000 debut album Parachutes, they've since shaken up their sound. In fact, 2011's Mylo Xyloto was the band's first foray into a poppier sound, which drew more from feelings of joy than their traditional heartbreak-inspired tone. It featured a collaboration with Rihanna on the track 'Princess of China', and their 2015 album A Head Full Of Dreams continued their poppier legacy, with a guest vocal from the '(Habits) Stay High' singer Tove Lo.
But their ninth album, if it does ever come, is likely to take them in a completely new direction. They've come a long way since the more traditional songs from their early career, and it's probable that they'll continue pushing the experimental boat out. That's if their latest release, 2017's Kaleidoscope EP was anything to go by, at least. They wrote it with the experimental songwriter and producer Jon Brion (you might know him for soundtracking Eternal Sunshine Of The Spotless Mind or Magnolia). So if Coldplay do bow out soon, it'll be with a bang and not a whimper.