Coldplay Fans Are Convinced That This Is When The Band's New Album Will Drop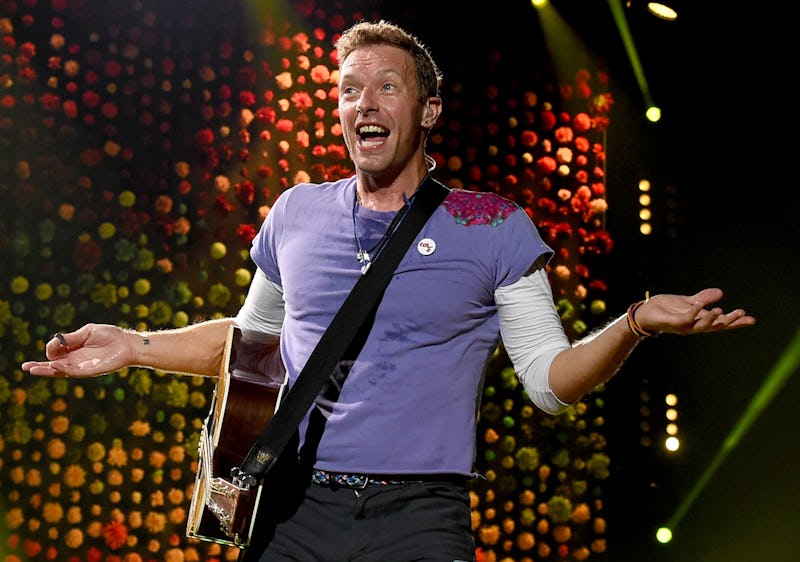 Kevin Winter/Getty Images Entertainment/Getty Images
Since the year 2000, Coldplay has managed to keep hold of its huge following. The band — which is made up of frontman Chris Martin, guitarist Jonny Buckland, bassist Guy Berryman, and drummer Will Champion — has been on hiatus all year, leading to album-related rumours popping up. But will Coldplay release a new album in 2019 or is all of this just wishful thinking?
When trying to find anything out about a celebrity, it's always good to start with the source of all superfan knowledge: Reddit. So that's what I did, trawling through forums to see when Coldplay's diehard followers thought a new album would arrive.
It's a mixed bag. Some believe that it'll be a definite 2019 release. "Probably either at the beginning of summer or maybe into the autumn," one Redditor wrote. There may be some truth to this. Rather than just coming up with the answer that they want to hear, fans have delved deep into the band's history to mathematically answer the question.
You see, Coldplay tend to release an album every three years or so. The band's latest record, A Head Full of Dreams, came out in December 2015, meaning that fans could realistically expect new music at the end of this year.
However, fans believe that Coldplay's massive tour — which only finished at the end of 2017 — will mean a bit of a longer wait. The band generated more than $500 million (£390 million) in ticket sales during their A Head Full of Dreams tour, making it the third highest grossing tour in music history, according to the Guardian. So I think they're entitled to a break, don't you?
If you thought 2019 was a bit lengthy, you might want to skip reading the next paragraph as Coldplay's manager Dave Holmes has revealed that the band may be away from the limelight for a lot longer. "We won't be touring again until 2021 at the earliest," he told Music Business Worldwide. "We need to take a break and come back with something really special."
A tour usually comes not long after an album release, so this snippet of information could mean that Coldplay's next album may not see the light of day until 2020 (or even 2021 depending on this speculative tour date).
Don't panic though because you might be hearing from Coldplay sooner than you think. You see, other Reddit users are predicting that the band will release an album in the coming months featuring live songs from their recent tour. It's not new music but it's better than nothing.
Coldplay recently proved that they aren't just swanning around the globe, enjoying a super long holiday. The director of the upcoming film Crazy Rich Asians admitted that he sent the band a letter, asking them to allow their equally popular song, "Yellow", to play over the film's final scenes.
Jon M. Chu told The Hollywood Reporter that the request was initially refused, saying that people were worried about the song's racially problematic title when it came to Asian culture. However, Chu's emotional letter which discussed his "complicated relationship with the colour yellow" and how Coldplay's song changed the term from negative to positive in his mind convinced the band to say yes. (See, they are answering their post.)
While you can enjoy a version of the band's most famous song in the film this September, you'll probably have to wait much longer to hear something new from Chris and co.