This Pair Of 'Love Island' Faves Are Reportedly "On The Rocks" & We CANNOT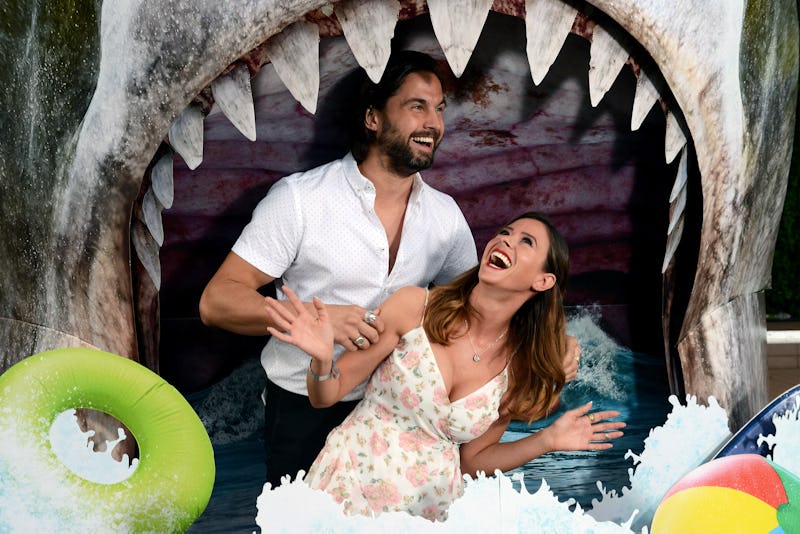 Dave J Hogan/Getty Images Entertainment/Getty Images
The ITV2 dating juggernaut Love Island sets out to find participants their match made in heaven, but quite often the competing islanders find themselves scrolling through potential Tinder dates shortly after returning home from the famed villa. However, every so often the show does produce some genuine couples who appear to have actual love for one another. We saw this during the 2017 series when Jamie Jewitt and Camilla Thurlow coupled up — but 15 months later there have been reports which suggest the pair's relationship is in trouble, so have Love Island's Camila and Jamie split up?
After leaving the 2017 Love Island villa, in which Amber Davies and Kem Cetinay were crowned the series winners, Jamie and Camilla were one of the few couples who continued their romance after returning to the real world. As it stands there has been no official announcement of a break up between the two, however, according to the Metro sources close to the couple have claimed that the pair have "hardly spent any quality time together in recent weeks." This is thought to be down to the couple's busy career schedules, which have recently seen Camilla travel to South America to film a new series of SAS: Who Dares Wins, whilst boyfriend Jamie has been busy visiting friends in New York. The source also went on to claim "they are a fiercely private couple and have prided themselves in not falling into the trappings of fame – but no doubt will try and save face on social media in the next few days." Bustle have reached out to both their representatives for comment, but have not received a response.
However, Jamie's trip to New York with friends also involved the former Love Island star spending some time with his ex-girlfriend, Sarah Stephen. Jewitt and Stephen dated for a total of 18 months, but called it quits just one month before he arrived in the Love Island villa, reports the Metro. And when speaking with The Sun, a source suggested that Camilla "wasn't happy after she found out he'd gone all that way and suddenly ended up spending time with his ex."
Whilst in New York, Jamie and his ex were thought to have attended a silent disco together, along with other friends the model had met during his time on the TV show Taking New York. The structured-reality television series aired on E4 back in 2015, and followed the lives of British twenty-somethings striving to make their American dream come true in New York City. Jamie appeared on the show for just one series alongside his ex, shortly before his 2017 Love Island stint. Camilla supposedly caught wind of her boyfriend's stateside shenanigans due to Instagram stories which were posted throughout the evening, and The Sun claims "the pair tried to disguise that they were out together".
It would be a mighty shame if this reality TV love story ended on such a bum note, especially after Love Island viewers witnessed the couple's love first blossom during the summer of 2017. However, if reports are to be believed, we could be looking at yet another casualty of the hit ITV2 dating phenomenon, but I'm definitely still rooting for them.