Here's The Truth About 'Love Island's Ellie & Charlie After Those Break-Up Rumours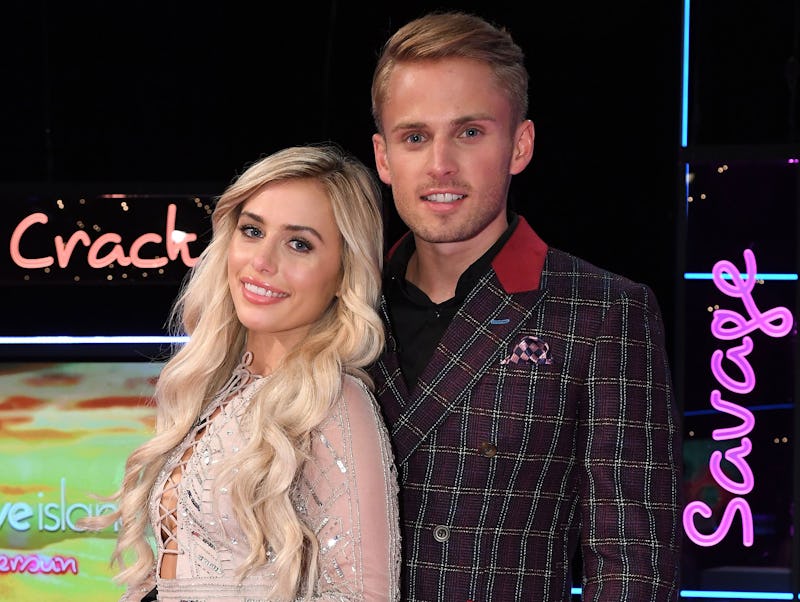 Jonathan Hordle/Shutterstock
Despite their matching features making them look like the perfect pairing, Love Island stars Charlie and Ellie's relationship has been pretty tumultuous since leaving the villa, with rumours swirling that they've split multiple times in just a couple of months. Sometimes they look ultra loved-up, and then the next minute the papers are full of stories of their latest falling out. It's got to the point where it's gotta be asked — are Charlie and Ellie from Love Island still together?
Charlie Brake and Ellie Brown first coupled up when Charlie was sneakily sent into the Love Island villa alongside several other new boys, while the OG lads were cast away to Casa Amor. He started grafting on Ellie almost immediately, as she caught his eye when he was watching the show back home. But that all seems like a very long time ago now, as rumours that the two are faking their relationship reach fever pitch. A source "close to Charlie" told OK! Magazine that recent loved up pap shots of the pair were orchestrated for the press.
According to the source, "Charlie did dump Ellie and kicked her out of his flat," following a particularly bad argument, then "Charlie later asked her to meet him at a hotel, where he'd set up a paparazzo to take photos of them 'making up' and kissing". I've reached out to representatives of Charlie and Ellie, and both replied, "no comment".
However, Charlie uploaded a photo on his Instagram captioned "What you've all been waiting for" with Ellie kissing his cheek, seemingly in an effort to silence the rumours that they've broken up. However, behind the scenes things aren't looking quite so cosy.
According to The Sun, Charlie has reportedly attempted to kick Ellie out of his home in London's Hyde Park at least a couple of times. He was first seen supposedly throwing her clothes out of the window following an explosive row after their trip to Monaco, in which Charlie was said to have tried chatting up someone else on the flight home. The Sun reported a similar incident which took place when Charlie was getting for a night out. Most recently pictures in The Sun show Ellie leaving a date with her head in her hands, while Charlie headed off to spend the night clubbing.
He and Ellie were also rumoured to have argued at the Love Island reunion show, where the couple were seen standing on opposite ends of the room and leaving in separate taxis. An "insider" told The Sun that "Charlie and Ellie had a screaming row at the end of the night," owing to Charlie's excessive day drinking and for "Charlie spending his night with Frankie Foster and by not paying her attention when he first arrived at the studios," the source said. And the pair later confirmed to ODE that alcohol had been the cause of their dispute, with Ellie saying Charlie's drunken antics had left her "fuming".
Despite it all, the pair is still insisting they're going strong. They've been talking about having babies basically from the onset, and Ellie dropped yet another hint that they're hoping to have kids in the near future. She posted a selfie of her and Charlie to Instagram with glum-looking faces, captioned: "Babe look sexy @charliebrake1 (no we are not miserable we are just posing and yes we look alike, cutest babies pending." But their most recent blowup could well be one of many signs that these two are just not meant to be. Sorry, Charlie and Ellie shippers.