Fans Are Convinced Samira & Frankie Have Split After That Awks 'Aftersun' Reunion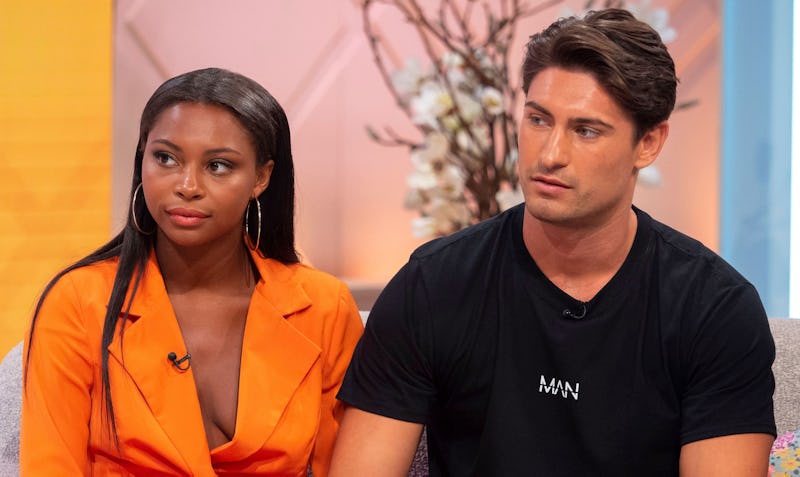 Ken McKay/ITV/Shutterstock
The Love Island villa may have well and truly closed its doors for another year, but that doesn't mean the drama is over. Amid marriage rumours for Dani Dyer and Jack Fincham, and Alexandra Crane cosying up to Alex Crane (WTF?), fans are worrying for Samira Mighty and Frankie Foster. In fact, after tuning into Love Island: The Reunion on Sunday, some are even asking have Samira and Frankie broken up?
Back in the villa, the couple appeared to have the sweetest relationship. You'll remember, Samira didn't exactly have the best start to her Love Island experience after being coupled up with Dr. Alex George. She wasn't remotely attracted to him, and equally wasn't to any of the other Islanders that were sent in afterwards. But that all changed when Frankie arrived. Finally, she was coupled up with somebody she genuinely fancied.
Unfortunately, it didn't last long as he was dramatically voted out by the public, leaving her single once again. Initially, she decided to stay in the villa when he packed his bags, however, she then had a change of heart. I know.
I cried with the rest of the country when Samira made the decision to follow her heart back to London to be with Frankie. And at the time, it seemed like she made the right choice because as soon as she touched down on British soil, he was there, waiting for her at Gatwick Airport for a Love Actually style reunion that went viral.
But then, the cheating rumours started.
Speaking to The Sun, a woman claimed she slept with Frankie just hours before he went to pick Samira up from the airport. She said: "I was with friends and got talking to Frankie, who was sat drinking champagne with his manager at the next table — never once did he mention this Samira girl.
"We danced and ended up taking a cab back to his hotel room in King's Cross, there were two double beds and I said, 'Who else is staying here?' He said, 'Well, my manager is, he probably won't stay here tonight.'"
Frankie denied the claims on TalkRadio, reports The Sun, insisting that nothing happened and that "the biggest mistake for me" was being in "the same room as" the woman in question. He went on to reveal that he has spoken in depth with Samira about that night and has apologised profusely for any wrongdoing.
He has since spoken to the Daily Star, insisting that things are all good between him and Samira. He said: "There isn't pressure to stay together, we are really good anyway but we're a normal couple, everyone has arguments, things happen, but if something like that happens to us, it just gets timesed by 50."
Yet, when the Love Island: The Reunion aired on August 5, fans couldn't help but notice how completely uncomfortable it was when Caroline Flack probed Frankie and Samira about the rumours and their relationship. After the Flack asked Frankie to "clear up" what had gone on, he awkwardly replied, "There's been stuff in the papers, yeah... What's come out in the papers, we've dealt with it. It's a very small part of what me and Sam have done since we've come out."
Then, when it came to Samira's turn to clarify what had gone on, all she had to say on the matter was: "Yeah, obviously it's been a bit difficult. But positive now — and it's good and it's fine."
Feeling the cringey vibe, and panicked this might be the end for Samira and Frankie, viewers took to Twitter to express their concerns for the couple's future together:
Could this be the end of Frankie and Samira? Are they about to break up? I contacted both of their reps to find out, however, neither commented on the situation.
However, Frankie did post this picture just one day ago:
She has also shared some pretty cute posts on social media recently, so personally, I think these two are just fine. Whatever drama they were dealing with before, it looks to me as though they've well and truly moved on.
Whether Frankie and Samira are going to be one of Love Islands success stories is yet to be seen. But as a Samira fan, I hope that she is happy with whatever she decides to do.