Hayley Kiyoko & Kehlani's New Video Features A Queer Love Story Twitter Can't Get Enough Of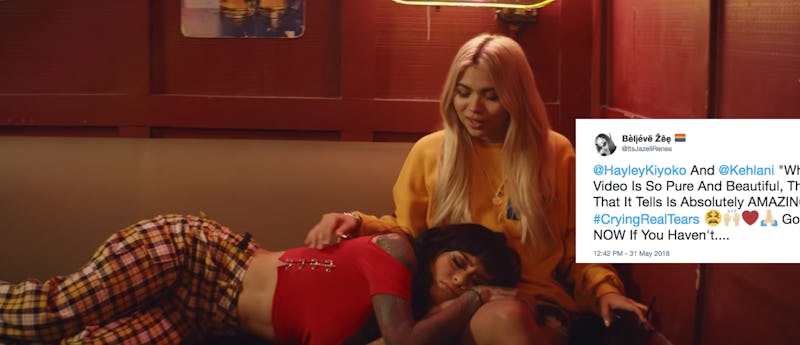 Hayley Kiyoko/YouTube; ItsJazellRenea/Twitter
Hayley Kiyoko and Kehlani are hitting the road — in their new video, that is. On Thursday, Kiyoko and Kehlani dropped their "What I Need" video featuring their collaboration from Kiyoko's debut album, Expectations, which came out in March. In the clip, the musicians — who, according to Billboard, both identify as queer ( Kiyoko even dubbed this year #20GAYTEEN) — play lovers on the run, and encounter some speed bumps along the way.
The video, which Kiyoko directed, begins with Kehlani's character hurriedly packing her belongings while she and her aunt have a fight, seemingly about her sexuality. "You think I'm f*cking stupid and I don't know that that's more than just a best friend?" shouts her aunt. Kehlani responds, "Can I be me? I'm my own f*cking person. Why does it always have to turn into about her?"
Kiyoko picks Kehlani up and the two speed off, hitting a bar outside town where they dance and play pool. In one scene, as Kehlani lays her head in Kiyoko's lap, Kiyoko sings,
"When we're all alone, girl, you wanna own it
When we're with your fam, you don't wanna show it
Oh, you're tryna keep us on the low
I only want a girl who ain't afraid to love me
Not a metaphor but we really could be
Oh, I ain't putting on a show"
When their car breaks down, they attempt to hitchhike to no avail, and eventually hop in the bed of a passerby's pickup truck. When the driver discovers them, he begins touching Kehlani and offers to give them a ride. Kiyoko objects, but Kehlani gets in the car and the man drives away. Moments later though, Kehlani comes running back, and she and Kiyoko share a rom-com worthy embrace.
Upon the video's release, the Kiyoko and Kehlani's fans took to Twitter to share their excitement.
As fan @LennyKord wrote, "Thanks to @Kehlani @HayleyKiyoko It's gay Christmas today I am screeching right now. The new video is living poetry!!!" and @AlexontheMic tweeted, I wasn't ready for the #WhatINeed video. I love it so much," with a distressed-looking emoji.
"@HayleyKiyoko and @Kehlani 's music video was just WHAT I NEEDed to start my day. My 13 year old closeted self would have cried tears of joy, and my 19 year old out and proud self did too..."
Kehlani also posted a note of thanks and praised Kiyoko on Twitter on Wednesday. She wrote,
"just so u know.... this my favorite video i've ever been apart of. Hayley is a genius, an incredible actress and one of the most diligent and hard working directors i've ever had the pleasure of working with. who's ready?
Kiyoko then responded, "I LOVE YOU KEHLANI" with a series of crying emojis.
Kiyoko and Kehlani also both recently spoke out about the controversy surrounding the song "Girls," by Rita Ora, Cardi B, Charli XCX, and Bebe Rexha, which some people felt exploited the LGBTQ community.
In a note on Instagram on May 11, Kiyoko wrote that the song "fuels the male gaze while marginalizing the idea of women loving women." In a series of since-deleted tweets, Kehlani also called the lyrics "harmful" and said she didn't "think certain quotes weren't progressive," according to Billboard. Both singers said they held nothing against the artists involved with the track, but were simply critiquing the song itself and its potentially negative implications for members of the LGBTQ community. (Cardi and Ora have since apologized for any offense the song may have caused and expressed support for the LGBTQ community).
And with their "What I Need" video, Kiyoko and Kehlani continue to further LGBTQ representation in mainstream pop music, and fans can see Kiyoko play the song live as she travels the country on her Expectations Tour.