Rita Ora, Cardi B, Bebe Rexha, & Charli XCX's New Song Will Be In Your Head All Summer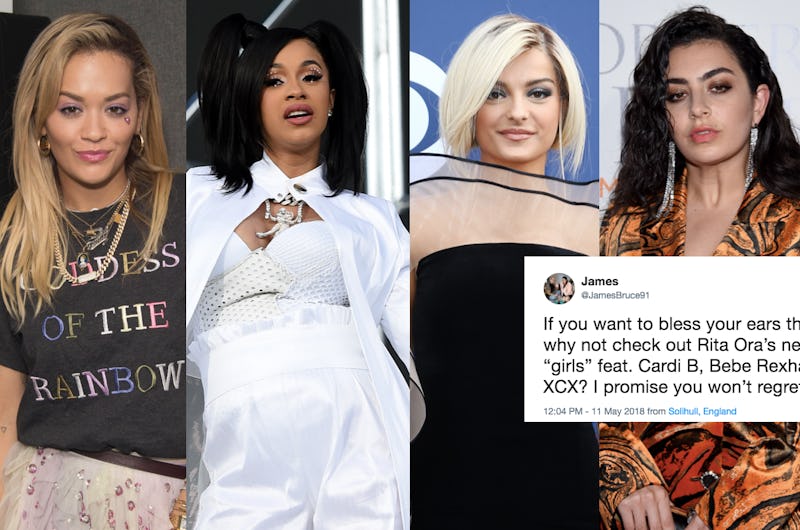 Stuart C. Wilson/Getty Images Entertainment/Getty Images ; Kevin Winter/Getty Images Entertainment/Getty Images; Tommaso Boddi/Getty Images Entertainment/Getty Images; Dimitrios Kambouris/Getty Images Entertainment/Getty Images; JamesBruce91/Twitter
With summer right around the corner, music lovers are gearing up to load their playlists with anthems that'll have them singing along the entire season. Amidst all the new songs dropping left and right, Rita Ora's "Girls" featuring Cardi B, Bebe Rexha, and Charli XCX is one that can't be missed. Filled with lyrics that fans are not going to be able to get out of their heads, the tune — which dropped on Friday, May 11 — is sure to catch everyone's attention at first listen.
In addition to the song's unforgettable lyrics, the collaboration of women is bar none on this project. The merging of three major pop singers and Cardi makes for a perfect storm on the single. Explaining how things came together on the project, Ora told People:
"I wrote this song, like, two years ago in London with my team, and I actually didn't think that much of it. I knew it was a vibe when I first got it, but I never thought it was going to become a song that all my peers and my fellow musicians — the girls on the record — really wanted to jump on. So I kind of left it for a bit."
During her interview with People, Ora shared how the song's recording got underway, revealing that Cardi was actually the first person to record her verse. She explained, "Then it got into Cardi's hands, and she loved it, and she was actually the first person to put a verse on it. I was like, 'Wow, okay, this is really cool; I think this is going somewhere.'"
Adding her usual swag to seemingly everything she touches, Cardi raps:
"Now I could be your lipstick just for one night (one night)
Girls just wanna have fun, they have their funds right (yeah)
I mean, say my name, say my name, say my name (say my name)"
As reactions to the new song made their way through social media, many fans couldn't help but to feel that the tune seemed to be somewhat of a follow-up to Charlie XCX's Summer 2017 hit "Boys."
In addition to making comparisons, some fans seemed to be really into the song's overall vibe.
Meanwhile, others were more hesitant to the song's message, feeling that the track might trivialize bisexuality a bit. However, on the flip side, some fans pointed out how the song felt like more of an anthem, embracing the subject.
Sharing more details about the collaboration, Ora went on to tell People how Chari got involved on the "Girls" project:
"Obviously I'm really good friends with Charli, and I played it for her and was like, 'You know, I'd love if you just jumped on this song.' And she was like, 'Oh my god, Rita, this is such a f*cking smash, and it's so much fun.' Charli's always really optimistic and outspoken, so I said, 'All right, cool, do you wanna jump on it?' So she jumped on it."
While the song seems to draw comparisons to "Boys" and other songs such as Cyndi Lauper's '80s hit "Girls Just Want To Have Fun," Ora revealed that the tune was actually inspired by Katy Perry's 2008 breakout hit "I Kissed a Girl." The British singer said in the aforementioned interview,
"It was really inspired by one of my favorite songs: 'I Kissed a Girl' by Katy Perry. That was the first song anyone heard of Katy Perry's, and it was just such a statement; it was so fun. I wanted to do something that was in that lane."
Parallels to Perry's "I Kissed a Girl" can be felt through the lyrics of the "Girls" chorus:
"Sometimes, I just wanna kiss girls, girls, girls
Red wine, I just wanna kiss girls, girls, girls
Sometimes, I just wanna kiss girls, girls, girls,
Red wine, I just wanna kiss girls, girls, girls
Girls, girls, girls, girls, girls."
While some fans may have mixed feelings about the new song's message, many are rejoicing over the collaboration of these four women. That said, "Girls" is definitely going to be taking over the airwaves this summer — so be prepared.