goodDYEyoung's Message Makes The Brand More Than A Hair Color Company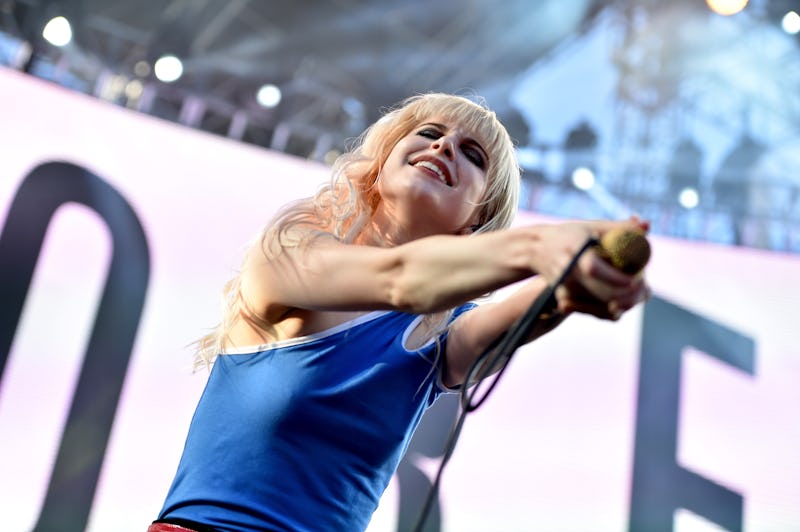 Alberto E. Rodriguez/Getty Images Entertainment/Getty Images
Coloring your hair isn't just a way to make a style statement or to change up your look. Yes, swapping out your strand shade certainly does both of those things. But it is also an act of self-care for many. Hair color brand goodDYEyoung, which was launched by Paramore singer Hayley Williams along with pro colorist Brian O'Connor back in 2016, understands and promotes this concept.
goodDYEyoung isn't just about self-described "beautifully obnoxious" hair colors. The Nashville-based brand views the process of coloring one's hair as a form of self-love through self-expression — because that's exactly what it is.
gDy is separating itself from the pack with its formulation and its message. The company is also promoting mental health awareness and has created an inclusive community for the weird, the wonderful, and the misfits who are happily and colorfully countercultural.
goodDYEyoung, which is vegan, cruelty-free, and includes follicle-friendly ingredients like natural sunflower and bergamot, told Bustle they will be announcing some expansions soon. That could mean that new colors are on the way, joining an already bold, bright, and slaytastic lineup that includes teal, hot pink, pitch black, purple, and more.
What colors or products could be next? Bustle reached out to the brand to inquire about future goodDYEyoung launches.
If you can't wait for the next generation of hair hues, you have additional and equally as awesome options. Besides killer adventurous hair colors that are guaranteed to help you stand out and a powerful message, the brand also sells merch. These tees and accessories only serve to further the aforementioned sense of community and connectivity.
If you were walking down the street and saw someone wearing one of these tees, you would have an instant connection or sense of camaraderie with them.
It's the same feeling that I experience when I see someone wearing the shirt of a band that I love. I always exchange a knowing nod, smile, or wink with them, since it's like we're both members of the same crew — and share really good taste.
Make Hair Fun Again Tee, $20, gooddyeyoung.com
This white tee comes in sizes XS to XXL and is super playful. You can further invest in the gDy community by sporting a tee that promotes your love for the brand.
Dyed Happy Ringer Tee, $20, gooddyeyoung.com
Don't you love how the goodDYEyoung tees have multiple meanings in their messages? This ringer is pretty much essential for the creepy and ghoulish Halloween season, as are the brand's dyes themselves.
gDy Enamel Pin Set, $15, gooddyeyoung.com
With the weather breaking and the season of layers is on the horizon, now is the perfect time to add enamel pins to the lapels of your leather moto jacket, thrifted blazer, or military topper. Nothing customizes your outerwear better than some cute and conversation-starting enamel pins. These are hella cute.
Shower Cap, $15, gooddyeyoung.com
Since gDy is a hair care brand, it's only right to offer this modern, splashy take on a vintage shower cap. You have to protect that bright and beautiful color by washing it less. After all, nothing is worse than faded hair.
This cap is a stylish way to hop in the shower and suds up your body, without messing with your coif and its snazzy AF color.
goodDYEyoung is truly fostering a sense of inclusivity with its hair colors and its merch offerings. The brand isn't just paying lip service to creating a community. It's doing so with all of the expressive accoutrements that are an excellent and outward way to connect the dots between between the wild, weird, and wonderful.