Hear Your Fave Pop Songs Along With The Latin Songs That Inspired Them- PLAYLIST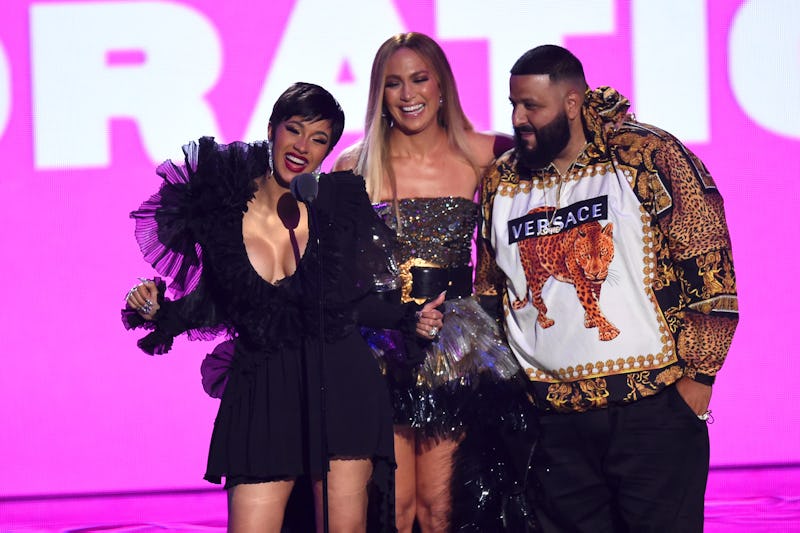 Theo Wargo/Getty Images Entertainment/Getty Images
Latinx culture is a driving force for the American mainstream — and that certainly holds true for music. For decades, dance crazes, popular phrases, and infectious rhythms have moved us, making us sway our hips to the beloved sounds of cumbia, salsa, and bachata, along with so many others throughout the diaspora. And thanks to artists like Cardi B and Jennifer Lopez, we get to hear that cultural fusion in our favorite pop songs on the radio every single day. But the love for that Latin sound doesn't just end with Latinx artists; in fact, their songs scratch only the surface. For decades, popular songs that sample Latin music have been consistent chart-toppers and playlist faves.
Some of the samples are super easy to spot. Most likely you've heard some variation of the music behind Cardi's "I Like It," whether it be the incredibly infectious '90s hit from The Blackout All-Stars, or Pete Rodriguez's original version in 1967. But some are harder to place, like the Héctor Lavoe and Willie Colon sample used on Major Lazer's "Come On To Me," featuring Sean Paul. If you were raised in a Latinx household, Lavoe and Colon are legendary Saturday morning staples. If not, you're in for a sonic treat and an introduction to our rich musical legacy.
And did you know that hip-hop is the biggest aficionado of Latinx samples? Childish Gambino (also known as the Emmy-winning Donald Glover), DJ Khaled, and J. Cole have looked to some of the oft-forgotten artists to fuel their hits with some hidden Latin gems. Khaled enlisted Rihanna and Bryson Tiller for "Wild Thoughts," which sampled Santana's signature bass line from his hit, "Maria Maria." And the King herself, Beyoncé Knowles-Carter, hopped on Colombian pop-juggernaut J Balvin's hit "Mi Gente" (along with Willy Williams) to raise funding for Hurricane Maria relief efforts last year. The remix that happened all thanks to little Blue Ivy Carter — Beyoncé shared that her eldest daughter loved the original song — became a huge hit last year, and raised awareness at a crucial time.
One of pop music's earliest obsession with Latin rhythms can be traced back to the 1950s, when Ritchie Valens' "La Bamba" became the first Latin-inspired track to cross over to American's pop audience. At just 17 years old, he became America's first Chicano rock-n-roll superstar, and his story would inspire the 1987 film La Bamba, which was based on his life. Although Valens died in 1959, his legacy continues to live in one of the catchiest melodies in American history.
For the culture —and your enjoyment — check out some of our favorite Latin-infused pop songs, and the samples that inspired them.
For more Latinx Heritage Month content on Bustle, click here.