This Senator Apologized For Accidentally Outing Sexual Assault Survivors In An Ad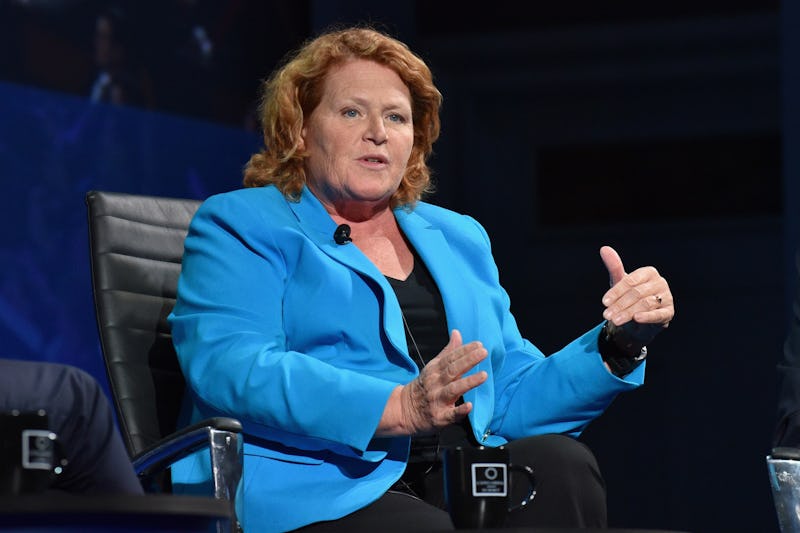 Bryan Bedder/Getty Images Entertainment/Getty Images
On Tuesday, North Dakota Sen. Heidi Heitkamp apologized for inadvertently outing sexual assault survivors in an ad for her reelection campaign. The advertisement, which she later said was a "mistake," was presented as an open letter to her opponent Kevin Cramer, and it included a list of "survivors of domestic violence, sexual assault, or rape" who had allegedly signed it. However, several of the women later said that they didn't consent to their names being published, and condemned the Heitkamp campaign for doing so. Bustle has reached out to Heitkamp's office for comment.
"I'm furious," one of the women told the Associated Press. "I have only shared my story with a couple of people in confidence...I didn't want it blasted for the world to see." She added that she had been planning on voting for Heitkamp in November, but "definitely [will] not now."
As reported by the Grand Forks Herald, another woman whose name was published in the ad wrote in a Facebook group that "a lot of these people listed, including me, did not give anyone permission for our names to be posted." She also said that she doesn't support Heitkamp and is "not a domestic abuse survivor."
Heitkamp, who's been trailing significantly in polls for months, told conservative radio host Rob Port that the advertisement was "incompetent" and amounted to a "very flagrant error" on the part of her campaign. She subsequently released a longer statement apologizing for the ad:
Sexual assault is a serious crime – and one that too many North Dakota women have experienced. In an attempt to bring awareness to this issue and push back against dismissive comments toward sexual assault survivors by Kevin Cramer, our campaign worked with victim advocates to identify women who would be willing to sign the letter or share their story. We recently discovered that several of the women's names who were provided to us did not authorize their names to be shared or were not survivors of abuse. I deeply regret this mistake and we are in the process of issuing a retraction, personally apologizing to each of the people impacted by this and taking the necessary steps to ensure this never happens again.
Cramer, her opponent, also criticized Heitkamp for the ad, which he called a "re-victimization of victims."
"This is what happens when desperate people do things for their own personal political gain," Cramer told the AP. "She proved a point that her personal politics matter more than someone's personal pain."
It's worth noting that Cramer has been highly critical of the #MeToo movement, denouncing the idea that "you're just supposed to believe somebody because they said [sexual assault] happened" and calling it a "movement toward victimization" in an interview with the New York Times.
The incident comes at a bad time for Heitkamp. Long considered one of the most endangered Senate Democrats, she represents a state that voted for Donald Trump by 36 points in 2016. Heitkamp recently voted against Supreme Court nominee Brett Kavanaugh even though 60 percent of North Dakotans supported Kavanaugh's nomination. She's trailed Cramer by between 4 and 12 percent in every poll taken since June, according to RealClearPolitics, and forecasters at FiveThirtyEight give her just a one in three chance of winning in November.