Fans Have Some Thoughts About Henry Cavill's New Look For Netflix's 'The Witcher'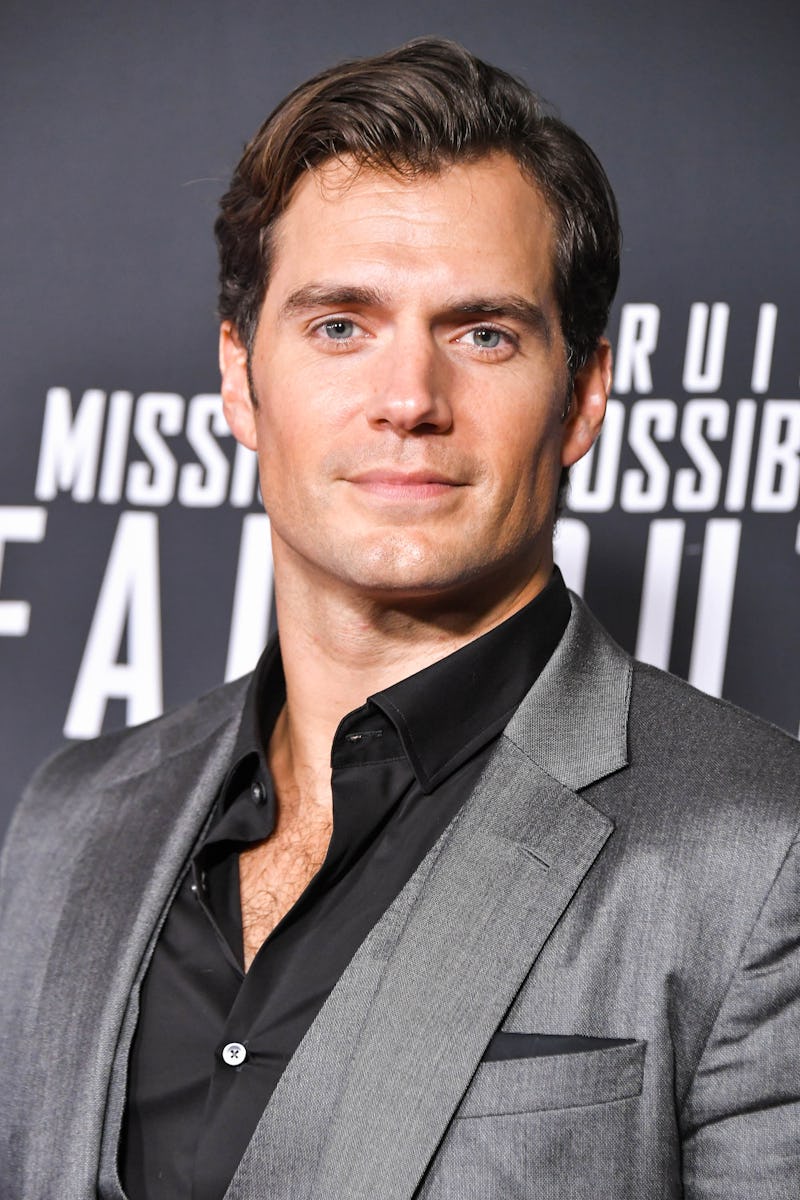 Michael Loccisano/Getty Images Entertainment/Getty Images
It's Halloween, which means you can expect to see a ton of your favorite Hollywood stars dress up for the occasion. What you probably didn't expect, though, was to get the first glimpse at Henry Cavill's new look for Netflix's The Witcher, which was released by the streaming service on Wednesday morning. The brief clip features Cavill dressed as his character Geralt of Rivia, a getup that requires rocking some seriously long (and very, very silver) hair. Did we mention that the hair is extremely silver? Because it is, and fans are a little divided on whether they find this look to be a trick or more of a treat.
According to an official plot synopsis, as reported by Entertainment Weekly, The Witcher is "an epic tale of fate and family." Based on short stories and novels by Andrzej Sapkowski, the show will follow Geralt of Rivia, described as "a solitary monster hunter." The synopsis goes on: "[Geralt] struggles to find his place in a world where people often prove more wicked than beasts. But when destiny hurtles him toward a powerful sorceress, and a young princess with a dangerous secret, the three must learn to navigate the increasingly volatile Continent together."
The first images of the show don't add much in terms of plot, but it has given fans of the fantasy books a little fun. And Geralt's new look have inspired some truly hilarious pop culture comparisons to Cavill's appearance, which can be found below:
It's definitely a different look for the actor — far from his Man of Steel ensemble and fans have definitely taken notice and can't help but think he reminds them of someone else.
Some Think He Reminds Them Of A Certain Bow-And-Arrow-Wielding Elf From The Woodland Realm:
Legolas, is that you?
While Others Harken Back To A Silver-Haired Harry Potter Character:
Those wigs do look eerily familiar, not gonna lie.
Then There Are Those Who Can't Help But Make A Game of Thrones Reference
Anyone who doesn't think this is amazing is lying.
And Finally, Some Find Cavill's Look To Be A Striking Resemblance To Raiden From Mortal Kombat
As amusing as these comparisons are though, the teaser does little to give fans any further insight into what Cavill's character will be like, or how he intends to portray him. But since production is about to start in Hungary, more and more details about Cavill's role — and the series in general — are sure to come to light soon.
Additionally, Netflix has also confirmed the rest of the show's impressive cast, according to EW, which includes the likes of Freya Allan as Ciri, Anya Chalotra as Yennefer, Jodhi May as Calanthe, Björn Hlynur Haraldsson as Eist, Adam Levy as Mousesack, MyAnna Buring as Tissaia, Mimi Ndiweni as Fringilla, Therica Wilson-Read as Sabrina, Millie Brady as Renfri, Eamon Farren as Cahir, Joey Batey as Jaskier, Lars Mikkelsen as Stregobor, Royce Pierreson as Istredd, Maciej Musiał as Sir Lazlo, Wilson Radjou-Pujalte as Dara, and last but certainly not least, Anna Shaffer as Triss.
As for whether any of their looks will conjure up any pop culture parallels, we'll just have to wait and see.