These Cannabis Valentine's Day Cards Have Some ~Dope~ Puns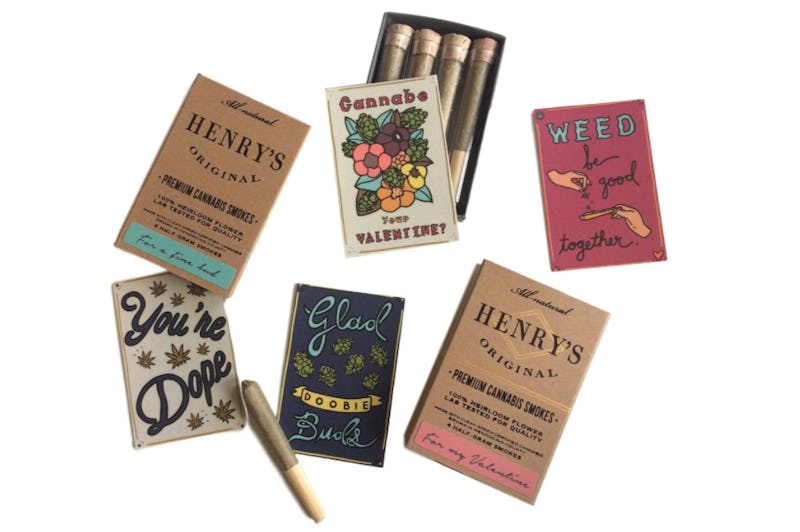 Henry's Original
Forget boxes of chocolates and chicken nugget bouquets. (Yes, they exist, but that's for another time.) This year, cannabis Valentine's Day cards will get you the most (pot) brownie points on Feb. 14. In honor of the annual celebration of romantic love, California-based cannabis company Henry's Original teamed up with graphic designer Priscilla Witte to create punny, weed-themed versions of the Valentine's cards you used to give your classmates when you were a kid. Throughout February, every pack of pre-rolled joints comes with a card emblazoned with captions like "you're dope" or "weed be good together." If you're hoping to win over someone new this year, these cards will help you totally smoke any romantic competition.
According to a press release emailed to Bustle, each pack of pre-rolls contains three joints made with "artisanal heirloom cannabis" grown in Mendocino County, California. Tucked into the package are the limited-edition Valentine's Day cards. There are four kinds, each with a different, pun-filled caption. One pack leans toward the romantic — "Cannabe your Valentine?" — while the pack labeled "for a fine bud" would work perfectly well as gifts for friends and very understanding family. My personal favorite? "Glad doobie buds."
The cards also feature an adorable, ever so Instagrammable design. But why describe it when I can just show you?
With these packs, you don't have to wait until Apr. 20 to give the gift of getting stoned. Of course, all the usual legalities apply here. As of Jan. 1, California became the biggest state to legalize the sale and cultivation of recreational marijuana, although smokers don't have complete freedom to buy and smoke as they please. Employers are still allowed to enforce zero-tolerance drug policies that include cannabis, and public consumption is still a no-go.
Although, Henry's has a website, you can only buy weed directly from its dispensaries in California. The good news is that if you find yourself in the state, they're located everywhere from Los Angeles to the San Francisco Bay area. (You can find a list of dispensaries on the company's website here.)
For stoners with a penchant for cutesy things, Henry's Original may be a familiar name. Back in December, the company got into the spirit of the winter holidays with a handcrafted wreath containing a full ounce of marijuana flower. According to Mashable, the wreath was actually made of "eucalyptus, evergreen, dried wheat and grasses, moss, berries, and pine cones," with the cannabis scattered throughout. That way, customers could remove the bud (for, er, aesthetic reasons) without worrying that the wreath would fall apart. Despite a hefty price tag of no less than $400, limited-edition, custom wreaths sold out quickly. In the immortal words of Shaggy Rogers... zoinks.
Are cannabis-themed cards not quite enough for your sweetheart? The Internet is a veritable treasure trove of stoner present ideas. Some of them are even quite romantic. Foria Pleasure, for instance, produces a cannabis-infused lube manufactured with women in mind. (It also offers cannabis suppositories that act as "weed tampons" to reduce menstrual pain. Game. Changer.) Many cannabis companies also make cannabis-infused chocolates, mints, or other edibles. There are hemp massage oils, marijuana bouquets, weed-themed magnetic poetry, and even 420-themed vacation packages that tour states where weed is legal. Honestly, the hardest part of choosing a stoner gift is picking just one.
You may have grown up since the days of passing out holographic, Pokemon-themed Valentine's Day cards to the class on Feb. 14, but with Henry's punny cards, you can indulge in nostalgia and set a high standard for gift-giving in one fell swoop. Pretty dope, don't you think?