25 Holiday Gift Ideas For 4/20 Enthusiasts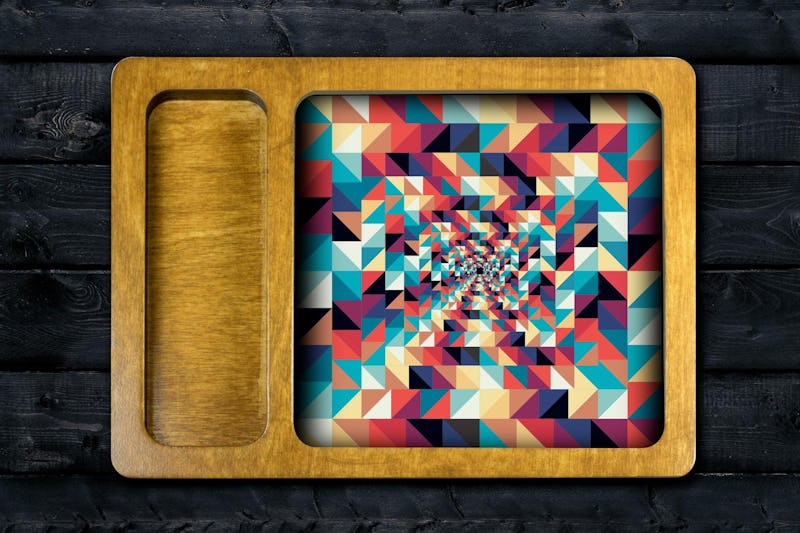 Ah, the holidays. Chestnuts roasting on an open fire, pine candles, and joints passed among friends. It may not be 4/20, but for those of us who enjoy marijuana, the holiday season is just as much about cozying up with your vape and a good Christmas movie as it is getting drunk at some office party. So shouldn't our gifts for our stoner friends this 2016 reflect that?
Now's the perfect time to get your favorite smoking buddy something that will protect their lungs, decorate their apartment, or grind their weed. As someone who's been blessed to review several of the new vapes and other products on this list, I can tell you that vape technology has become truly impressive and high-design this year. And while some of these items are a bit pricier, I like the idea a friend of mine pitched recently: a group of friends contributing 10 or 20 bucks each to get one friend something they really need. Because as much as there's nothing like smoking a joint, if your loved one imbibes regularly, a vape might be the best gift you can get for them to protect their wellbeing in the long-run.
If you're looking more on the gag-gift side of things, don't worry — I've got you covered for that too. Here are 25 gifts any weed enthusiast would love to receive this holiday season.
Marijuana Magnetic Poetry
Marijuana Magnetic Poetry, $5, Etsy
For your favorite stoner wordsmith. How fun will this be to play with the next time they get high?
Erbanna Scent-Masking Bag
Chrissy Bag, $15, Erbanna
I have the Erbanna bag, and I have to say, it really does work! Designed specifically for women who want to take their weed on the go, it has several compartments for your stash and cash — and masks scent completely. There are several cool styles to choose from on the site, and you'll feel super-stealth knowing what's in your innocent-looking clutch.
Joint Pillow
Medical Marijuana Pillow, $33, Etsy
This is only going to work for your silliest of friends, but man, will they find it hilarious and snuggly.
"Weed Is The New Wine" Tee
Weed Is The New Wine Tee, $20, Etsy
If you're anything like me, you prefer weed to alcohol any day. Get this shirt for your friend who agrees.
A Stay At A Bud & Breakfast
I wrote about my stay at B and B 420, and it was truly one of the nicest travel experiences I've ever had. At this particular Denver spot, the owner sets you up with the cleanest B&B suite you've ever seen, and two samples (read: eighths) of bud he bred himself. Take your boo here for a trip they'll never forget, or find a Bud & Breakfast anywhere in the world.
The Mini Vape
The Mini KandyPen, $135, KandyPen
How cute is this little limited-edition vape? I have one in purple, and it almost reminds me of Lip Smackers. This ceramic vape is only 4.45 inches long, but it is temperature controlled, no-combustion, leakproof, coil-less, handmade in the USA, and has a lifetime warranty. Compatible only with concentrates.
Kurt Vonnegut Poster
Cannabis Print, $5, Etsy
Kurt Vonnegut + Marijuana. Need I say more?
"Smoke Weed, Save Animals, Take Naps" Sweatshirt
Smoke Weed Save Animals Take Naps Sweatshirt, $25, Etsy
Get this for your favorite toker & animal rights crusader. Yes, we are a genre of person.
"Marijuana Girl" Pillow
Marijuana Girl Pillow, $4, Etsy
This pulp fiction pillow will make a great statement piece on your cool best friend's couch.
Rose Gold Galaxy Tornado Vape
This limited-edition pen is a classy gift for someone who loves gold and has easy access to concentrates. Slim and slick, this temperature-controlled vape also comes with a lifetime warranty and pulls like a dream. Limit one per household — this is truly a unique gift!
The Galaxy Tornado, $145, KandyPen
Gamer Girl Grinder
Gamer Girl Grinder, $20, Etsy
How cool is this? The Grind Candy Etsy store also has other nerd-girl designs, but this one wins for managing to promote gamer girls and weed at the same time.
BFF Pipe Necklace
Best Friends Pipe Charm Necklaces, $16, Etsy
I mean, this is hilarious, but you also know you kind of really want it.
DaVinci IQ Vape
DaVinci Precision Vape, $275, DaVinci
When I got this vape, it really felt like getting a new computer. This thing is slick AF. The only portable vaporizer with an all-ceramic airpath, you get a more flavorful vapor than you'd have with a metal or plastic heating chamber. You can choose from four pre-set temperature settings or custom design your own setting, depending on what you're having. There's even an app that goes with it! Get this for your most advanced weed connoisseur so that they can experience their ideal temperature and flavor profile.
Classy Marijuana Poster
Marijuana Poster, $10, Etsy
This subtle poster might not even be recognized by your friend's parents as a picture of weed.
#FeelTheBern Grinder
Feel The Bern Grinder, $15, Etsy
It's not over. It still isn't over! Profess your love for all things Bernie and weed with what will soon be a historical heirloom you can show your grandchildren. Back in my day, the first Jewish socialist ran for president and weed was mostly illegal!
Bitch Lighter
Bitch Lighter, $5, Etsy
The perfect little stocking stuffer for your favorite bitch.
Weed Ashtray
Weed Ashtray, $45, Etsy
What's the difference between a weed ashtray and a regular ashtray? A weed ashtray is trippy and doesn't catch ingredients that will kill you.
P*ssy Weed Needlepoint
P*ssy Weed Embroidery, $20, Etsy
For your favorite Broad City enthusiast.
Haze Dual V3 Vaporizer
Haze Dual V3 Vaporizer, $250, HazeVaporizers
The Haze Dual V3 has managed to eclipse my PAX as my go-to vape. This one simply produces a better high, looks like some sort of walkie talkie, and holds enough to pass around at a party. Compatible with herb, wax, or concentrates, I've been using it for over a year and it hasn't given me any problems yet. A quality piece.
Klimt Grinder
4 Part Herb Grinder, $26, Etsy
For your art-loving stoner friend, this will provide some inspiration and beauty before they even light up.
Custom Rolling Tray
Custom Rolling Tray, $35, My Rolling Tray
My Rolling Tray has tons of cool designs on its site, but also allows you to make custom trays with whatever word or inside joke you want. In my opinion, almost nothing beats a custom gift, and this one is pretty affordable, considering what you get.
Stoner Coloring Book
Stoner Coloring Book, $13, Etsy
Getting stoned and coloring is always a good idea, so you might as well have a book specifically for that around.
Trippy Duvet Cover
Grunge Girl Duvet Cover, $119, Etsy
This bedding is trippy AF, but it's also cute! Let them feel kind-of-stoned just looking at it every time they get into bed.
SOURCE Orb 4 Vape Pen
SOURCE Orb 4 Signature Kit Coil-less Temp Control Vape Pen, $200, Source Vapes
For your tech-y friend, this pen is stainless steel and slick, designed for easier and quicker loading, and uses what the company claims is "the safest and healthiest material ever used in a vaporizer pen, Stainless Steel 303, on both the body and the atomizers." It's coil-less, provides long, strong pulls, and doesn't compromise on taste.
Pot Head Mug
Pothead Mug, $13, Etsy
I envision this for the pun-loving dad who likes to get high, but it will really work for any cheeseball.
Wishing you a happy holiday filled with good cheer and good herb!