Here's How Long Each Supreme Court Justice Has Served (& The Big Cases They've Seen)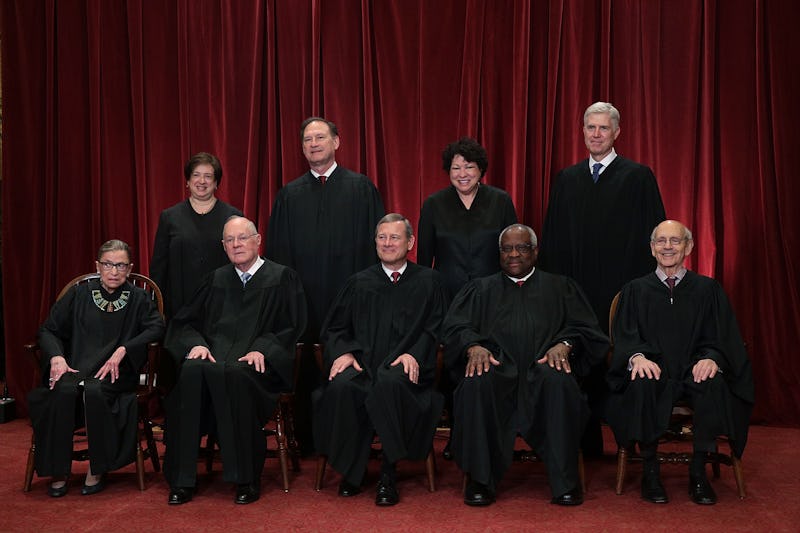 Alex Wong/Getty Images News/Getty Images
Leading up to the Senate's confirmation vote on Brett Kavanaugh, Democrats and others are concerned with what the future holds. With lifetime appointments, the members of our nation's highest court have the power to make lasting impacts for at least a generation. With that in mind, it's worth looking into how long each Supreme Court justice has served, and the impact they've had during their time on the bench.
While typically a nine-justice court, the Supreme Court has been occupied by just eight, since Justice Anthony Kennedy retired in July. The eight justices began their 2018-2019 term on Oct. 1, and even without a ninth voice, the justices' schedule has been packed so far. In just their first week of the term, Vox reports, the Court will hear six cases. Operating as a group of eight isn't unheard of — this also happened after Justice Antonin Scalia died in 2016, when Republicans refused to hold hearings on President Obama's nominee, waiting instead until 2017 to confirm Neil Gorsuch.
The justices currently on the Court run the ideological gamut. But together, they are responsible for landmark decisions that, among other things, have protected abortion rights, upheld affirmative action, and legalized gay marriage. Here's an outline of their individual legacies.