Send This Letter To Your Boss If You're Striking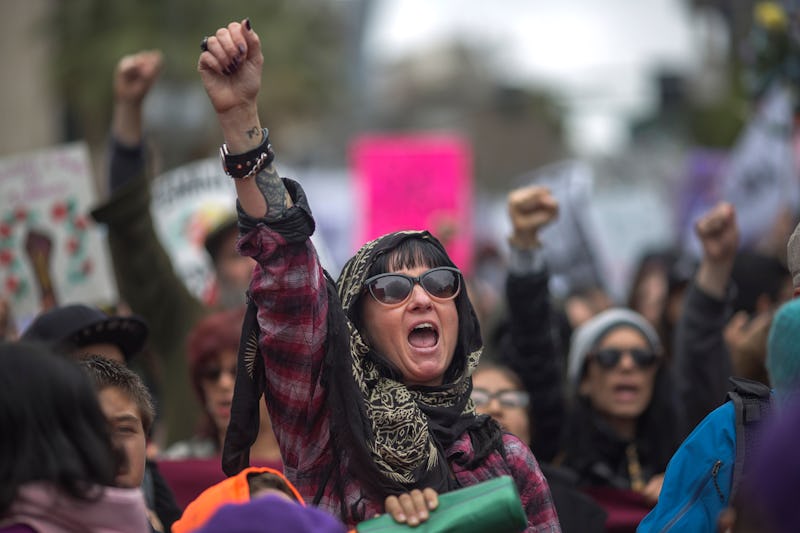 David McNew/Getty Images News/Getty Images
Wednesday is International Women's Day, and the same organizers of the Women's March on Washington have planned another powerful movement to celebrate. The "A Day Without A Woman" strike encourages women to take the day off from work, paid or unpaid, "in the spirit of love and liberation" to raise awareness about gender inequity in the workplace — and outside of it. For women who may be hesitant to speak with their bosses about missing a day of work, the Women's March organizers published a letter you can send to your boss explaining why you are striking for women's equality.
The letter, published on the Women's March on Washington website, provides the starting point for engaging in an important dialogue about women's rights, the gender wage gap, and gender-based discrimination with your employer. You can read the letter in full, and download a .doc version to edit and send to your boss here. Sending this letter to your boss will allow you to explain why the "A Day Without A Woman" strike is so meaningful to you, but more importantly, it may open the channels of communication that will allow you to feel more confident in discussing these issues in the future.
The letter outlines the mission of "A Day Without A Woman," and the various issues that women face in the workplace each day that make the movement necessary. The letter reads:
A Day Without A Woman is a recognition of the enormous value that women of all backgrounds add to our socio-economic system — and the pervasive and systemic gender-based inequalities that still exist within our society, from the wage gap, to vulnerability to discrimination, sexual harassment, and job insecurity.
It also provides examples of ways that employers can stand with women not just on March 8, but in all of their policies and practices. It calls for employers to assess their policies and question whether or not they are empowering and respecting women in the workplace.
Even more important than the symbolism of standing with women on March 8, the Women's March is asking all employers to perform an audit of their policies impacting women and families. By ensuring that women have pay equity, a livable wage and paid leave, businesses can demonstrate that their long-term actions align with the values we are standing up for on this day.
Feel free to edit the letter as much as you'd like, adding the issues that are particularly important to you in the fight for gender equality in the workplace. You can even draw inspiration from this 10-year old girlboss who wrote a letter to her principal explaining why she would not be attending school on International Women's Day.
For various reasons, not everyone can take the day off from work for the strike, but everyone can use this opportunity to speak out about gender discrimination and start a discussion about the integral role women play in the workforce. Writing a letter that outlines your beliefs and the issues that are meaningful to you — and all women — provides a good starting point.