This Is Cindy Crawford's Beauty Advice To Kaia Gerber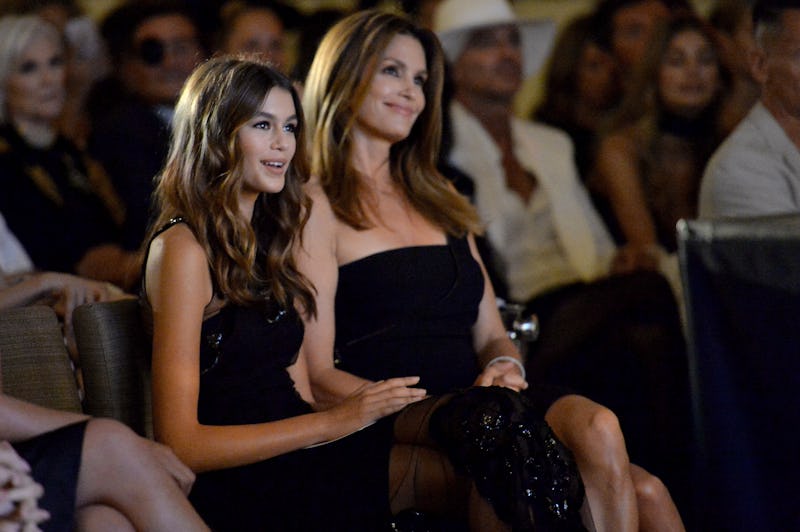 D Dipasupil/Getty Images Entertainment/Getty Images
As if I needed another reason to crush on Cindy Crawford. The '90s supermodel is watching her lookalike daughter Kaia Gerber, 15, follow in her stilettos with a burgeoning modeling career. Gerber revealed what Crawford taught her about beauty in a recent chat with Allure. Since Crawford was one of the biggest models of her heyday, you'd expect her to have had a glam squad at her disposal and to have passed that type of thinking on to her daughter, understandably so. But such was not the case.
Gerber is seriously the spitting image of her stunning mother, so much so that they could be twinsies. The budding model is also the new face of Marc Jacobs Daisy fragrance and she reveals that Crawford always encouraged her to keep things simple and normal.
"She's taught me about natural beauty and how less is more," Gerber told Allure. "She's a very simple person. She's not over the top at all, and she's not extra in any way. I've learned to be a normal person from her. I think she's stayed super down to earth, so she can really talk to anyone. That's why I love being around her."
You hear that, '90s kids? Your modeling icon is so not extra in life or in passing along beauty advice to her baby girl.
Even so, Gerber also revealed that she and Crawford do have a mother-daughter beauty ritual that they partake in.
"We love getting scrubs together," the teen stated. "We'll both be stressed or our have a long week or something, then we go to natural hot springs, and we'll get scrubs and have a girly spa day together." OMG, can we be invited?
Crawford and Gerber are so #MomDaughter Goals. But they are not carbon copies of one another, with Gerber saying that she is a bit edgier and more of a rule-breaker than her valedictorian mother, which is something she inherited from her father Rande Gerber.
Anyone want to wager when Gerber will get her first Vogue cover or when she will have a joint mag cover appearance with her still-stunning mom?