Here's What 'Bachelor' Alums Really Think Of Rachel As The Bachelorette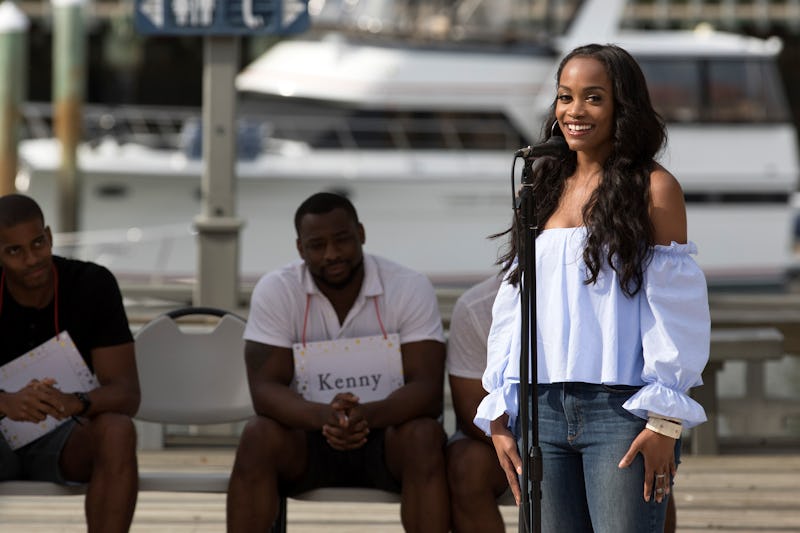 Bob Leverone/ABC
All the men on Rachel's season (including Chris Harrison) have been singing the Bachelorette's praises. But, isn't that, like, part of their contract? What do former Bachelor and Bachelorette contestants really think of Rachel? Bustle went straight to the source to find out — in this case, asking a group of former contestants to weigh in via Facebook. In 2013, after competing on JoJo's season of The Bachelorette, Christian Bishop founded a Facebook group to bring together all the contestants of color from previous seasons. Bustle asked that group what they thought about how Rachel was doing as The Bachelorette, and here's what they had to say....
Robyn Howard of Sean Lowe's season of The Bachelor highlights Rachel's authenticity and infectious confidence in her response to Bustle.
"Rachel is the epitome of a fantastic Bachelorette! I have to admit, at first I wasn't sure, because she didn't seem to fit the Bachelor mold. Naturally, tuning in, I couldn't be more proud of their pick! She's very REAL, extremely intelligent, and fun to watch! It's hard to be yourself with all the cameras around, but you can tell she's very comfortable and she's a joy to watch. I love that she tells it how it is and will stand up for herself. Her confidence is contagious; yet she not unaware that she IS the first black bachelorette and all eyes are on her. She receives positive feedback and negative; and her responses to the negative feedback only makes me want to be her friend that much more."
On Twitter, Robyn even lauded Rachel as the reason she started watching the show again.
Leslie Hughes, a fellow alum of Sean Lowe's season, agrees that Rachel is doing a good job at keeping it real. She tells Bustle:
"I feel like she is doing an amazing job!! She is classy, poised, funny, keeping things very real and genuine and taking this opportunity and process seriously! She is gorgeous inside and out."
She's gushed about Rachel on Twitter as well — and you can't blame her.
Lastly, Grant Kemp from JoJo's season and Bachelor in Paradise tells Bustle he is also a huge fan of Rachel's.
"I think Rachel has done a great job dealing with the good and the bad so far this season. She carries herself well and I'm happy ABC chose her as the Bachelorette."
These former contestants aren't the only ones who have been enthusiastic in their praise for Rachel. Tons of Bachelor and Bachelorette alums have voiced their love and support for this groundbreaking Bachelorette season and its no-nonsense leading lady. We might not know who Rachel picks at the end of this season, but we do know that she has won all of our hearts.