How 'Girl Meets World' Can Be Saved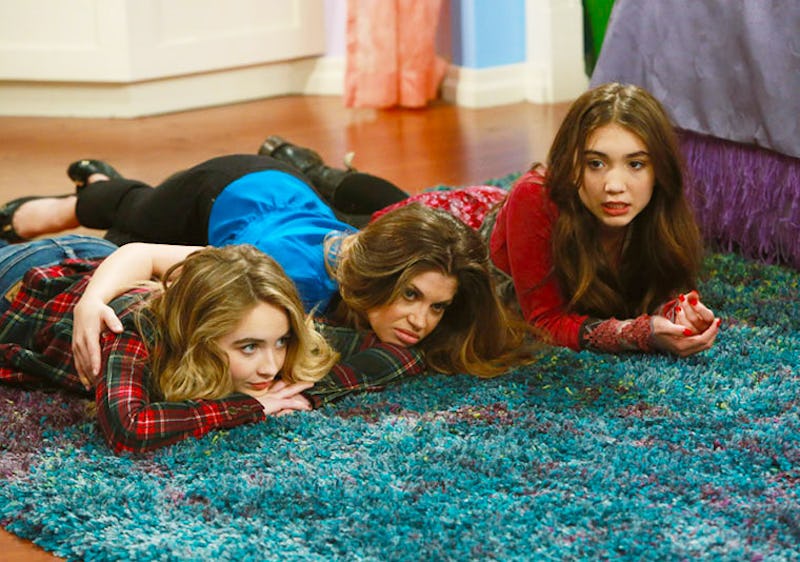 Walt Disney Pictures
Girl Meets World fans are understandably crying over the show's cancellation. After three seasons passed since its debut in June 2014, Disney officially announced that Girl Meets World was canceled a few days into 2017. (Too soon, 2017. Too soon.) The two-part series finale, "Girl Meets Goodbye," will air on Jan. 20. It will reportedly feature every returning cast member under the sun and plenty of feels; Riley (Rowan Blanchard) and Maya (Sabrina Carpenter)'s friendship is put to the ultimate test because the Matthews family could be moving to London. Seems like goodbye, but is it really, though? Could Girl Meets World be saved from cancellation? It would take a lot, but there's a precedence that could give fans some hope.
By Seasons 2 and 3, Girl Meets World was pulling in a whopping 1.8 million viewers per episode (a drop from the 5.2 it opened with, but still). The problem may not be the show, however. According to Deadline, Disney may not be the right fit for the reincarnation of the original Boy Meets World, which aired on ABC. Because the Disney audience is so young, Girl Meets World just may not be resonating, not only for original Boy Meets World fans who live for nostalgia and want to see more mature storylines, but for new ones as well who might miss some of the nuance in the storylines that the show has explored so far.
But there's a solution, and fans have already caught on to it.
In case you missed it, devoted Girl Meets World lovers are speaking loud and clear, pleading for the show to get the Gilmore Girls and Fuller House revival treatment. Fan campaigns have started hashtags #GirlMeetsNetflix, #SaveGMW, and #GirlMeetsHulu on Twitter. And they're onto something. In the past, a show getting picked up by another network seems to be the best chance at its continuation — if it's in demand and the fan base is large enough, of course.
Here are some shows that fans were able to save out of the goodness of their hearts and TV addictions:
Yes, fellow networks and streaming services often come to the rescue and give the audience what it wants. (Unless it's the epic Kim Possible, which was renewed for a fourth and last season on the same network after its second TV movie was supposed to serve as a finale. That show was a ratings savage.)
Lucky for GMW fans, creators are listening. Nothing has been confirmed about a possible Netflix or Hulu pickup, but creator Michael Jacobs hints that discussions are happening. "There are talks underway, but we're at the very, very beginning stages," he said. It makes sense that there would be talks considering all of the above.
And, to use one streaming service as an example, the Netflix audience has already responded so well to nostalgia-based vehicles — see Fuller House — and new seasons of teen-based shows that were previously on television — see Degrassi: Next Class — that fan demand seems like the main qualifier needed for Girl Meets World to make the jump. Even if Netflix doesn't pick up the show in the end,, other streaming services could be persuaded if fans raise their voices.
So, keep talking, Twitter, because the streaming service world could be your oyster.