'Girl Meets World' Might Have Been Canceled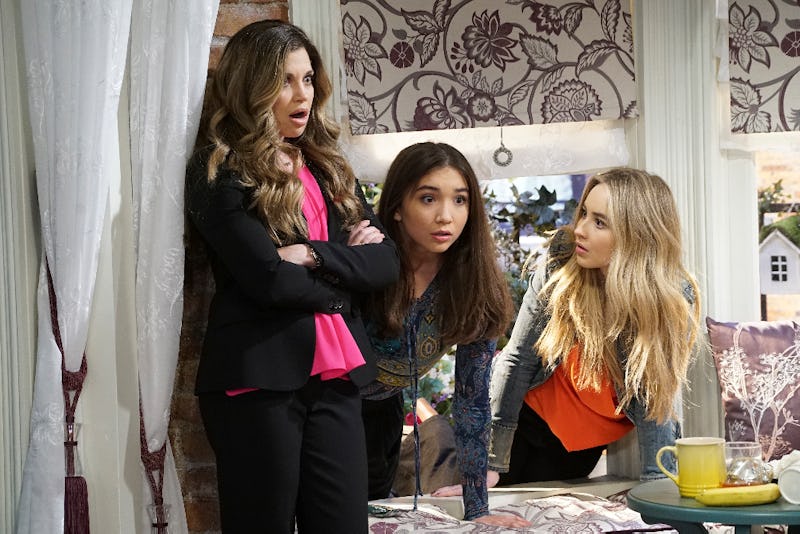 Disney Channel
Cory and Topanga's girl may not be long for this world. After three seasons, it's been reported that Disney Channel is canceling Girl Meets World. This cancelation news comes from TVLine, who reported that Shawn Hunter himself, Rider Strong, said Girl Meets World has "ended." The actor made the comment about the Boy Meet World's spin-off being over on his podcast, Literary Disco, telling fans, "We finished the third season of Girl Meets World — my brother and I were directing a lot of episodes and I acted in a couple — and the show ended." The network has not confirmed this news or commented on the status of the show.
This may not come as that big of a surprise to fans though. Last month, the show's star Rowan Blanchard along with other cast members started campaigning for another season using the hashtags #GirlMeetsWorldSeason4 and #SaveGMW, after Disney seemed unsure of whether it would bring the show back for another season. Blanchard tweeted that she wanted to see the show continue because it was a voice for a young generation that was looking for shows that spoke to their concerns.
While the series may have started as a spin-off focused on Cory and Topanga's daughter Riley, it quickly found its own voice. Girl Meets World was a feminist show that empowered young women through the friendship of Riley and Maya, through their relationships with their parents and the boys in their life, and through their everyday problems to which all children and even adults could relate.
In an interview with Bustle from earlier this month, Sabrina Carpenter, who plays Maya, said the best thing about the sitcom is that "no matter what, we've always stuck to the friendship of the two girls, how important that is, and how much it gets them through in their lives."
It's also rare that a show for young girls that doesn't focus on the idea of romantic love, but a greater bond. It's even rarer that a show would tackle topics like bullying from a young female perspective. It's for all of these reasons that Twitter was looking to #SaveGMW.
After news broke that Girl Meets World was reportedly cancelled, fans starting taking things into their own hands. The Save Disney Shows Facebook posted that "Everyone needs to contact Disney NOW about Girl Meets World! And if anyone is interested in taking charge of a Save Girl Meets World campaign, please contact us!"
For now, fans can enjoy the rest of Season 3, which returns with new episodes on January 6, kicking off with an hour-long show called "World Meets Girl" that will give fans a "peek behind the scenes."
Unfortunately, the title of the Jan. 20 season finale though may give a clue of the show's fate: "Girl Meets Goodbye." According to TVLine, this episode will feature the show's biggest Boy Meets World reunion yet, with Strong, William Daniels (Mr. Feeny), Will Friedle (Eric), Anthony Tyler Quinn (Mr. Turner), William Russ (Alan), Betsy Randle (Amy), Lee Norris (Minkus), Danny McNulty (Harley), Lily Nicksay (Morgan No. 1), and Lindsay Ridgeway (Morgan No. 2) all set to appear.
Word of advice: start writing those letters to Disney sooner rather than later if you want #GirlMeetsWorldSeason4. I don't think any of us are ready for the show to end.