Here's What The New Glossier You Fragrance Actually Smells Like To 19 Different People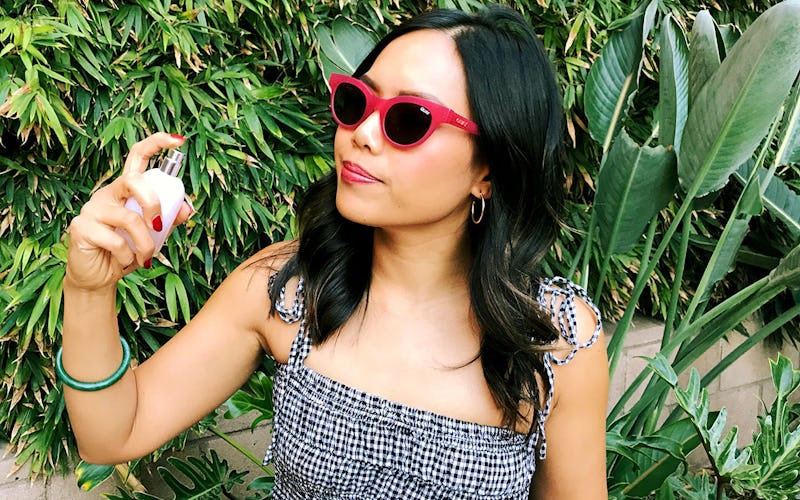 Sara Tan
There's a new scent that's about to permeate the streets, wafting from the bodies of beauty-obsessed millennials and Gen Zers everywhere. I'm talking about Glossier You, the debut fragrance Emily Weiss and company released on Oct. 23. With the help of two master perfumers (who have developed scents for Le Labo, Versace, and Yves Saint Laurent) Glossier created a perfume they believe is actually more of a "skin smell enhancer." They even list that you are the first ingredient, coming before three skin-like base notes in the formula — ambrette, ambrox, and musk — and two earthy and spicy top notes — Iris root and pink pepper. Weiss told Vogue that when she set out to create a perfume, she wanted to make something that smells "like your boyfriend's neck after he has been wearing cologne for eight hours."
Of course, it won't smell like that to everyone, because perfume is an interesting thing. It isn't as black and white as other beauty products can be. For example, you and your best friend might love the same mascara or face cream, but your perfume preferences can be on varying ends of the scent spectrum. It makes sense — fragrance is much more personal. One perfume can have a uniquely different scent to and on you than it would to and on another.
Glossier You (1.7 fl oz/50 ml), $60, Glossier
But because Glossier You is less of a perfume and more of a "skin enhancer," it hopes to mix with your individual skin oils to create something that "smells like you, but better" — something less divisive (as far as perfumes go) and more universally beloved.
I asked 18 different people to describe what Glossier You smells like to them. If you aren't near the Glossier showroom or haven't gotten your hands on a sample, perhaps these answers will help you get a better sense of its scent, or at the very least, see how smell can really differ from one person to the next.
Sara Tan, West Coast Fashion and Beauty Editor, Bustle
"It reminds me of some Le Labo fragrance, and also a scent that's really familiar and kind of nostalgic. It has a cedar-y, floral scent that's subtle enough so it doesn't overwhelm you, but strong enough to make you smell good. It smells clean and fresh, but in a luxurious kind of way... if that makes any sense? Describing perfumes is hard. In any case, I can't stop sniffing my inner wrists where I applied it."
"I'm not great with describing notes in perfumes, but the Glossier perfume has a comforting smell. It some what reminds me of someone's mom, but not in a bad way. It smells slightly sweet and fresh and clean!"
Lindsay Mannering, VP of Editorial Strategy, BDG Media
"[It] smells like a fancy hotel room diffuser!"
"I think it smells like a scent Gigi Hadid would wear or something — really light, fresh and pretty, and lasts all day!"
Mollie Maxon, Social Media Coordinator
"It smells musky and sweet, but not too candy sweet. It smells like what you want to naturall smell like."
"The fragrance appeals to a lot of different people. There are tones and undertones that make the scent exciting to wear throughout the day. It's sophisticated, but still light enough to wear on a daily basis. It's feminine, but has hints of a deeper and richer aroma. Overall, Glossier is killing the beauty and skin care game. Glossier You is just another addictive step to Glossier greatness."
Hannah Caldwell, Associate Social Media Editor, Bustle
"Musky and also like a really chic bathroom and/or fresh out of the dryer laundry."
"It smells like my boyfriend wore my favorite perfume and it smells better on him, because life isn't fair."
"Smells like the New York Edition Hotel on 24th and Madison. Seriously though."
"Glossier You is one of the best perfumes I have ever tried. It's got an amazing sweet smell without being sickly, and it lasts all day long!"
Kara McGrath, Deputy Fashion and Beauty Editor, Bustle
"Super floral, but with a hint of muskiness!"
"To me the new perfume smells like fresh cut flowers with a slight chic powdery scent. It's fresh and energizing, and a light enough smell that I think everyone can appreciate it. At the very least, it would not bother anyone because it smells very clean like you've just gotten out of the shower and you smell great from all of your products — this scent captures that and lasts all day."
Hayley Saltzman, Director of Social Media, BDG Media
"I'm not usually into really floral scents, but I'd definitely describe this one as floral. I love it because it's bright and punchy in a way that doesn't smell like something a grandma would wear. It's slightly sweet and citrusy and it just puts me in a good mood!"
"The new Glossier You fragrance smells light and airy, like how I would imagine walking on clouds [would be]. Floral, but no overpowering."
Katie Dupere, Associate Fashion and Beauty Editor, Bustle
"I know this isn't interesting, but it is very clean and very subtle. It reminds me of their makeup brand overall, which is really minimal and almost barely there. It's the same concept with the fragrance. I wear both men's cologne and floral fragrances, and this is a nice soft in-between of the two. Nothing overwhelming, nothing too flowery, but very light."
Mia Di Julio, Obstetrician/Gynecologist
"It reminds me of Morocco and also something from my childhood."
"I was (pleasantly) surprised by the smell of this because I strongly associate Glossier with the scent of rose. This doesn't seem floral to me at all, but a more musky and bold. It smells like the traces of perfume that are sometimes still left on vintage clothing after many years — a very "lived-in" scent that changes as you wear it."
"It smells a bit like grass, in a nice way. Meadowy [and] a little peaty."
"Glossier You is fresh and clean, but there's something mysterious that has made me smell my wrists nonstop since applying. Glossier is one step closer to completely taking over my beauty regimen"
If you want to learn more about how Glossier You was made, check out Into The Gloss' interview with the master perfumers behind the sure-to-be cult-favorite fragrance.