Here's What's Inside Hailee Steinfeld's Makeup Bag Right Now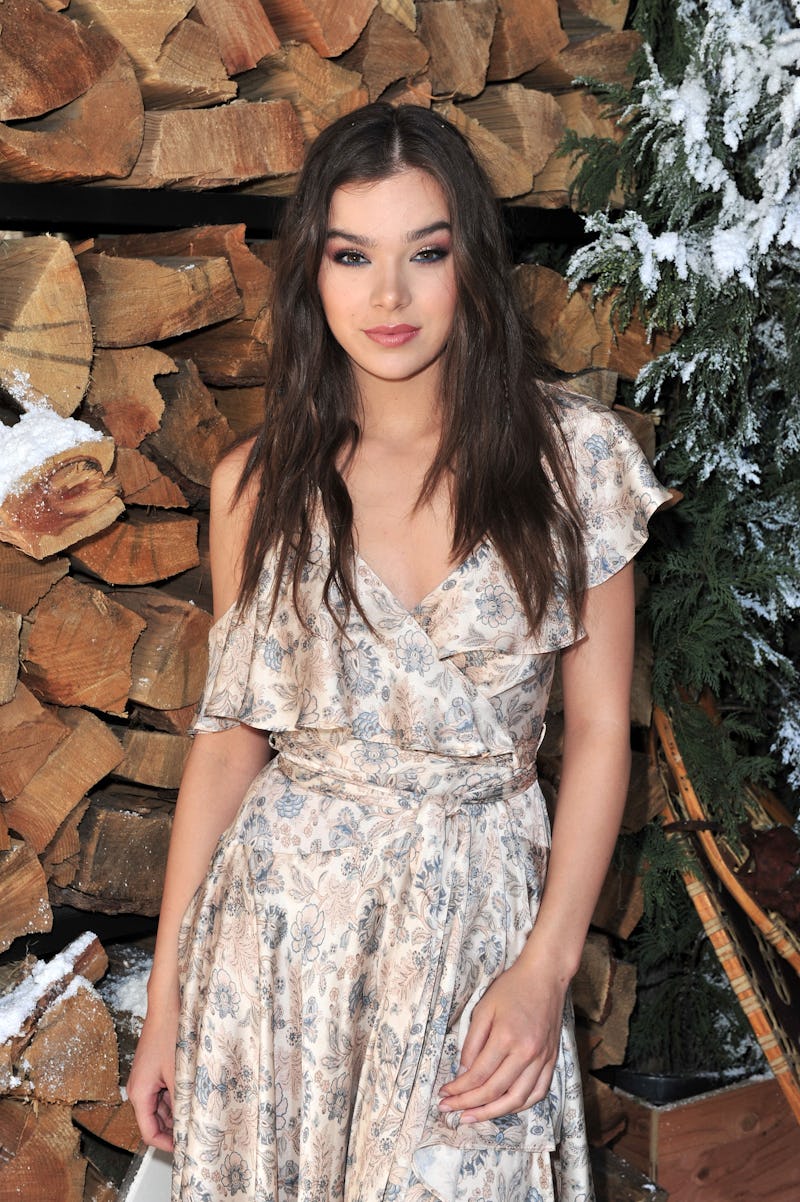 Jerod Harris/Getty Images Entertainment/Getty Images
It's easy to lump Hailee Steinfeld into the category of pretty, celebrity It girls. She definitely fits the bill — super stylish, friends with anyone who's anyone, has a huge social media following, etc. But a few minutes into our conversation, and I'm reminded that she's more than just that. Between filming blockbuster hit Pitch Perfect 3 and working on her music, Steinfeld has somehow made time to be the latest ambassador for activewear brand MISSION, meaning she's never not working. She's arguably the most ambitious 20 year old I've ever met, and immediately, I feel regret for thinking she was anything but a full-fledged powerhouse — even if it was only for a second.
That's not to say she isn't a fairly normal 20-something, though. When I walk into the room, I find Steinfeld slouched over in her chair, one leg up on the seat, thumbing through her phone. We talk about Coachella, our love for high-waisted leggings and sweats ("I live for athleisure," she proclaims), and avocado and egg sandwiches. Movie and pop star aside, Steinfeld is as simple as she is sweet. This is especially true when it comes to her beauty routine.
"In my makeup bag, I have foundation, concealer — which is key — a setting powder, a very small natural eyeshadow palette, and a finishing spray. I've got a couple of brushes, too, and some brow stuff, and that's it," she tells me. Steinfeld isn't loyal to any one brand either, because like you and me, she's obsessed with discovering new beauty products and trends. "I love those 30-second tutorials where they speed it up," she confesses with a smile. "I love watching those. I will sometimes attempt to achieve what I watch, but it never really works out." But one trend she isn't afraid to embrace? "I love a good highlight — liquid highlight, especially. I've really fallen in love with it. I love how natural it looks."
Something tells me that highlighter isn't solely responsible for Steinfeld's glowing complexion, however. (I don't know, I had a hunch.) I had to know her secret. "Hydrating. It's crazy when I go a couple days not drinking as much water as I normally do. I especially start to see it on my skin." Boring? Sure. But tried-and-true? Well, if you need any convincing you should be reaching for your Swell bottle, please check out Steinfeld's latest selfies.
She's also religious about her skin care regime — taking off her makeup at the end of the night, using a gentle face wash, a moisturizer, and a sunscreen during the day — but it's all about moderation. "I tend to not over-moisturize because I feel like it leads to breakouts." And breakouts do happen. After all, Steinfeld spends a good amount of time dancing on stage in a full face of makeup. So how does she deal when a pimple pops up on her face? "I cry, I scream, I ask my mom, 'WHY?!,'" she jokes as she shakes her hands towards the heavens. But the real answer is, again, simple. "If I'm lucky, I can cover it up. If it's not manageable, you just deal with it. It is what it is. It happens, especially when you're on stage performing with makeup on and sweating...the result is, you can't fight it, you can't hide from it. You just kind of have to embrace it."
I'm actually kind of shocked. For someone so young, Steinfeld proves to not only be kind and well-spoken, but she's also super level-headed. I ask her how she manages to do it all, and surprisingly, it has to do with doing nothing at all. "I'll have moments where I'll lay in bed until noon, and I'm like 'Literally, I've done nothing with my life, I need to do something, what can I do?' And then I'm like, 'You know what, this is awesome.' Just to be able to stay in your pajamas all day! I did it recently, and I was like, 'I so badly needed that' and I loved it," Steinfeld tells me.
The next time you feel #basic for staying in on a Friday night and Netflix'ing the entire first season of Girlboss, don't feel bad. If you were to ask, what would Hailee Steinfeld do?, the immediate answer would be, whatever the f*ck you want! "Taking moments for yourself and treating yourself, whether that's going to get your nails done or treating yourself to a massage at the hole-in-the-wall down the street, whatever it is — it's really important to take time for yourself and take care of yourself." Thanks for the reassurance, Hailee.