How Netflix's 'Girlboss' Is Different Than The Book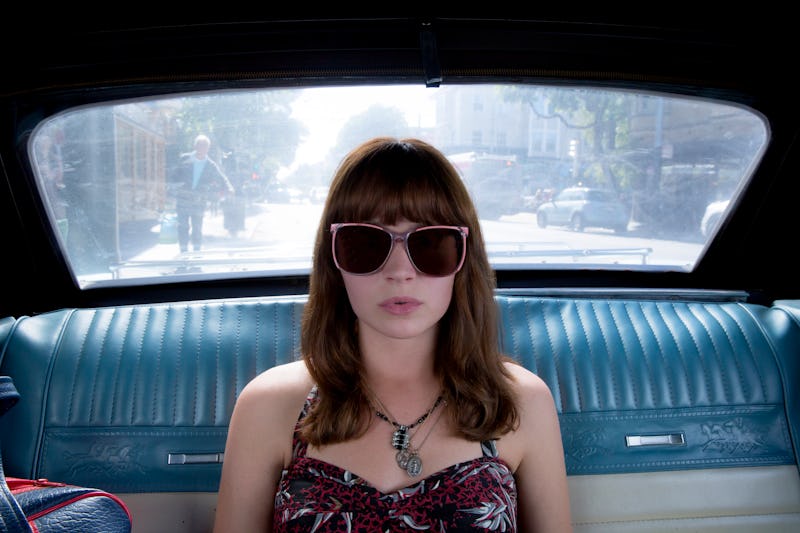 Karen Ballard/Netflix
Netflix's new series Girlboss, based on Sophia Amoruso's autobiography of the same name premiered on Friday, April 21. The bestselling book chronicled Amoruso's life and success as the founder of online clothes retailer Nasty Gal. But, is Netflix's Girlboss different from the book?
In an interview with Bustle, Amoruso and the show's creator and star Kay Cannon and Britt Robertson discussed how viewing the Netflix series is a different experience than reading the book. For example, the show is much more cinematic, with them citing an example of how Amoruso chose the name Nasty Gal. In the book, Amoruso explains that she named the store after a Betty Davis song. Well, just thinking something doesn't make for good TV. To put the idea in action, this decision was dramatized. Amoruso, played by Robertson, goes to a San Francisco drag show and hears a singer performing the song — this is where she has her cinematic aha moment.
The show also brings things that normally aren't tangible to life, like internet forums. In the trailer for the series, we see stylized readings of internet commentators acted out by real people. And, in Season 1, Episode 10 the creators bring trolls to life.
Bustle also asked Amoruso if she was nervous to see her life and career as a show.
"Yeah on some level ... The first season really ends, you know, with me launching the website. And so I have like one employee, maybe two employees … Everyone else in the series is [Cannon's] creation," Amoruso says. She then added, with a laugh, "So, my mom is not actually like that."
Amoruso explains that she trusted Cannon with taking artistic liberties, saying, "You just have to have a lot of trust. Like, these are incredible [collaborators]. Like amazing talent. Like, this is a star team. This is like as good as it gets. And I think if this was any other team, this might be really uncomfortable."
So while the inspiring story of rising to girlbossdom is mostly true, there are some dramatic twists and turns added to the Netflix series. But, they are all Amoruso approved.
Additional reporting by Samantha Rullo.