Fans Refuse To Believe Bey Chose The Names Rumi & Sir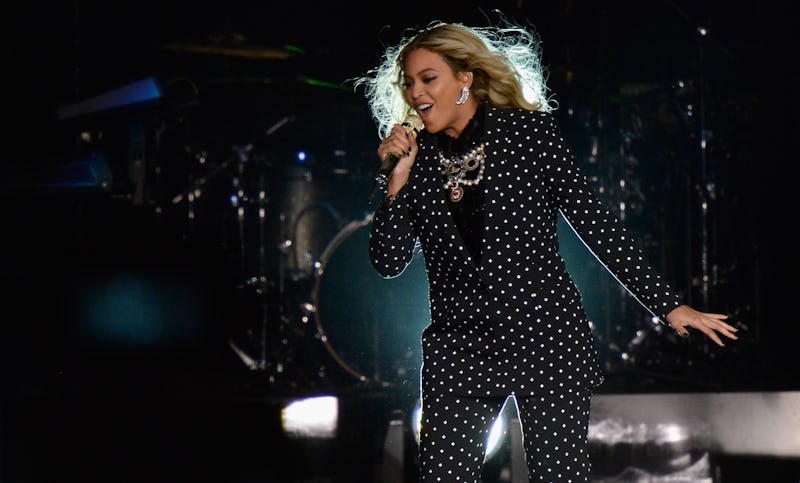 Duane Prokop/Getty Images Entertainment/Getty Images
On Friday, after JAY-Z got everyone talking with the release of his 13th studio album, 4:44, the father of three made headlines again for a totally different reason. TMZ reports that Beyoncé and JAY-Z named their twins Rumi and Sir, which has fans of the couple going wild. But while people are expressing their approval or dislike of the reported names, some hardcore Beyoncé fans won't believe Rumi and Sir are the twins' names until the queen herself confirms.
TMZ reports that the company JAY-Z and Beyoncé own that houses their trademarks filed documents requesting to trademark "Rumi Carter" and "Sir Carter", which led the publication to believe that those are the twins' names. Neither Beyoncé nor JAY-Z have confirmed this report themselves, and reps for the artists did not return Bustle's request for comment at the time of publication.
Much like when news broke that Beyoncé and JAY-Z had welcomed their twins, many Beyoncé fans refuse to believe any reports about their fave until she confirms them herself. At the time that it was reported that the twins were born, some fans pointed out that Beyoncé is a master at keeping secrets. For example, she filmed and recorded an entire visual album, Lemonade, in secrecy, even though so many people were involved in the production of it. Also, remember when she announced she was pregnant with an over-the-top photoshoot that showed her with a very visible baby bump? Basically, Beyoncé plays by her own rules, and if she doesn't want information leaked, usually, it doesn't get leaked.
For this reason, fans are not getting attached to the names Sir and Rumi, and are patiently (or, in some cases, not-so-patiently) waiting until Beyoncé shares the news herself.
Beyoncé, people are bringing out the gifs left and right. Confirm. Those. Names.