Here's Why Biebs Has Been Banned From Performing In China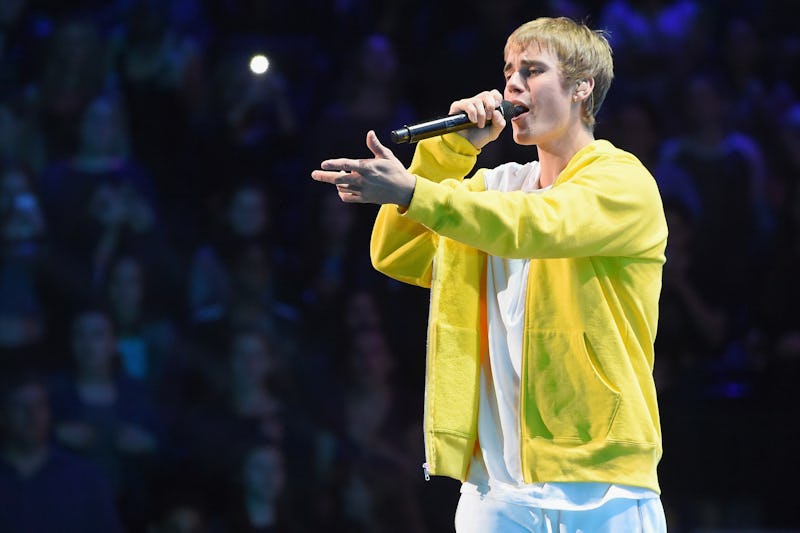 Nicholas Hunt/Getty Images Entertainment/Getty Images
No matter what he does, it seems like Biebz just can't seem to save his reputation, and it's affecting him on a global scale. China has banned Justin Bieber from performing, according to the Telegraph. The Beijing Municipal Bureau of Culture wrote on its website that the 23-year-old Canadian singer was no longer welcome to perform in mainland China because of his past bad behavior. Bustle has reached out to Bieber's rep for comment, but did not receive a response at the time of publication.
According to the Telegraph, when a fan inquired why the Asian leg of Bieber's Purpose World Tour would be skipping China, but would be hitting Japan, Singapore, Indonesia, Hong Kong, and the Philippines, the Municipal Bureau responded:
"Justin Bieber is a gifted singer, but he is also a controversial young foreign singer. In order to maintain order in the Chinese market and purify the Chinese performance environment, it is not suitable to bring in badly behaved entertainers."
Though no specific incidents were named, some of Bieber's most notorious past digressions include pleading guilty to "careless driving", egging a neighbor's home, and reportedly peeing in a mop bucket at a restaurant after which he sprayed a photo of Bill Clinton with cleaning liquid and shouted, "F*ck Bill Clinton!" And then there was the bizarre incident in which he tried to bring a monkey into Germany. As for China, in 2013 Bieber was carried by his bodyguards up the Great Wall and was filmed skateboarding through the streets of Beijing while his bodyguards chased after him. That's to say nothing of his repeated antics during his concerts, often delaying shows or storming off stage.
But it's not a lifetime China ban; it's more like Bieber is grounded. The Bureau said in their statement: "We hope that as Justin Bieber matures, he can continue to improve his own words and actions, and truly become a singer beloved by the public." Apparently, it's not too late to say sorry.
Bieber is far from the first artist to be banned in China. Lady Gaga was blacklisted for meeting with the Dalai Lama in 2016 to discuss yoga and meditation. China considers the Dalai Lama a separatist with ill intentions, and Gaga followed artists like Bjork, Oasis, and Maroon 5 for meeting with or expressing support for the spiritual leader. As for Bieber, maybe if he's good, China will welcome him back.