Katy Perry's Fans Are Losing Their Minds Over This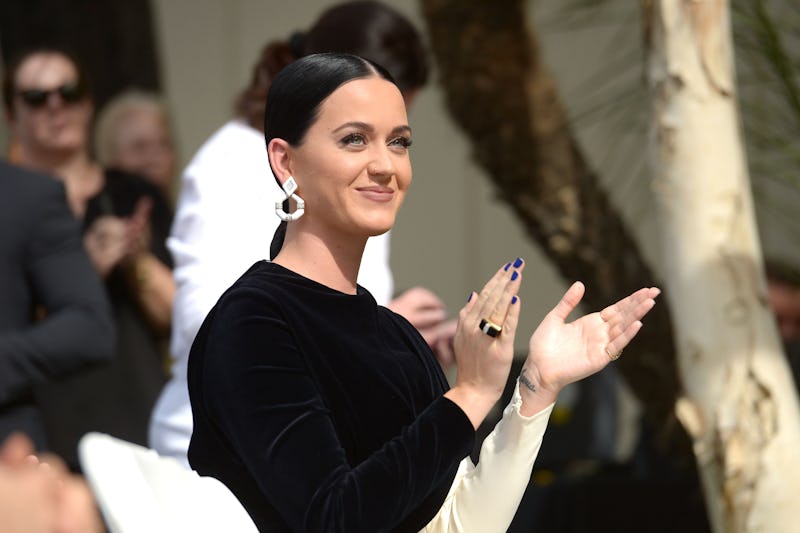 Matt Winkelmeyer/Getty Images Entertainment/Getty Images
When you think of the "Roar" singer, you think of glitter, neon, and everything that sparkles. After all, minimalism is her kryptonite. So if you're wondering why Katy Perry hid disco balls all over the world, you might be incredibly confused but — if you're honest with yourself — on some, deep subconscious level you were expecting this. After all, it seems a uniquely Perry-esque thing to do.
Let me answer your question with another question: why does anything that's incredibly quirky, seemingly random, and generates a whole bunch of hashtag-fueled conversation happen? Yes, advertising. The disco balls are part of Perry's genius advertising strategy for her new single, "Chained To The Rhythm." She's left disco balls all over the world and asked her fans to find the disco balls, bring their headphones along with them, and get the opportunity to listen to her new song.
People are loving it: unsurprisingly given the innovative marketing, #chainedtotherhythm is trending on Twitter and everyone's having fun sharing their experiences on social, especially since it comes complete with its own specific Snapchat filter (more on this later). As far as the immediate critical response from fans goes, it looks like this track's going to shoot to the top of the charts immediately.
According to the Chained To The Rhythm map, most of the disco balls are situated in the US. But the map keeps being updated, with Mexico, Brazil, and Paraguay's disco balls being added after the initial launch, so keep checking back if your country doesn't appear to have its own disco ball yet.
The bubble-related text on the Snapchat filter gives credence to the idea that Perry's work will be more politicized this album round. On Dec. 1, Perry posted a photo of herself with Hillary Clinton at the UNICEF Snowflake Ball on Instagram and accompanied it with a long, heartfelt text about having received the Audrey Hepburn Humanitarian Award. She stated:
"This award will be a constant reminder to get out of my bubble and back into the field to shine a light on issues that matter most, especially to illuminate the plight of vulnerable children who are living without basic human needs and rights."
And because it's an issue she feels so passionately about, she continues later:
"...From the outside it probably looks as though I've always had a "voice." Truth is, I have never had one like I have found in the past year. I have a found a new voice, a more determined voice...Hillary helped me see that we're all in this together, no matter where we come from, what color we are, or what status and education we have or don't have."
Presumably this bubble reference suggests that the idea of bubbles — of being privileged and sheltered from a more vulnerable part of society's reality — is one that is going to be at the forefront of her new music. Which makes the disco ball an incredibly astute symbol. We associate it with pop music and with maximalist glitz and glamor, both of which we associate with Perry herself. But its circular shape recalls that of the bubble: the bubbles we inhabit, whether they're social media bubbles or bubbles of privilege.
Hopefully Perry's music will do that difficult thing of being melodic and meaningful in equal measures. I don't know about you, but I could use the mood lift of great pop music and the inspiration of an even greater message right now.