Why 'Hidden Figures' Is So Necessary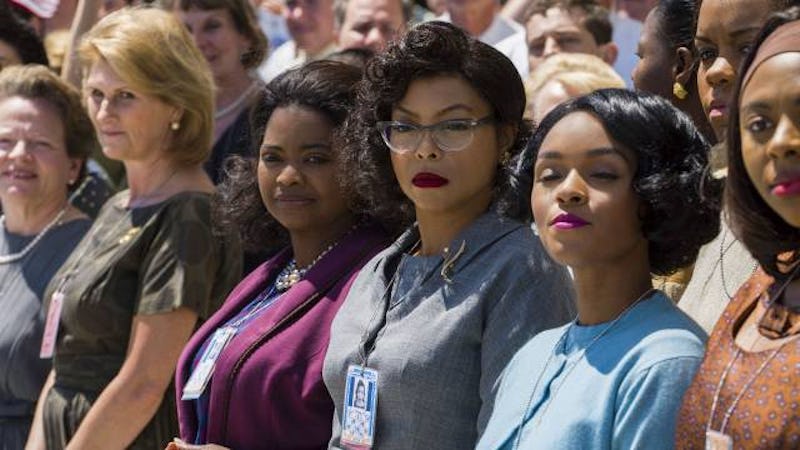 20th Century Fox
The story in Hidden Figures needed to be told. Katherine Johnson, Mary Jackson, and Dorothy Vaughan, three black female "human computers," who helped the U.S. launch John Glenn into space at NASA in the 1960s and went on to have success careers as engineers and mathematicians is exactly the type of historical gem that should be on film. But aside from it being a positive thing that the story is finally getting out there and bringing a new point of view to what people learn about American history, the fact that a movie about impressive black women, one which shows the particular struggle of being a black woman adds another level to Hidden Figures' importance — and it's making the film world more diverse, too.
There's a lot to be said about the story itself: Johnson, who is currently 98 years old, went on to work on the Apollo 11 mission to the moon and received the Presidential Medal of Freedom in 2015. Jackson became an aerospace engineer and worked at NASA for over 30 years. Vaughan learned computer programming and was the first black supervisor at the organization.
These women broke down major boundaries just by getting to the high positions that they did in the careers, which set the stage for future black female engineers, mathematicians, and, later, astronauts, to come. Their story tells people that anything is possible; that even when everything is against you, you can still rise up and make an impact on the world. This message hits particularly hard in 2016. As a black woman watching the movie I couldn't help but think about how the people who came before me pushed through so much. It made me feel stronger. It gave me hope.
But it isn't just these specific women's stories that makes Hidden Figures so necessary. So few movies have black women as leads at all, and even fewer make a point to talk about what a specific situation it is to be a black woman. According to a 2014 study by the University of Southern California, of the 100 top films of that year "nearly three-quarters of all characters were white," NPR reports, and only 17 of those 100 top movies featured non-white lead or co-lead actors. Of course, that number is even lower if you just look at non-white women leads, considering only one-third of speaking roles were for women, according to the same study.
Speaking to the idea of the film focusing on women of color at the New York premiere of the film, screenwriter Allison Schroeder says, "I think that we're stuck in a lot of stereotypes in Hollywood, and I think we need to break out of them."
Schroeder, who calls herself a "NASA baby" because of her family's various connections to the agency, continues, "And I think that this is not what people think scientists or mathematicians look like both because they're black and because they're women, but it's true. And we need to make sure we're reclaiming history and telling the truth."
The time period Hidden Figures is set during lends itself to the issues of sexism and racism coming up in a very clear way. In the film, all three main characters are shown facing racism at work when it comes to being separate, but not equal, to their white male coworkers. They also deal with the white women who, in society at the time, rank above them but are facing their own type of prejudice for being female. The three leads also all go home and hear from their own family members and husbands, some of whom show a lot of doubt and cynicism about what black people can achieve in a world that's so against them. Through this, Hidden Figures tackles black feminism head-on in a way that isn't often depicted.
"My character, really, just looked at [Johnson] more as a woman, and saying, 'OK, great, get to work, because we have a job to do. Don't mess up,'" Kimberly Quinn, who plays Ruth, a white woman who was the only woman working in the department Johnson joined before her arrival, says of her character at the premiere. While Ruth seems cold to Johnson at times, Quinn explains that her character had to see Johnson as another women and know that they were connected in that they both were forced to prove themselves.
There are some parts of Hidden Figures that could be more subtle (Kevin Costner's character literally beating up a "colored only" bathroom sign with a sledge hammer comes to mind), but when it comes to showing black women dealing with being black, being women, and the different opinions and hardships you face because of that, being straightforward isn't a bad thing. People need to see different perspectives on film — not just so little black girls have great role models to look up to, which is something this movie definitely delivers on — but because society functions better when we understand each other. This year especially, that's important, and in the theater, knowing that all different types of people were watching the film and getting to feel what Johnson, Jackson, Vaughan, and countless others have felt, even if just for a moment, provided a strange sort of comfort.