How 'Hidden Figures' Pays Tribute To John Glenn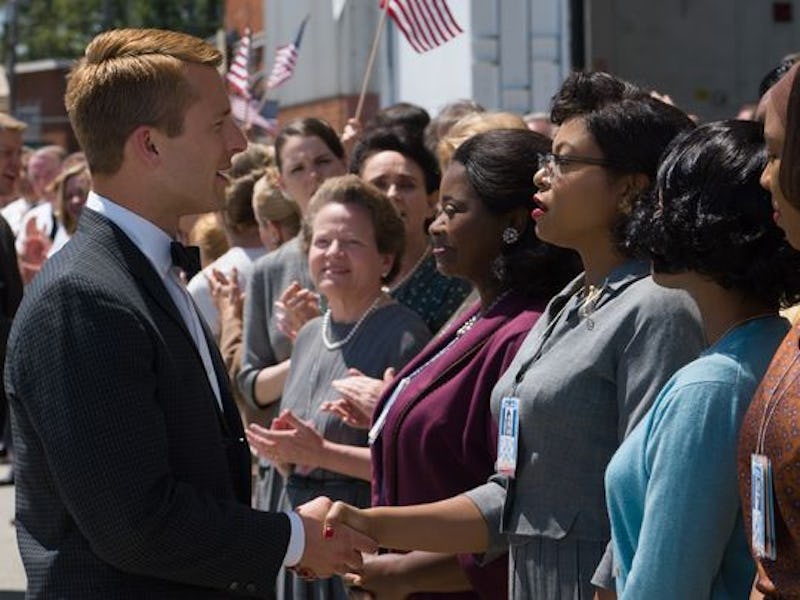 In a lot of ways, Hidden Figures is long overdue. The story of the black female NASA employees called "computers" who helped launch the first Americans into space has rarely been told, but needed to be heard. Yet, sadly, Hidden Figures also seems perfectly timed to the end of 2016, not only because the U.S. is so divided right now — something that is definitely a theme in Hidden Figures with its early '60s Virginia setting — but also because John Glenn, who is portrayed in the film by Glen Powell, passed away only a few weeks before the movie's release. In Hidden Figures, Glenn is shown as one of the few white, male NASA workers accepting of his black female co-workers for being the talented, smart humans they are, and Powell hopes that his version of Glenn makes this side of the astronaut apparent.
"I hope this brings another aspect to the way people see John Glenn," Powell tells Bustle at Hidden Figures' New York premiere. "John was obviously a sensational figure in front of and behind the scenes, and I think this movie shows a side that I don't think a lot of people know about John... He was really a supporter of women and a supporter of great brains and what Americans can do when we come together and support each other."
That said, Glenn wasn't perfect when it came to supporting women's equality. During a special hearing in 1962, he testified against women being allowed to be astronauts, saying, "The fact that women are not in this field is a fact of our social order," which is a very backward way of thinking that was, sadly, not uncommon in the 1960s. But Powell is right when it comes to the fact that Glenn did trust the women computers at NASA, which is something that Katherine Johnson (played by Taraji P. Henson in the film) has confirmed herself, telling Makers, "He had confidence in what we computed for him."
What's undeniable is that regardless of Glenn's history, Hidden Figures is all about people proving what they can achieve when they all come together. Even though the three main characters are brilliant, they have to put up a fight everyday of their lives when it comes to being treated with respect at work and in the real world because they are both black and women. The men, and some of the women, whom the lead trio work with always see them as lesser than, but it took the ladies' expertise to help launch a human being into space.
"Taraji, Octavia, and Janelle, they get to do these women's stories justice once," Powell says. "And that's a lot more pressure than playing John Glenn. That's more pressure than I can handle." Of playing Glenn, he explains, "There's a whole lot of pressure when you're playing that sort of figure to just not screw it up," but he adds that because there's so much information available on Glenn and he's been portrayed so many times before, researching him for the role wasn't too difficult.
Aside from the film being timely because of Glenn's death, Powell also sees the way it mirrors the divisions our country is facing now, over 50 years later. "I think it's more relevant than it's ever been. As long as I've been alive I don't think I've ever seen the country this divided — and outwardly divided," he says. "I don't think it's ever been so important for men to be supporting women. Because right now it's a time where I think we're only supporting the people who look like us or grew up where we grew up. And people aren't supporting us as a collective species and what we can do when we actually reach around and go, 'Hey, we're all one. Let's all do this together.'"
I think the women portrayed in the film would agree.
Image: 20th Century Fox