Hilary Duff's Son Wants To Name His Little Sister After A Breakfast Food & It's Too Funny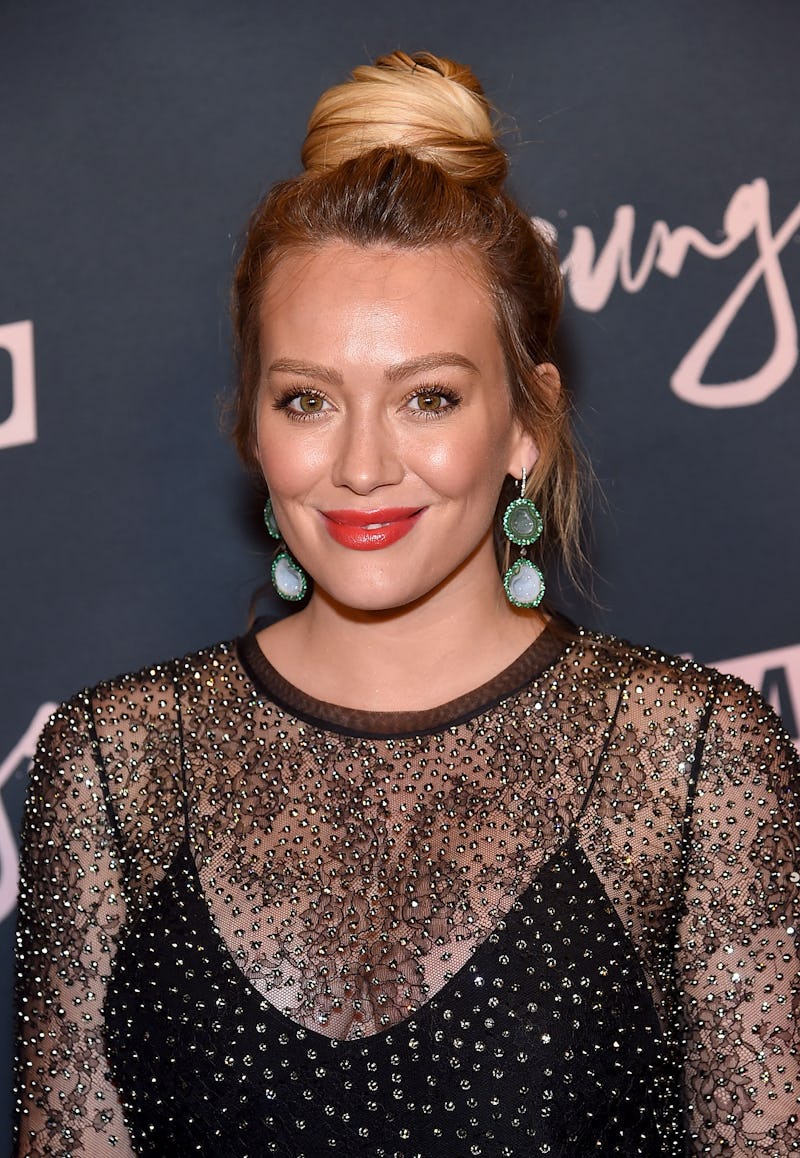 Jamie McCarthy/Getty Images Entertainment/Getty Images
The adjustment from only child to big brother can be a tough one, but it sounds like Hilary Duff's kid is doing just fine. During an appearance on The Late Late Show with James Corden, Duff revealed how Luca is preparing for his little sister, and apparently, he's already got a name picked out for her that also happens to be the name of a beloved breakfast pastry. Kids, right?
Over the weekend — right after celebrating the birth of sister Haylie's second baby — Duff announced her pregnancy with boyfriend Matthew Koma by way of a truly adorable Instagram post. And now, she's talking about how Luca took the news, which was not good at first. Fortunately, though, he's starting to warm up.
While talking to Corden, Duff said that Luca was initially "surprised" to find out that his days as an only child were numbered. She said,
"He told his friend at school the other day that he's having a sister that's part red-butt monkey. So we'll see! It'll be a first. That'll be really cool."
Um, chances are pretty good that Duff is not going to give birth to a red-butt monkey, so Luca is probably going to be a bit disappointed on that front.
She also added that he already has a name in mind for the baby, and it's... unconventional, to say the least. She said:
"Luca thinks 'Cofant Croissant' is like, the coolest name. . . There would be no confusion. And when I just refer to it as 'Cofant,' and I'm like, 'That would be so cool, no one at school's going to be named Cofant,' He's like 'Croissant. Cofant Croissant.' It goes together. There's no separating the two."
To be totally fair, Duff herself did say that she's up for "any kind of suggestions," but she's probably not going to go with Luca's pick, as creative as it might be. A name like Croissant is definitely enough to get your kid picked on at school, isn't it? Or maybe it's unique enough that she'd be super popular. Who knows.
Later she added, "It's concerning. I think he has pretty good taste… It's pretty strong, right?"
Strong is definitely one way to describe it. Luca for sure gets points for being creative, even if his mom eventually decides against going with his pick for a name. Even Cofant, which is a bit more toned down than Croissant, might end up turning some heads. And as Corden pointed out, if your name is Cofant Croissant, you can basically do whatever you want. Who needs societal norms?
Duff originally shared the big news on Friday, showing off her bump for the first time during a trip to a bowling alley. "Guess what guys! @MatthewKoma and I made a little princess of our own and we couldn't be more excited!!!!!!" she wrote on Instagram.
Even though Duff has obviously done this mom thing before, this is the first time she's had a daughter, so this will definitely be a new experience for her (and for Luca). It'll probably be an adjustment, but it seems like she's really excited for this next stage in her life — and Luca will get there, too.
Regardless of what Duff chooses to name her second baby, it's going to be so much fun to see her dive into motherhood again — and even better to see Luca and his sister together, in action. Hopefully, he won't hold it against her if her name is Croissant. Or if she's a regular, human baby rather than a red-butt monkey. Sorry, Luca.